Brexit Bulletin: The Rebels in the Shadows
(Bloomberg) -- Today in Brexit: As Theresa May prepares for a showdown in Parliament over her Brexit legislation, Bloomberg reveals there are potentially more pro-EU Tory lawmakers who could line up to safeguard trade ties.
There may be more Tory rebels than we thought.
Bloomberg's Alex Morales reports today that there may be 20 or more pro-European Conservatives who could potentially rebel against Prime Minister Theresa May to maintain close links to the bloc after Brexit.
Some represent constituencies with factories that manufacture cars and planes for export. Leaving the EU customs union would take a heavy toll on jobs there. Ed Vaizey, a former culture secretary who describes himself as "not a natural rebel," says lawmakers are increasingly feeling they might have a duty to take a stand.
"More and more MPs are beginning to mutter under their breath that they might have to act on the customs union, and actually put their head above the parapet," Vaizey said in an interview.
While the government's final plans are not yet clear, its stated policy is to leave the customs union and the EU single market. Opposing that on grounds of practicality or principle would defy Theresa May and could put her leadership in doubt.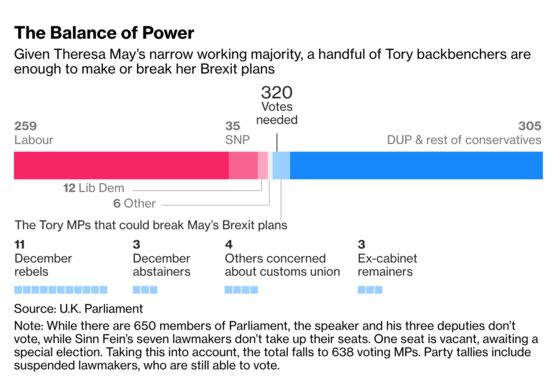 Mark Pawsey, the MP for Rugby, is another with a dilemma. Most of his constituents voted to leave and he wants to respect that. But many of them work at nearby Jaguar Land Rover or its suppliers. Their jobs will be at risk if trade ties are damaged.
"I'm keen to see us in a close trading relationship with the EU while respecting the vote of my constituents," says Pawsey, who hasn't rebelled so far and is still weighing up whether he would.
While hardline Brexit-backers such as Jacob Rees-Mogg air their views freely and are publicly trying to pressure May, some of the potential pro-EU rebels are keeping a lower profile. One of the reasons is a desire to respect the referendum result. Rebelling is a big step, and some are giving May a chance to come up with a compromise on customs that they can live with.
The Telegraph named 15 Tory "mutineers" last November. Not all of them went on to rebel in December. Then just 11 Conservatives were enough to defeat May and force her to give Parliament a "meaningful vote" on her final Brexit deal when it's struck later this year.
But Alex's research suggests there could be more who will stand up for close trade ties. Some want to stay in the existing customs union, others seek a tweaked version, while others would accept some variant of a union that minimizes new obstacles to trade.
Add to that the former ministers such as pro-EU Justine Greening, who can now vote as she pleases, liberated from the constraints of cabinet discipline. May's decision to bring her key Brexit legislation back to Parliament next month is looking increasingly risky.
Extend and Pretend | Amid delays and indecision on future trade with the EU, Parliament's Brexit Committee said the U.K. may find prolonging its membership of the customs union is the only "viable" option as new arrangements are unlikely to be ready in time.
Brexit and the Wealth Divide | England's most pro-Brexit region earns 40 percent less than London, where support for leaving the bloc was weakest, Andrew Atkinson reports.
Identical or Equivalent | The U.K. set out its goals for a post-Brexit economic partnership with the EU, calling for any future trade deal to break new ground and allow mutual recognition of each other's rules. The government wants regulatory cooperation with mechanisms to demonstrate that "our rules are substantially similar – identical or equivalent in outcomes."
Galileo Threat | The U.K. will threaten to re-open talks on its financial settlement with the EU if it is forced out of the bloc's Galileo satellite navigation program. The EU shot back that the threat was unjustified, and said it was offering the U.K. the same as it offers the U.S. in the program.
Prank Caller | The U.K. believes the Kremlin was behind a hoax call to Foreign Secretary Boris Johnson in which Russian pranksters pretended to be Armenian Prime Minister Nikol Pashinyan. In any case, it backfired. Johnson turned out to be "a smart diplomat, an intellectual," Alexei Stolyarov, told pro-Kremlin tabloid newspaper Komsomolskaya Pravda. It's "probably the first time the person we talked to who was not a fool."
Betting on the Rock | Gibraltar's online gaming world is facing upheaval as the rock is set to leave the EU along with the rest of the U.K. next March. Charles Penty takes a look at the industry that has made Gibraltar a global hub.