Brexit Bulletin: The Kingmaker Goes to Brussels
(Bloomberg) -- Today in Brexit: Arlene Foster, the Northern Irish politician who props up Theresa May, takes on Michel Barnier. 
Arlene Foster, the resolute leader of the Northern Irish party that holds the key to a Brexit deal, is about to spend three days in Brussels fighting her corner.
As talks enter a make-or-break few days in the run-up to a summit on Oct. 17, Foster will meet chief European Union negotiator Michel Barnier, and representatives of member states. The EU has been reworking its proposal on how to deal with the contentious Irish border issue and the U.K. is re-writing its own.
Foster, whose Democratic Unionist Party helps ensure Prime Minister Theresa May can theoretically command a majority in Westminster, has made plain she doesn't much like the sound of either. To her, both plans threaten to put some kind of checks or controls between Northern Ireland and mainland Britain.
"As we leave the EU, we should do so as one nation. The United Kingdom single market must be protected with no new borders between Northern Ireland and Great Britain being created," Foster said as she headed to Brussels. "From day one this has been the DUP's only red line."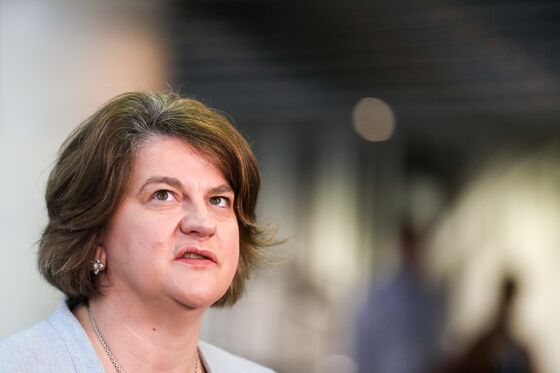 But if you were looking for signs of compromise, you could see the potential for some wiggle room in her comments. As the Spectator's James Forsyth points out, she puts more emphasis on access to mainland Britain for Northern Ireland than on frictionless movement the other way. That could help, as the EU is only really concerned about checks on goods going toward the island of Ireland. Still, there are companies that have made clear they would suffer from checks in either direction.
Back in London, May's team are playing down expectations that a deal is imminent. Brexit Secretary Dominic Raab had been expected in Brussels this week, but May's spokesman said on Monday that wasn't confirmed. The U.K. is still pushing for progress on the future relationship to be made alongside any new moves on the Irish border. The EU's proposal on the future relationship falls far short of what May wants.
"There is a difference between people talking optimistically about a deal and a deal being done," U.K. government spokesman James Slack told reporters. "There can be no withdrawal deal without a precise future framework."
In Brussels too, it's all gone a bit quiet, Ian Wishart reports. Wednesday was shaping up to be a big deadline, but that seems to have slipped. For now, the EU is unlikely to say much more on its future relationship proposal.
Silence could be a sign of progress, but there's still a lot that could go wrong on the way.
Road to Referendum | Could there be a second referendum? Yes, says the Constitution Unit at University College London, but time is running out. Legislation to prepare a vote would take at least 22 weeks, so an extension to the exit-day deadline would be needed – potentially running into the European Parliament elections in May. "Events remain unpredictable, and may unfold quickly," says Professor Meg Russell, the unit's director and co-author of the report, published today.
Cash Crunch | The chief executive of ADS, a trade association that includes Airbus and Rolls-Royce, called on the government to take emergency measures to avoid a cash-flow crisis for companies in the event of a no-deal Brexit. The association wrote to Chancellor of the Exchequer Philip Hammond, asking him to make sure there's enough liquidity so that companies aren't punished for "dipping into their overdraft or for breaching loan covenants," Sky News reported.
Dig at the Dancing Queen | European Commission President Jean-Claude Juncker performed a minimalist jig as he took to the lectern on Monday. Was he trolling Theresa May, who began her conference speech last week by dancing to Abba? Commission spokesman Margaritis Schinas intervened on Twitter: Everyone has "great respect" for May, he wrote, which is "repeatedly stated in public and demonstrated in practice."
On the Markets | The pound started the week on the back foot as investors reckoned progress on Brexit could still prove elusive, Charlotte Ryan reports. In early trading on Tuesday, sterling was little changed at $1.3097.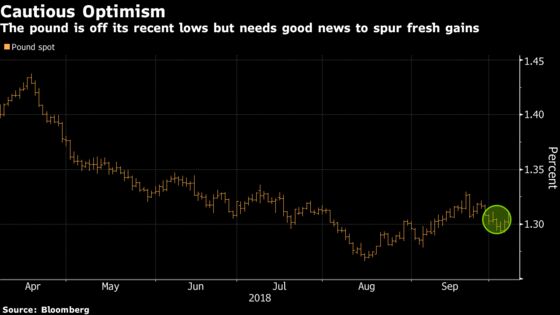 Want to keep up with Brexit?