Brexit Bulletin: The Final Days of May
(Bloomberg) -- Today in Brexit: It's now highly likely a new British prime minister will be in place before the country leaves the EU.
After weeks of British politics going nowhere, we have movement.
Facing stiff pressure from her own lawmakers, Prime Minister Theresa May agreed to set a timeline for quitting the top job, striking a deal with her Conservative Party that was announced Thursday.
Under the terms of the deal, May will try one last time to get her Brexit deal approved in a vote in Parliament in June. Then, however that vote goes, she'll announce a schedule for her departure.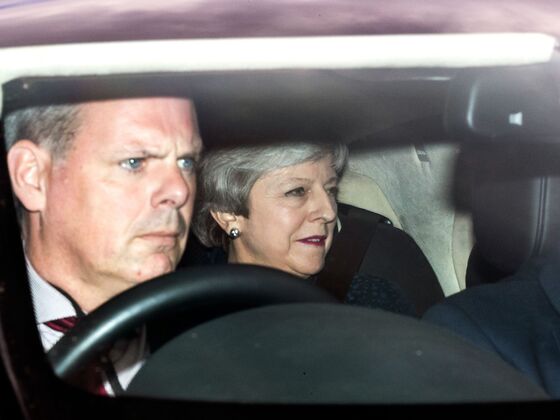 The announcement means Britain is likely to have a new prime minister before Oct. 31, the date currently inked in for Brexit. It will be down to the new leader to take Britain out of the EU.
May's decision has also cast a shadow over talks with Labour on a cross-party Brexit solution. One Labour official said there's now little chance of a deal because there will be a new government with a different view very soon, Bloomberg's Tim Ross, Kitty Donaldson and Alex Morales report.
Over in Brussels, May doesn't get much sympathy from EU officials, but the prospect they've long dreaded—that of the more hardline-Brexiter Boris Johnson leading the U.K.—is now a realistic possibility, Bloomberg's Ian Wishart writes. Many working on Brexit in the EU think he would attempt to reopen the U.K.-EU deal and demand concessions, which could be messy, bad-tempered and extend the Brexit uncertainty even further.
How May Goes | Rob Hutton has set out the key dates for the rest of Theresa May's premiership, starting with the chance of publishing of her Withdrawal Agreement Bill next week. Then it's the results of the European elections on May 26, before the crunch parliamentary Brexit vote in the week of June 3. After the vote, whatever the result, May will agree a timetable for the election to replace her. 
Farage's Moment | Nigel Farage's Brexit Party is leading the polls in Britain ahead of the EU elections. Rob Hutton explains why this is an ideal moment for Farage's political comeback—and how no one in British politics knows what to do about him.
Engines Stalling | European car sales declined for an eighth straight month in April amid weak demand in the U.K., where consumers are putting off big-ticket purchases due to Brexit turmoil. Monthly deliveries in the region dropped 1% to 1.22 million cars, the European Automobile Manufacturers Association said Friday.
On The Markets | The pound fell for the ninth day against the euro on Thursday, heading for its longest losing streak since the turn of the century. Investors are bracing for more turmoil.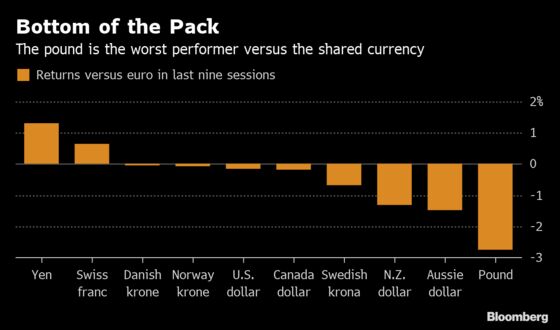 Better to Leave | Those who support Britain remaining in the EU should see that letting Brexit happen may be better in the long run than allowing grievances to fester, Philip Collins argues in The Times.
London Hit | Tougher post-Brexit immigration rules risk depriving London of the people it needs to drive the economy, said Jasmine Whitbread, head of the London First lobby group. Restrictions that prioritize high-skill migration will punish various industries where there are staff shortages, she said in a Bloomberg Television interview.
Farmer Trouble | Speaking of immigration, Brexit is exacerbating labor shortages on U.K. farms, which have traditionally drawn heavily on EU migrants, Bloomberg's Aine Quinn reports. Farmers are having to make the jobs more attractive, such as by stocking Romanian and Bulgarian food, or even staging disco nights.
Want to keep up with Brexit?