Brexit Bulletin: The Cost of Leaving
(Bloomberg) -- Today in Brexit: Lawmakers get back to work and Brexit Secretary Dominic Raab gives a progress report. As politicians dither, the economy is taking a hit. 
Brexit has already cost Britain more than 2 percent of economic output, a new study shows. That's before it's even left the bloc.
Economists at UBS Group AG modeled what would have happened to the U.K. economy if the Brexit vote had gone the other way. They used data from other countries and mimicked the U.K.'s economic performance before the vote. Their results? They estimate that gross domestic product is 2.1 percent smaller than it would have been, and inflation is 1.5 percent higher. Consumption has been 1.7 percent lower and investment 4 percent weaker, the study shows. Business investment has been hit as uncertainty over Brexit has led companies to delay decisions, invest elsewhere and even shift supply chains to protect themselves from the risk of being cut off from their suppliers.
Bloomberg reports today on just one such company. Combilift, an Irish forklift truck maker that used to buy its seats from a Welsh factory, has now switched that contract to a German manufacturer in case a hard Brexit disrupts trade with the U.K.
"Brexit's the driver – we wouldn't have changed otherwise," Martin McVicar, who runs Combilift, told Bloomberg's Dara Doyle. "We're not growing our supply chain in the U.K., we're curtailing it until we see clarity."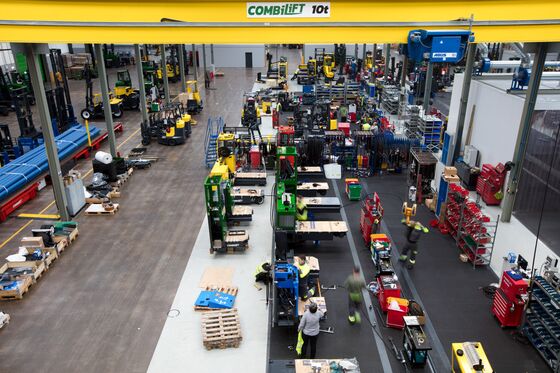 The drip-drip of negative company news continues. Dechra Pharmaceuticals Plc, which makes animal medicines, is looking at setting up dual testing facilities in the U.K. and the European Union. The stock fell 21 percent as investors took fright at the cost to the company.
Firms that make drugs for humans are already spending millions preparing for the disruption of leaving the EU – and the possibility of a disorderly exit in March next year. Pharma companies currently have one regulator for the whole of Europe, and drugs and staff move freely across borders. That regulator is now moving to Amsterdam from London and it's not yet clear how the approval regime in the U.K. will work after the split.
Companies are preparing to stockpile drugs to offset customs and shipping delays. Pfizer Inc., the U.S.-based drug giant, puts the cost at $100 million, Bloomberg reports today. Pharma companies complain it's money that could be better spent researching new medicines.
More than 2.6 million people who voted to leave now support staying in the EU, the Independent reports, citing a study by Focaldata for Best for Britain. Just under 1 million have moved the other way. The Independent and Best for Britain are campaigning for a second referendum.
Most voters in areas that are narrowly held by the Conservatives believe May's plan for Brexit is "bad for Britain," the Telegraph reports, citing a survey of 22,000 voters.
Meanwhile, in the Times, columnist Rachel Sylvester writes that the bitter Brexit debate is widening, not healing, the social divisions exposed by the 2016 referendum.
Boris Dismissed | Home Secretary Sajid Javid called on Boris Johnson to set out how he would negotiate Brexit, after the former foreign secretary wrote in a front-page Telegraph article that Theresa May's plan means disaster and surrender for the U.K. "For those who think there is a different way, then they need to set out the alternatives," said Javid, who backs Brexit. May's office also hit back at Johnson's Telegraph piece, saying it contained no "new ideas." 
Early Budget? | Chancellor of the Exchequer Philip Hammond is preparing to present his budget as early as October to avoid it clashing with the last phase of Brexit talks, the Times reports. The budget had been due in November, which has now emerged as the new deadline for getting a deal with Brussels.
Stay or Go? | Bank of England Governor Mark Carney will appear in front of the Treasury Committee in Parliament today, with fresh questions swirling over how long he will stay in his post. The Canadian is in talks about remaining in the role beyond his planned departure date of June next year, according to a report by the BBC on Monday.
On the Markets | The pound fell 0.7 percent on Monday amid increased uncertainty about the direction of Brexit. It was unchanged in early trading on Tuesday at $1.2862.
Coming Up | Lawmakers return to Parliament today, and Prime Minister May chairs a Cabinet meeting at 9:30 a.m. Philip Rycroft, permanent secretary at the Brexit Department, speaks to the Brexit Committee at 10:15 a.m. Brexit Secretary Dominic Raab makes a statement at 3:30 p.m. Foreign Secretary Jeremy Hunt takes questions in Parliament at 2:30 p.m.
Want to keep up with Brexit?
Know someone who'd like the Brexit Bulletin?
Don't keep it to yourself. Please share with friends and family. They can sign up here.
For even more: Subscribe to Bloomberg All Access for our unmatched global news coverage and two in-depth daily newsletters, The Bloomberg Open and The Bloomberg Close.