Brexit Bulletin: 'Suicidal' for EU
(Bloomberg) -- Today in Brexit: As Theresa May raises the stakes and the Labour Party scraps over the meaning of a second referendum, France makes clear why it's playing tough.
French Finance Minister Bruno Le Maire is clear about why the European Union mustn't be generous with the U.K.: It would be "suicidal" for the bloc.
"I'm sorry to say it so callously: There is something more important for us than the future of the U.K., and that's the future of the EU," Le Maire told reporters in Paris. "Any decision that would give European citizens the feeling you can exit the EU and keep all the advantages would be suicidal, and we won't make that decision."
France has long been seen as the hardliner behind closed doors, according to EU diplomats. It's only in recent weeks that French politicians have come out into the open with their tougher stance. French President Emmanuel Macron stood out at last week's summit in Salzburg, Austria, for the strident tone he took with U.K. Prime Minister Theresa May and the vitriol directed at those who led the campaign for Brexit. His message was not just for politicians in the U.K. but also populist euroskeptics elsewhere in Europe.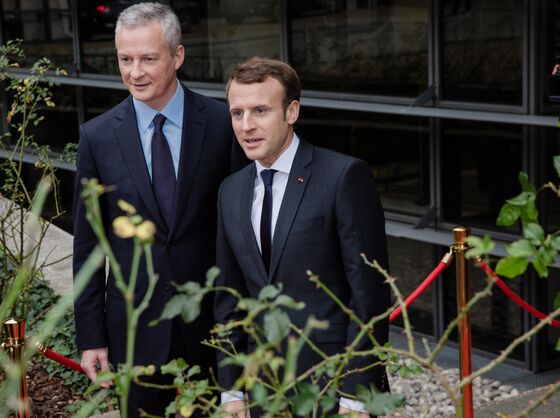 The British government has had its eye on the French for a while. In July, we reported that the U.K. government saw Macron as key to getting a deal, and Chancellor of the Exchequer Philip Hammond was trying to schmooze his counterpart at international meetings. France opposes nearly every European idea aimed at finding a compromise and insists that Britain must be seen to lose from Brexit, Ian Wishart reported last week.
There are calmer voices. German Chancellor Angela Merkel said earlier this week she wanted a deal to be struck in "friendship." Her party has also shown concern about the hardening in tone toward the U.K. While Germany says privately it is prepared to postpone some of the hardest decisions about the future relationship, the French say publicly that they won't allow what they call a "blind Brexit." Fudging some details will probably be key to getting a divorce deal done in time.
Irish Prime Minister Leo Varadkar also reckons a deal will be done in November. "Nobody wants us to end up in a no-deal scenario," Varadkar said. "The damage for the U.K. would be immense, the damage for Ireland would also be immense — and it would have serious impact on other countries like Belgium and Holland and France and Denmark."
France might not be too pleased to be included in that list.
May rules out an early election, saying it's not in the public interest, and says she'd rather a no-deal Brexit than one that carves up the U.K.
Britain's super-rich now worry Jeremy Corbyn is a bigger risk than Brexit.
Division of Labour | The Labour Party agreed to keep an open mind about a second referendum in case the party doesn't manage to force May's government into an early general election. But that's where the unity ended: The leadership isn't very clear whether remaining in the EU should be an option or any second vote should just be about the deal. Meanwhile, Jeremy Corbyn will head to Brussels in the coming days to discuss Brexit with EU officials, Thomas Penny reports.
Lending into Brexit | Leaving the EU is the most pressing issue facing the loan market, according to 49 percent of about 900 attendees polled at the Loan Market Association's conference in London on Tuesday. That's double the percentage that cited Brexit in a similar poll last year.
The Cost of Delays | One in 10 businesses think they would go bankrupt if goods were delayed for customs checks by 10 to 30 minutes, according to a survey by the Chartered Institute of Procurement & Supply. Nearly a quarter of U.K. companies are planning to stockpile goods, the survey found.
Dublin Booming | Across Dublin, signs of a new boom are everywhere — and Brexit might be one of the reasons. Cranes again pepper the city center. Celebrity restaurant hot spot The Ivy has opened close to parliament, and Barclays Plc is paying 4,000 euros ($4,704) a year apiece for parking spaces.
On the Markets | Jordan Rochester, an FX strategist at Nomura, reckons a deal will be done in October or November. "In the next 10 weeks there is a big trade to be made," he told Bloomberg TV. "Either I'm wrong — and it's a hard Brexit and the pound goes 10 percent lower — or I'm right and we get a deal and the pound goes 10 percent higher." A volatility measure has surged to the most since the referendum, as traders hope for the best but prepare for the worst, Anooja Debnath reports. The pound traded at $1.3173 early on Wednesday.
Want to keep up with Brexit?