Brexit Bulletin: Standoff
Today in Brexit: Talks are on hold and both sides are pessimistic about the chances of reaching a deal. 
What's happening?  With just three weeks to go until the Brexit deadline, talks have broken down. Each side in the angry standoff blames the other for failing to reach a deal.
It looks like the U.K. and the EU won't meet today, after Prime Minister Boris Johnson accused the bloc of adopting a tougher position and European Council President Donald Tusk accused Johnson of playing a blame game. A call between Johnson and German Chancellor Angela Merkel Tuesday sent the pound plunging after Johnson said reaching a deal is now "essentially impossible.''
The last chance to reach an accord now looks to be talks between Johnson and his Irish counterpart, Leo Varadkar, planned for Thursday or Friday. But Varadkar said Tuesday evening that it's hard to see a deal being clinched next week. He told RTE that some of the briefing from London about him was becoming toxic and vowed to hold the U.K. to its promises over the Irish border.
The disagreement still comes down to the border between EU member Ireland and the U.K.'s Northern Ireland, the main sticking point since talks began. Johnson's latest offer involved Northern Ireland leaving the EU customs union and the border being controlled with limited customs checks away from the frontier itself. But Varadkar said this would put peace in Northern Ireland at risk, and a plan to get democratic consent via a regular sign-off from the region's assembly would lead to bouts of uncertainty for Ireland and the EU.
The only thing both sides agree on is that a deal is looking unlikely. If there's no agreement, Johnson says the U.K. will leave the EU without one on Oct.31. But he also says he will abide by the law, which requires him to seek and accept a delay. Investors still aren't buying Johnson's threat to go for a no-deal departure, and are starting to see a new election as the most likely scenario. Pound traders are even betting on a short-term relief rally for sterling on the assumption that Johnson will be forced to seek an extension.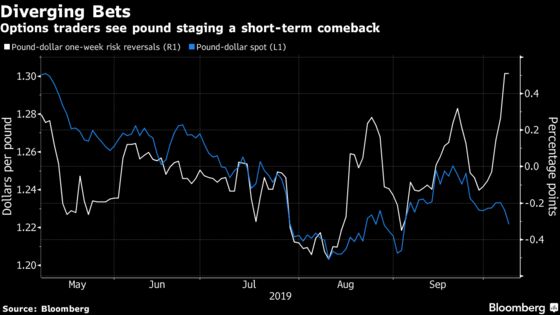 With just over three weeks to go, here are five charts showing the markets expect the Brexit standoff to continue. 
The Tory party faces a split if Johnson opts to pursue no deal, writes Sebastian Payne in the Financial Times. At least 50 Conservative MPs would revolt against a general election manifesto that pledged to go for a no-deal exit.
The Queen could be dragged into politics yet again, according to the Sun, which reports Johnson is planning to tell Elizabeth II she cannot sack him as PM even if he loses a confidence vote in Parliament. His aides believe they can use 70-year-old rules to advise the monarch that asking him to step down would risk chaos and endanger the economy, the paper writes.
Food Shortages | A no-deal Brexit could cause shortages of some fresh fruits and vegetables because of possible threats to time-sensitive supply chains, the U.K. government warned in a report Tuesday. The document on no-deal Brexit planning also revealed that customers of U.K. financial services companies that use passporting — providing services abroad without setting up a branch there — can't be fully protected from risks.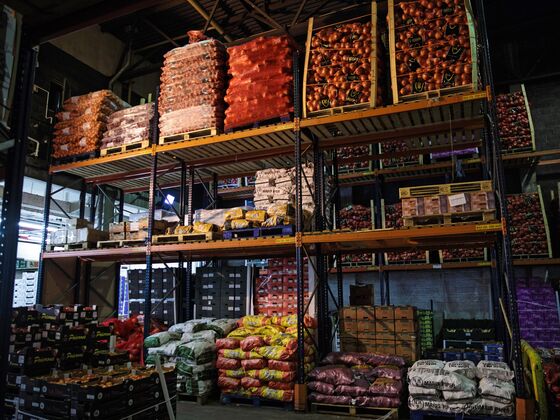 Differing Views | Crashing out of the EU is preferable to an extended period without a decision because it's better than being in limbo, Pimco CEO Emmanuel Roman told the Bloomberg Invest London conference. Societe Generale SA chairman Lorenzo Bini Smaghi said that a crash exit could cause a global recession and would be a disaster for the financial system. 
Remain Dividend | A Labour-led government could add more than 100 billion pounds ($122 billion) to the U.K. economy over the next three years. The forecast by Citigroup Inc. is not based on the business policies of the main opposition party, which include nationalizations and stronger union rights. Instead, it reflects the boost to growth if Labour delivered on its pledge to hold a second referendum and Brexit was reversed.
Carney's Replacement | The process to appoint the next Bank of England governor is "on track," according to Chancellor of the Exchequer Sajid Javid. The Chancellor said in a letter to Parliament's Treasury Committee that the government would "make an announcement in due course,'' after speculation that current governor Mark Carney may be asked to extend his term for a third time if the U.K.'s exit from the EU is delayed.
On the Markets | The pound dipped 0.1% to $1.2206 in early trading this morning. It fell to a one-month low Tuesday as the mood on Brexit darkened.
Want to keep up with Brexit?