Brexit Bulletin: Split and Divide
(Bloomberg) -- Today in Brexit: As Theresa May's shuttle diplomacy continues, British politics fractures.
After weeks of political impasse in Westminster, something had to give.
The fracturing of the opposition Labour Party, fueled by charges of anti-Semitism and despair at leader Jeremy Corbyn's handling of Brexit, is the first major sign of a parliamentary realignment triggered by Britain's political crisis. Setting up a new "Independent Group" that backs a second referendum on Britain's European Union membership, the seven ex-Labour lawmakers excoriated Corbyn and urged others to join their movement. More could follow.
Views on the implications for Brexit are split. Strategists at Mizuho International think this makes a no-deal departure more likely, as it could marginalize lawmakers who want to keep close ties with the EU. "This looks awfully like a bungled mess of the creation of a new party,'' said Peter Chatwell, head of European rates strategy at the bank.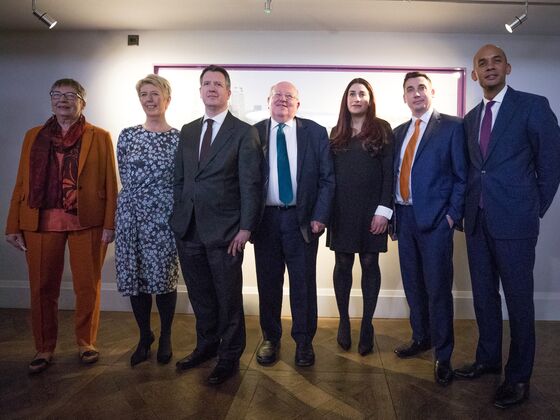 But their departure could also nudge Corbyn closer to backing a second referendum, Bloomberg's Thomas Penny and Alex Morales write. Labour's siege mentality against its internal critics is one reason why Corbyn and his team have given the "People's Vote" idea the cold shoulder. Yet if calls for that move now mainly come from supporters in his party, he might listen.
Keeping the show on the road, Corbyn is scheduled to tell a conference of Britain's largest manufacturers today that he has a "credible alternative plan" for Brexit. It involves a permanent customs union with the EU (which the bloc's chief negotiator, Michel Barnier, has indicated support for) and close ties with the single market.
The Labour leader's audience could do with some cheer. Honda's decision to close its factory in Swindon, where 3,500 employees work, is the latest blow to Britain's industrial base, and exporters are already having to send off goods to Asia without knowing what trade rules will apply when they arrive.
For Theresa May, her Brexit rescue effort continues. The prime minister is chairing a meeting of her cabinet this morning, and Foreign Secretary Jeremy Hunt will travel to Copenhagen as he tours European capitals to press the case that there is "a way through" the impasse.
God's Hands | Speaking to German newspaper Stuttgarter Zeitung, European Commission President Jean-Claude Juncker said "we are in God's hands" on Brexit, and that the EU wouldn't oppose Britain asking for an extension to its departure date.
Shorting Sterling | Hedge fund manager and Brexit advocate Crispin Odey is once again betting against the pound, Bloomberg's Nishant Kumar reports. Just weeks after unwinding his long-running short position, Odey is back and sees the British currency falling further in a no-deal scenario.
Irish Test | Will the Irish Prime Minister blink in the battle over the backstop? Bloomberg's Dara Doyle reports on Leo Varadkar's Brexit test of a lifetime.
Trade Warning | The U.K. will struggle to match the free-trade deals the European Union has with other countries because of its small size and Brexit uncertainty, the EU's agriculture commissioner said in a Financial Times interview.
Business Barrier | Companies selling certain consumer products into the EU may have to appoint a special representative inside the bloc to keep trading with the single market, according to the Times.
Want to keep up with Brexit?