Brexit Bulletin: Something's Gotta Give
(Bloomberg) -- Today in Brexit: Negotiations are in a state of limbo. That can't last for much longer.
You'd struggle to sell a newspaper with the headline "nothing much has changed" but in the crazy world of Brexit, it's just about the most accurate assessment.
Although the impending deadline for the U.K. and the European Union to strike a deal creates its own sense of momentum, there's been scant progress since March. Back then the two sides agreed that, as long as they get a deal, the U.K. will enjoy a 21-month transition period. Brexit Secretary Dominic Raab promised to inject "vim and vigor" into proceedings and, over the summer, had more face time with EU counterpart Michel Barnier than his predecessor David Davis ever did.
Today, Raab will make do with a just phone call instead of a meeting. Less than two months before needing to complete one of the most important treaties in U.K. history, there's just not really a lot to talk about.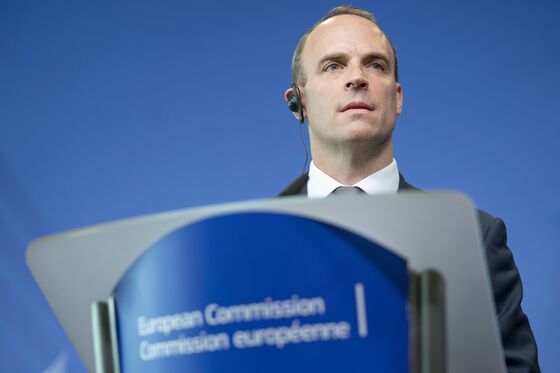 That's not to say there's not a lot to do. Besides the looming iceberg of the Irish border conundrum, there's no agreement on protecting the special status of food and drink names, such as Parma ham and Feta cheese, or on managing disputes arising from the Brexit treaty.
All need to be in the withdrawal agreement that will determine whether the U.K. leaves in an orderly fashion. And then there are the wider questions of the U.K.'s post-Brexit relationship with the EU, which will sit inside a non-binding political declaration as part of the deal.
For all the warmer words from Barnier about Prime Minister Theresa May's "Chequers" blueprint, because it helped move the debate along, its vision for economic ties doesn't suit the EU. May might need to choose to stay closer to the EU than that plan sets out – fully in the customs union and the single market for services as well as goods, thereby solving the Irish border issue – or to walk further away into a Canada-style free-trade arrangement, pleasing the Brexiteers in her party but exacerbating the Irish border headache.
An informal EU summit in Salzburg next Thursday is unlikely to make much progress on any of that and, as reported this week, officials in Brussels don't see anything shifting until after May has appeared at the Conservative Party conference at the start of October.
So while the pound makes gains as traders latch onto the vaguest of words of optimism, Brexit negotiators warn of a torrid, bad-tempered, fraught eight weeks ahead. Some of the decisions could be fudged. But not all. Nothing much has changed for months. Soon, something will have to give.
Bloomberg's Rodney Jefferson and Jessica Shankleman return to Newcastle, home of Northern Rock, the bank whose collapse triggered Britain's financial crisis in 2008, and where Brexit could be about to inflict another shock
Bank of England Governor Mark Carney joined a U.K. cabinet meeting on Thursday. David Goodman and Robert Hutton give a full insight into what he told senior ministers, including that house prices could fall by 35 percent in the case of a no-deal Brexit
Bloomberg looks at all the revealing details that emerged in the latest batch of 28 government papers spelling out how the U.K. will suffer more if the country falls out of the bloc without an agreement
Roam Away | Britain's planned exit from the EU next March would release U.K. phone companies from the bloc's "roaming" rules, which stop telecom companies imposing extra charges on customers for making phone calls and using mobile data while traveling in the EU. The U.K. government said on Thursday free mobile roaming in the EU would not be guaranteed if Britain leaves without a deal. Of the four network operators, only CK Hutchison Holdings Ltd.'s Three brand has explicitly ruled out re-imposing roaming fees. However, the others say they have no plans to do so.
Data Exchange | The U.K. has pledged to provide information that could help solve a stand-off over the Irish border, according to a person familiar with the deliberations. Raab told the EU last week that he would hand over the data on the trade flows, according to a person familiar with the situation who declined to be named. While a minor step, it could be a sign that progress on the issue is possible.
Tiger Roaring | Ireland maintained its position as the fastest-growing economy in the EU during the second quarter of 2018. The economy grew 9 percent compared to a year earlier, the nation's statistics office said in Dublin on Thursday. Consumer spending jumped 4.4 percent, while exports grew by 11 percent.
Not Moving | U.K. house prices stagnated in August as brokers blamed Brexit fears, warm weather and unhelpful headlines for a lack of activity, according to the Royal Institution of Chartered Surveyors. The organization's gauge indicated prices barely rose last month, it said, driven by weakness in London and the southeast. New enquiries slid as the Bank of England's latest interest-rate increase led to caution among would-be buyers, RICS said.
Gloomy Prognosis | Brexit represents a "five-year increasing curve of pain" for medical conglomerate Johnson & Johnson, Mark Lloyd Davies, its government affairs director, said at a conference in Dublin. "It's not a short sharp pain and then recovery, it's prolonged pain," he said. J&J expects to spend an extra $80 million in the U.K. for new customs clearances and conformity assessment procedures. 
Future Investment | Drug companies are preparing to make hundreds of millions of pounds of new investment commitments in the U.K. as part of a government effort to boost the life-sciences sector after Brexit, according to the architect of the strategy. That's on top of announcements last December by more than two dozen global companies, including GlaxoSmithKline and AstraZeneca. The pledges are a key piece of a broader multibillion-pound push by the U.K. to make the country more competitive with its exit from the EU looming.
Cloudy Outlook | The Bloomberg Brexit Barometer rose last month after a decline in July as the U.K. economy showed signs of picking up. The barometer, which includes data for growth, labor market, inflation and other key economic indicators, rose to 34.5 in August from 29.4 in July.
Want to keep up with Brexit?