Brexit Bulletin: Rush to the Finish
Today in Brexit: The two sides are making "good progress," but the deal is not yet done.
(Bloomberg) -- British Prime Minister Theresa May will make an unscheduled dash to Brussels on Saturday to finalize her Brexit deal before a key summit the next day.
This was not the plan. European officials had been warning on Wednesday that the text had to be done by Thursday morning or the signing-off summit on Sunday would be at risk. German Chancellor Angela Merkel had made clear she would not travel to Brussels on Sunday unless the text was ready to sign. She doesn't want to come for Greek-style all-nighter of negotiations.
May and European Commission President Jean-Claude Juncker met last night, and while both sides said they made progress, negotiators still need to sort some final details.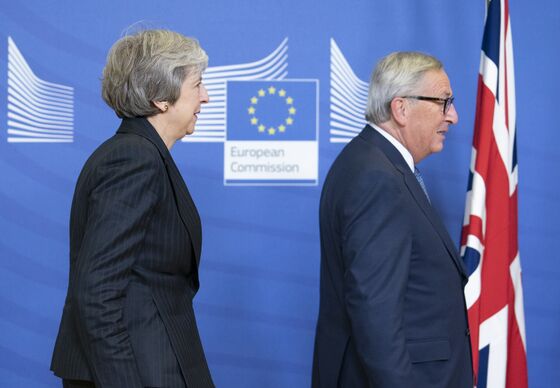 Still, a European Union official said the Saturday meeting would go ahead whatever happens in the next few days, Ian Wishart reports. That probably suggests both sides reckon they can get it done in time. May said she had given negotiators "sufficient direction" for them to get to the finish line. They were set to work all night, according to one official.
EU ambassadors will receive a draft text this morning before their meeting with the Commission so they can offer feedback. So there's more than a hint that the path to the Sunday summit is all but mapped out.
What are the two sides still haggling about? Last week, May got an agreement on the divorce terms, and the talks are now focused on the post-Brexit future relationship. They are trying to flesh a six-page political declaration into a 22-page text, and the sticking points include how close trading ties should be. Gibraltar, once again, has emerged as a sticking point after Spain protested. As one diplomat put it, the Gibraltar glitch "looks quite intractable — but nothing in the EU is ever truly intractable."
It's not just the text itself but the choreography of this final signing-off summit that has divided EU members. Merkel's refusal to go to Brussels unless the text was ready was interpreted as much as a warning to other European countries not to demand more additions to the text as a signal to the U.K. French President Emmanuel Macron wants the opportunity to discuss the text himself, rather than leave it to lower-level officials.
No Brexit | There's a new(ish) argument emerging about why MPs should back May's Brexit deal — if they don't there's a risk of getting no Brexit at all. Amber Rudd, the pro-Remain Tory now back in the Cabinet, argued that strongly on Wednesday, followed by Cabinet colleague Liz Truss. May then repeated it in PMQs, and Chancellor Philip Hammond weighed in with the same. No one explained how Brexit could be stopped, but the hint is that the chaos that would follow would provide fertile ground for second-referendum campaigners to strike.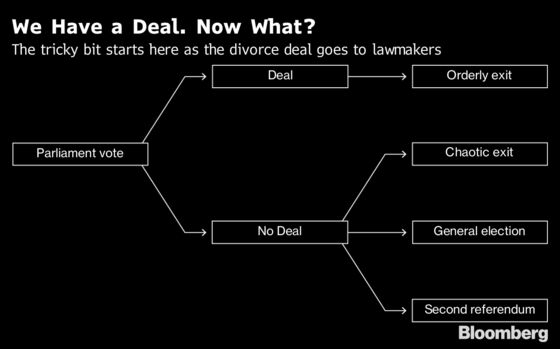 Second Try? | If Parliament does reject the Brexit deal, the idea that politicians would be told to think again and have another go is gaining traction. That would probably take place against a backdrop of crashing markets that might concentrate MPs' minds. But Eurasia, a political consultancy, says it might not be as simple as that, and exit day would probably need to be postponed. "First, because a rejection will likely trigger a political crisis in the U.K. that may take, even in the best-case scenario, two to three weeks to resolve, and second, because renegotiating the deal would take time," Eurasia's Mij Rahman writes.
Not Enough Time | Jon Thompson, the nation's most senior tax official, says that if the backstop does need to be implemented at the end of the transition period in December 2020, there's not enough time to prepare. He said it takes 24 months "from certainty" to get the required systems in place.
Fox's Job | Steve Baker, a leading member of the euroskeptic European Research Group, said last night that he urged Liam Fox not to resign because the U.K. needs a strong Trade Department, Tim Ross reports. Trouble is, May's deal risks trapping the U.K. in a customs union without its own trade policy, he told reporters outside a meeting of Tory MPs in Westminster.
When's Brexit Again? | Holiday-makers aren't being put off booking vacations around Easter next year by Brexit, according to Ryanair. Easter ticket sales are solid, the budget airliner said on Wednesday. Easter Sunday falls on April 21, just a month after Brexit day on March 29.
On the Markets | The pound was unchanged at $1.2785 early on Thursday. It's about 5 percent weaker than it was six months ago, and down 14 percent from referendum day in 2016.