Brexit Bulletin: 'Pull Yourselves Together'
(Bloomberg) -- Today in Brexit: After a week of tension and drama in British politics, EU diplomats are feeling nervous. 
There was a time – roughly between the referendum of June 2016 and the general election of June 2017 – when the British media loved a story on potential European Union disunity. The government exploited some of that itself, playing up the chances of being able to "divide and conquer" as ministers toured capitals and promised the earth. Even then that thinking was flawed; the U.K. needed a broadly united EU to have someone to do a deal with.
Now, with the tables turned, that principle still holds true. Today, though, the disunity is not between Paris and Prague but between one side of Theresa May's Conservative Party and the other. And it's leading to a growing sense of unease in EU circles. "How can we do a deal," one Brussels diplomat said pointedly this week, "when we don't even know who's running this?"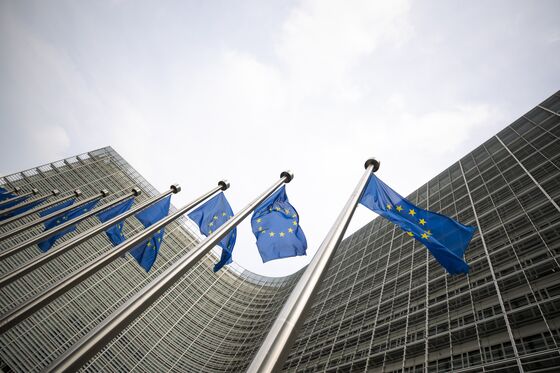 There have been two strands to the Brexit process in Brussels this week. One sees the well-oiled cogs in the bureaucratic machinery continue to turn. Officials from the 27 other member states have been picking over the U.K.'s most-recent proposals and hearing the European Commission's latest explanation of why Britain can't have what it wants. It's a process we've gotten used to.
The other strand sees those same officials observing the sideshow in Westminster with something approaching horror. "We're watching and we're saying, pull yourselves together," one official said on Thursday. From them, the message is clear: this sort of chaos isn't helping anyone.
That's why other potential scenarios are starting to emerge. As Bloomberg reports today, some diplomats are now seriously considering whether the U.K. needs to stay in the EU a while longer, just to get the negotiations finished. In London, Parliament this week has been wrangling over whether it can wrest back influence over Brexit in the dying days of the two-year Article 50 period. If it does, and demands changes to the deal, what happens then?, the Europeans wonder.
May's government now thinks some potential rebels are willing to support the prime minister, which should be enough to save the premier from a damaging defeat, according to two people familiar with the negotiations.
Nevertheless, EU-27 diplomats point out that no-deal contingency planning has been stepped up in some of the countries most likely to be affected.
After a week of drama in Westminster, Brussels is getting twitchy again. 
Defending a Position | U.K. participation in EU foreign policy should be allowed "on a case-by-case and exceptional basis" and only "where it significantly participates to the fulfillment of the Union's level of ambition," the European Commission said on Thursday, dashing British hopes of deeper cooperation. 
Risk Warning | Ireland's central bank Deputy Governor Sharon Donnery said that the risks arising from Brexit, especially a "hard" or disruptive Brexit, are far-reaching for Ireland. She said the "window of opportunity for resolving a range of issues for firms is closing fast and contingency plans need to be fully prepared."
And So It Begins | More Polish nationals are returning home from the U.K. this year than settling there, reversing a long trend which brought more than a million Poles to Britain. Jonathan Knott, Britain's ambassador to Poland, told Rzeczpospolita that the net outflow isn't significant so far, but that the British economy could suffer if it accelerates. Aside from Brexit, Poles are being lured back home by record-low unemployment and the fastest wage growth in six years.
On the Slide | The British public thinks Theresa May is handling Brexit worse than at any point since she became prime minister, according to a new poll for The Times. The survey indicates just 21 per cent believe that the government is doing well in the negotiations, with 66 per cent saying it's doing badly. 
Wrong Note | A rare Brexit Bulletin foray into matters ecclesiastical. Today's Church Times tells us that the congregation of St Mary's, an 11th-century church in Maldon, Essex, in the south of England, blames Brexit for their decision to abandon plans to buy a new organ. The church spent 10 years fundraising for a 245,000-euro Bavarian-built instrument, but now fear 20 percent VAT could be added to the bill after Brexit. "We could claim that back currently, but we won't be able to after Brexit," St Mary's director of music Colin Baldry told Church Times. "We couldn't take the risk." British organ-builders currently make between 10 and 15 organs each year, the paper says.