Brexit Bulletin: Progress at a Price
(Bloomberg) -- Today in Brexit: It wasn't all bad news in Brussels, though Theresa May's concessions have gone down badly at home.
The Brexit summit fell far short of the breakthrough that it was long touted to be. But a tiny glimmer of progress is emerging.
The two sides are inching toward a plan that could clear the path to a deal, Tim Ross and Ian Wishart report. The idea that's breathing new life into the negotiations is an old one. Some might call it extend and pretend, or just taking a bit more time to get to the final destination.
Both sides now think there's merit in keeping the U.K. inside the European Union's full membership rules for longer after it formally leaves the bloc, with an option to extend the 21-month transition period past December 2020.
That would give negotiators more time to resolve the biggest obstacle blocking a deal: how to avoid customs checks at the border between the U.K. and Ireland, without erecting new barriers between Northern Ireland and the rest of the U.K.
The proposal to extend the transition period has gone down badly at home. Members of Parliament who back Brexit — and those who don't — have lined up to criticize the move, which will inevitably cost the U.K. billions in EU budget contributions. Brexiteers loathe the idea of staying bound by the EU rules any longer, while Remainers saw it as more evidence that a good deal simply can't be done. Here's our liveblog of how it all went down.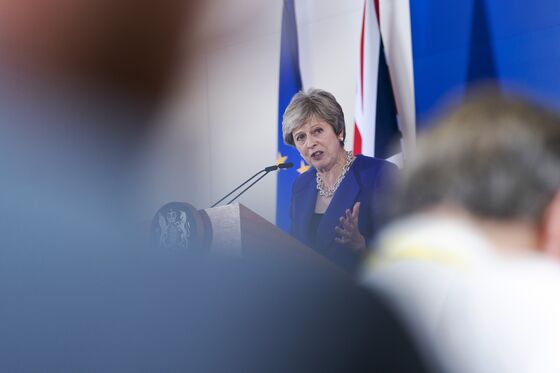 The move follows a bad month for Brexit talks. In September, Prime Minister May was humiliated when leaders rejected her plans at a summit in Salzburg, Austria, which she'd hoped would be a chance to engage constructively. Then, just as negotiators thought they were making progress, on Oct. 14 talks spectacularly broke down as Brexit Secretary Dominic Raab made a surprise visit to Brussels to tell EU chief negotiator Michel Barnier the plan was unacceptable.
This week, leaders were on their best behavior, trying to avoid another breakdown. May's address to her fellow leaders didn't go very well. Some were even left confused and frustrated. But her willingness to move her position on the transition has been rewarded with a bit of flexibility on the EU side too, according to officials on both sides. The EU has agreed to engage with May's proposal for a so-called backstop guarantee to avoid customs checks on the U.K.-Ireland border — which would involve keeping the whole U.K. inside the EU's customs regime.
According to an EU official, the bloc decided that time is running out and they can't afford any more breakdowns.
If there's one message May's team will want to take home with them, it's Merkel's words: "I think that where there's a will, there should be a way," said the German leader, who later met May in Brussels for a one-on-one.
"I think there is a way."
Revolt | Rival groups of Conservative members of Parliament are plotting against May, the Times reports. Her offer to extend the transition period was made without Cabinet approval, angering Tories on both ends of the debate.
Does She Have the Numbers | May was asked by reporters if the deal she brings back will make it through the House of Commons. She chose her words carefully, stopping short of a clear yes. "I am confident that we can achieve that good deal and when I take that deal back to Parliament, I will be asking MPs first to recall that we are delivering on the vote of the British people."
The Rock Sorted | Gibraltar won't be an obstacle to a Brexit agreement, Spanish Prime Minister Pedro Sanchez said on Thursday. One down, the trickiest one still to go.
Brain Teaser | German Chancellor Angela Merkel said the Irish border issue was "quite an intellectually fascinating task." But will she apply her brain to it or just leave it to Barnier? The FT reports that Merkel called for the EU and Ireland to rethink their approach.
Waiting for Merkel | Olli Rehn, an ECB Governing Council member who's a veteran of EU crises, said Brexit would only be solved when the German chancellor fully engaged with it. "They're also likely to be waiting for Merkel to enter the negotiations for real — she is a very central European leader — that's when the endgame will take place, and it's possible that a deal will be reached then. We're hoping for that but not counting on it," he told YLE Radio 1 on Thursday.
On the Markets | For pound investors, the moment of reckoning has been deferred, with traders now shifting their focus to a Dec. 13-14 summit. The cost of hedging swings in sterling against the dollar over the next two months touched the highest in 19 months on Thursday. The pound was little changed at $1.3022 early on Friday.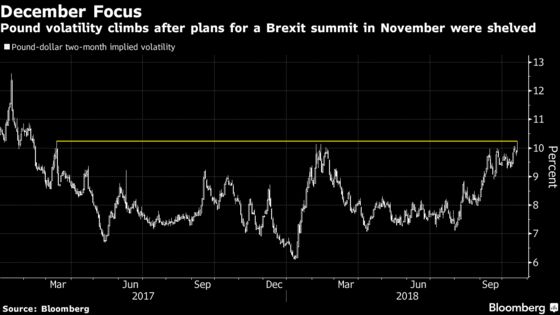 Your Questions | An apology: Over the past couple of days we've asked you to send in questions on Brexit. We've received lots of sensible, searching queries, and we're working on the answers — but there's just a bit too much news in today's edition to fit them in. We'll bring them all together early next week.