Brexit Bulletin: Peak Peril
(Bloomberg) -- Today in Brexit: May is in increasing danger at home as she closes in on a deal with Brussels.
Theresa May has been in danger of being toppled before. But as her government blurs yet more red lines in the hope of clinching a deal with the European Union, her critics have more reasons than ever to try to oust her.
Prime Minister May made two concessions last week that, for Brexiteers, put the whole project in danger. First, she agreed to consider extending the transition period that's already due to keep Britain tied to EU rules for about two years after Brexit day. Then, she signaled she's willing to drop a key time limit on the Irish backstop clause, opening the possibility that the U.K. will be bound indefinitely to the bloc's customs rules, as we reported.
Brexiteers are furious, predictably. What's changed is that pro-Remain members of the Conservative Party are also uneasy with May's plans, and they are speaking out. For some, it's an opportunity to call on the government to change direction — whether that's a second referendum or keeping closer ties to the EU. Just two more Tory lawmakers need to submit letters in order to trigger a leadership contest, the Sunday Times reported. And her Cabinet is now in revolt, according to the Telegraph, with ministers criticizing her concessions in an unusual conference call over the weekend.
May faces a perilous week at home. She will address Parliament today to tell them about last week's summit in Brussels, and by Wednesday she faces the risk of a rebellion. Arch-Brexiteer Steve Baker has proposed amendments that would bind her hands in the Brexit negotiations: He wants to make the EU's proposal for the Irish border illegal. That day she's also likely to be asked to speak to rank-and-file lawmakers in her party in what could turn into a test of their appetite to oust her.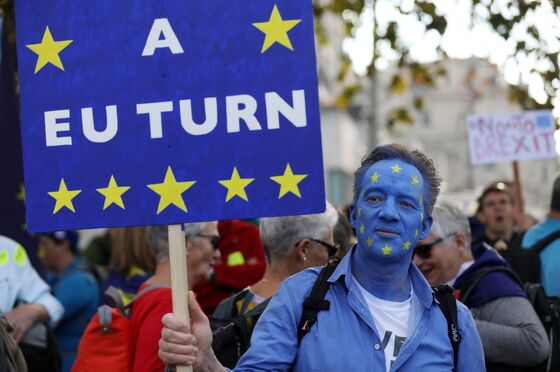 There's still no clear candidate to replace May, and there's still no majority in Parliament for a harder Brexit than the one May is pursuing. The Brexiteers still don't have the numbers to replace her with one of their own. May has been here before, and has shown a remarkable ability to stagger on, in defiance of the usual rules of British politics.
But we haven't seen the last of the concessions May will have to make to get a deal, and her critics know that. Brexit Secretary Dominic Raab expects to be back in Brussels "sooner rather than later," he told the BBC's Andrew Marr on Sunday, as he said a deal needs to be done "towards the end of November." The window is closing.
The Sunday Times says it's hard to see how May can avoid a leadership challenge, even after months of "crying wolf" by critics.
Brexit rips the world's financial plumbing apart, writes Lionel Laurent.
In an op-ed for the Sun, May says Brexit is about the national interest, not her career.
Norway First | Nicky Morgan, a pro-EU lawmaker who heads the Treasury Committee, called for the government to change tack and negotiate a Norway-style deal with the EU as the only possible way forward. Morgan warned that it might fall to Parliament to make it happen. "If the government will not accept that things cannot go on as they are and therefore adopt a speedy change of direction, then Parliament will have to step in and force a change of negotiating mandate," she wrote in the Sunday Times. Nick Boles, a pro-Brexit Tory, has a proposal to seek a Norway-style deal as a first step, so that a fuller exit treaty can be negotiated later. The idea might just gain traction.
Second Referendum | A march in London demanding a referendum on the final Brexit deal drew 700,000 people. Labour's Brexit spokesman Keir Starmer called the demo "significant" as he reiterated his position that if May's deal is rejected by Parliament, another plebiscite should remain an option. But remember, there are some massive obstacles to a second vote. The Guardian cited pro-referendum campaigners saying there may be as many as 50 Tories who could back a public vote, but it will be easier to win them over if Parliament votes against May's deal. 
Business Cuts | Four-fifths of U.K. companies have cut or withheld investment because of the uncertainty caused by Brexit, Britain's biggest business lobby said. Meanwhile, Philips CEO Frans Van Houten told Bloomberg TV that the company will have to review its U.K. manufacturing because of the split.
Emergency Drug Plans | The Royal Pharmaceutical Society is calling for the U.K. government to grant pharmacists emergency powers after Brexit, according to the Sunday Times. The organization wants to authorize pharmacists to switch their patients to different medications without the approval of general practitioners in case of acute drug shortages, the newspaper wrote.
Nothing to Say | Prime Minister May sought to reassure U.K. business that a Brexit deal was just around the corner on a conference call with more than 130 chief executives and officials from some of the world's largest companies. But she offered nothing new.
On the Markets | Politics will set the tone for pound traders this week, as investors see political risks growing, Charlotte Ryan reports. "We can only expect larger moves in sterling if we really get an end of the negotiations, and I mean really the end, which is either a signed deal or not," said Thu Lan Nguyen, a currency strategist at Commerzbank. The pound, which lost 1 percent last week, traded at $1.3071 early on Monday.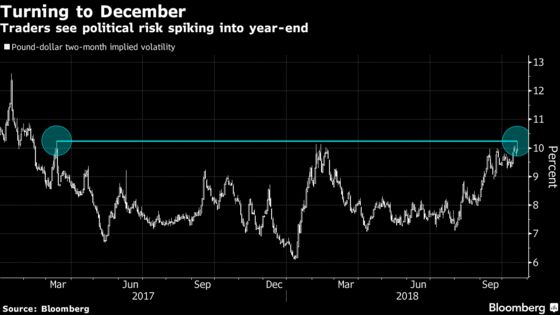 Want to keep up with Brexit?