Brexit Bulletin: Opposing Forces
(Bloomberg) -- Today in Brexit: As Prime Minister Theresa May struggles to win the support of her own party, the opposition is readying another blow.
Keir Starmer, Labour's Brexit spokesman, will tell the party's conference in Liverpool today that May won't be able to rely on Labour support for a step "into the unknown." While the rebuttal is hardly a surprise, it will pile pressure onto the beleaguered premier as she prepares to face her party at its conference next week.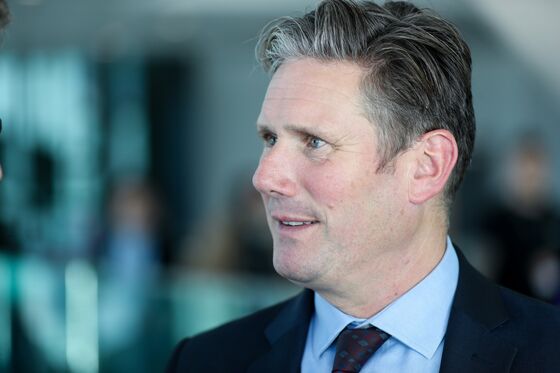 "If Theresa May brings back a deal that fails our tests – and that looks increasingly likely – Labour will vote against it. No ifs, no buts," Starmer will say, according to extracts released by his office. "And if the Prime Minister thinks we'll wave through a vague deal asking us to jump blindfolded into the unknown she can think again."
If enough Tory rebels were to unite with Labour in opposing May's deal, it could be defeated in Parliament, throwing the Brexit process into chaos. Labour would then push for a general election on the grounds that it would mark May's failure on the most important issue facing Britain.
Delegates in Liverpool will also debate a motion on Tuesday keeping open the option of pushing for a second Brexit referendum if May refuses to start the process that would lead to a general election. Still, in a Bloomberg TV interview Monday, shadow chancellor of the exchequer John McDonnell insisted that any referendum would be on the terms of the deal and wouldn't offer voters the option to stay in the bloc, putting him on course for a spat with party members today.
While the Conservative Party, whose own conference begins on Sunday, is also divided by Brexit, there are signs of a temporary truce, at least among senior ministers. At the Cabinet meeting on Monday afternoon, ministers agreed to a plan for a post-Brexit migration regime that will focus on highly skilled workers, Bloomberg's Tim Ross and and Kitty Donaldson report.
May left the sore subject of her rebuff at the Salzburg summit of European Union leaders until the very end, explaining to her colleagues that while the European Commission was unhelpful, some leaders are more willing to be supportive of her position, according to people familiar with the meeting. Now it is up to the Commission to engage constructively with her exit plan, she said, apparently reading from a script on the table in front of her.
There was no dissent from pro-Brexit ministers, or indeed any reaction at all. May's insistence that the plan, known as Chequers, must stand met with silence in the room. The Sun later reported that ministers are giving May's plan two weeks to make progress.
Europe's biggest economies are taking different approaches to the Brexit impasse. German Chancellor Angela Merkel on Monday warned EU leaders against taking an excessively harsh line with the U.K., while French President Emmanuel Macron is turning up the heat, insisting he wants negotiations concluded next month.
Away from politics, here's the remarkable story of how Brexit is giving Andreas Hauschild – a former Deutsche Bank trader who faces possible extradition to the U.K. over Euribor rate-rigging charges – a chance of staying out of the British justice system.
Pet Peeves | Britons planning to take their pets with them on holiday to France need to see a vet four months in advance in case the government doesn't reach a Brexit deal, according to the latest batch of "no deal" preparation papers. The studies, released on Monday, also warned truck drivers and suppliers that there may not be enough permits to travel to the EU and that flights may also be grounded, while reassuring drinkers that Irish whiskey would continue to be fully protected.
Irish Preparation | Speaking of Ireland, the Financial Times reports that Irish companies are already stockpiling goods in the U.K. to safeguard their supply chains in the event of a no-deal Brexit.
Alternative Plan | Pro-Brexit politicians in the Conservative Party launched a rival plan for leaving the EU on Monday, recommending a cleaner break and opening trade talks with other countries around the world. The proposal, published by the Institute of Economic Affairs think tank, was called "Plan A+: Creating a Prosperous Post-Brexit U.K."
Prominent Brexiteer Jacob Rees-Mogg later shared his own, characteristically flamboyant, title.
Solving Salzburg | The summit in Austria may have killed off her so-called Chequers exit plan, but May can still avoid a disastrous no-deal Brexit, according to the Centre for European Reform. Still, it will require some tough choices on the Irish backstop, the group said.
Sterling Assistance | Bloomberg Opinion's Chris Hughes lays out how the pound's post-Brexit weakness is only facilitating foreign buying of U.K. companies, not driving it.
Picking Paris | Bloomberg's Will Hadfield and Katie Linsell show how the Brexit threat is prompting banks and funds to use the French capital for their clearing needs. That comes as London's financial industry was dealt another blow by lawmakers in Brussels. Draft legislation endorsed by a European Parliament committee would pressure U.K.-based firms to open a unit in the EU to continue underwriting stocks and bonds and doing market-making business for clients in the bloc.
Coming Up | Labour's conference continues in Liverpool, while May heads to New York for the UN General Assembly.
Want to keep up with Brexit?