Brexit Bulletin: Open Conflict
(Bloomberg) -- Today in Brexit: Tensions between the U.K.'s most senior ministers are at risk of boiling over and the prime minister is preparing for yet another bruising showdown.
The U.K. cabinet has descended into open conflict as Prime Minister Theresa May's Brexit plan continues to put her at odds with many in her own party.
At a heated meeting on Tuesday, seven senior officials spoke out against a proposal that could allow the U.K. to stay inside the European Union's tariff regime indefinitely, Tim Ross, Kitty Donaldson, Robert Hutton and Nikos Chrysoloras report. The infighting is intensifying as time is running out before Britain leaves. Talks are still stuck on the thorny question of how to avoid customs border checks at the land frontier between Ireland and the U.K.'s Northern Ireland.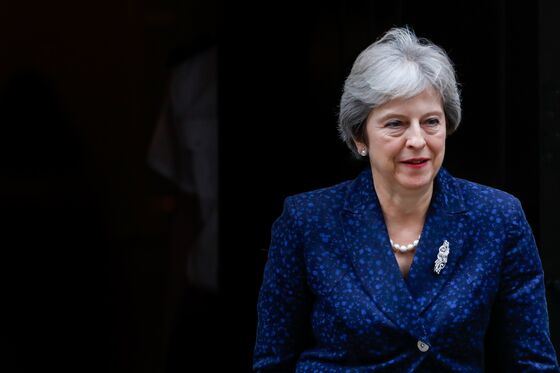 May reacted angrily to the intervention, according to people familiar with the matter, deploying what was described as her trademark "death stare." The dissenting group, said to be led by Foreign Secretary Jeremy Hunt and include Home Secretary Sajid Javid as well as cabinet ministers Penny Mordaunt and Michael Gove, demanded a fixed end date to the so-called backstop guarantee. That is intended to avoid a policed border on the island of Ireland, or at least provide some kind of mechanism for the U.K. unilaterally to escape the arrangement if necessary.
The attack prompted other ministers to launch a counterstrike and warn that the U.K. will crash out of the EU with no deal unless a compromise is reached. Some ministers also reacted in disbelief when they were told that in the event of a no-deal Brexit, the government plans to charter commercial ships to bring in emergency medicines and food, the Financial Times reported on Tuesday.
On Wednesday, May will face another showdown with her party, this time confronting a gathering of the so-called 1922 Committee of rank-and-file Tory MPs. May survived a revolt on Monday when some of her strongest Brexit critics backed down, although there are also conflicting reports of whether a plot to oust her will have enough support to succeed.
The U.K. in a Changing Europe's Brexit Policy Panel remains optimistic about May's prospects, at least in the short term. More than 90 percent expect her to see the negotiations through, although about seven in 10 see her gone by the end of 2020. Meanwhile, Bloomberg Opinion's Therese Raphael suggests that ditching the beleaguered premier now won't solve anything. 
Brexit has been dragging the Bank of England deeper and deeper into politics, with Governor Mark Carney now on the hook to help politicians assess any deal reached by the U.K. government. Whatever his analysis, Carney's views are almost certain to become weaponized by both sides of the increasingly vitriolic debate.
The French government met with business leaders Tuesday evening to instruct them to begin preparing for all Brexit scenarios, including no deal. France is particularly concerned that small businesses are not prepared for such a scenario, while large companies long have had contingency plans in place. 
May's Brexit plan could leave Britain in a multi-year transition period despite her promise it will last a few months, The Times reports, citing leaked cabinet papers.
EU Skepticism | European leaders watching developments in London are concerned May won't be able to get a deal agreed to. EU nations now see the prospects of a special Brexit summit next month to seal the divorce terms as highly unlikely. The bloc is stepping up preparations for a potential cliff-edge withdrawal, people familiar with the discussions said.
Treaty Talk | The EU will offer May a U.K.-wide customs union as a way around the Irish backstop issue, but it will have to be negotiated beyond the withdrawal agreement as a separate treaty, RTE reported on Tuesday. The report sent the pound higher and saw government bonds pare an advance.
Border Danger | The operation of the U.K. border is at risk if the nation leaves the EU without a deal, according to the National Audit Office. The Border Force may struggle to recruit enough staff by the March exit date, while 11 of 12 critical systems needing to be replaced or changed to manage the border are in danger of not being delivered on time and to acceptable quality, the NAO said.
Merger Potential | The U.K. may take a softer stance than the EU on telecom and media consolidation in the future, Margot James, minister for the creative industries, said in an interview with Bloomberg TV on Tuesday.
Brexit Blues | As the U.K.'s exit date creeps ever-closer, the outlook for manufacturers is the weakest in three years and concerns over skilled labor shortages are at the highest in more than four decades, according to the Confederation of British Industry. Meanwhile, employers' confidence in the prospects for Britain's economy has plummeted to the lowest level in eight months, the Recruitment and Employment Confederation said on Wednesday.
On the Markets | Investors are on the lookout for signs of whether a much-anticipated leadership challenge to May will actually materialize, Bloomberg's Charlotte Ryan reports. Long-time sterling bull Nomura International switched to a neutral stance on Monday amid reports of mounting opposition to May from within her own party.
Gove Goes Missing | The Cabinet argument over Brexit on Tuesday ran on for so long that Environment Secretary Michael Gove missed a speech he had been due to deliver to British and Irish parliamentarians across the road. In his absence, audience members occupied themselves with a polite discussion of moments of unity in the two countries' history.
Coming Up | May faces questions from lawmakers in Parliament before addressing the private meeting of Tory backbenchers about her Brexit negotiations.
Want to keep up with Brexit?