Brexit Bulletin: On to the Next Round
(Bloomberg) -- Today in Brexit: Prime Minister Theresa May is defying Brexit backers in her own party with plans that would closely tie the U.K. to the EU.
As England head for a World Cup quarter-final, Theresa May is gearing up for a battle of her own.
The prime minister is drawing up plans to keep the U.K. closely tied to European market rules for goods after Brexit in a move that risks infuriating euroskeptic campaigners in her party and leaves her on course for a fresh showdown with her Cabinet.
She's working on winning Brexit supporters around to her blueprint, which would keep the U.K. closely tied to European Union rules for trading goods after Brexit, according to people familiar with the matter. May's senior pro-Brexit colleagues want her to explain more clearly how a new proposal for the U.K.'s future customs regime will work. Some fear it could keep the country chained to the EU's tariff regime forever, the people said.
On services, which account for most of the U.K. economy, the plan is to seek mutual recognition of regulations rather than following EU rules, one of the people said.
The premier wants her Cabinet to sign off on the plan – contained in a government white paper – at a key meeting on Friday at May's Chequers country house. But it's not yet clear that her feuding ministers will unite behind the premier's approach, and some Tories are privately discussing whether to try to oust her.
Friday's summit is seen as critical to moving stalled Brexit negotiations forward. Europeans say they still don't know enough detail about what the U.K. wants.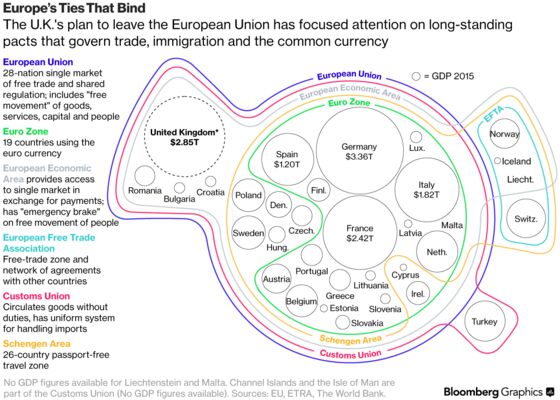 The customs regime has been the most difficult issue for May. Two previous proposals split her Cabinet. In this third scenario, the U.K. would continue to collect EU tariffs at the border, ITV News reported, an option that pro-Brexit ministers such as Foreign Secretary Boris Johnson and Brexit Secretary David Davis have previously attacked as "crazy" and unworkable.
Establishing a post-Brexit customs systems could take up to five years, according to U.K. government papers circulated to businesses as part of a consultation process, Sky News reported.
In another sign of May's efforts to maintain tight links with the EU, Brexit Minister Robin Walker set out the government's plans for mutual recognition of professional qualifications on Tuesday. The government wants the EU to continue to accept qualifications for lawyers, architects and doctors, and will seek fly-in fly-out rights for professionals.
Theresa May and Jeremy Corbyn have more in common on Brexit than meets the eye, writes Bloomberg's Thomas Penny. Ideological opposites, the leaders of the two biggest parties in the U.K. are both battling deep divisions on how to separate from the EU, have both softened their stances for political necessity and have both become masters of the art of fudge.
Just 20 banks have applied for a license to operate in the European Union in time to receive approval before Britain leaves the bloc.
Business Minister Richard Harrington says failure to reach a Brexit deal would wreak havoc on British business, especially manufacturers that rely on just-in-time supply chains. In an interview on Tuesday, he defended the right of companies to openly voice their concerns.
Backing Away | Corbyn's biggest financial backers edged away from a decision that might have forced the Labour leader into supporting a second referendum on Brexit. The leader of Unite, Britain's biggest workers' union, said that while the option for a vote should be kept open, colleagues should not tie Corbyn's hands. 
Polling Scandal | U.K. lawmaker George Foulkes said hedge funds' use of private polling data to bet on the outcome of the 2016 British referendum was a "scandal" and called for an investigation into practices revealed in a Bloomberg report.
Hammond's Listening | The Cabinet recognizes the need for progress on Brexit is now urgent, Chancellor of the Exchequer Philip Hammond said in Parliament on Tuesday, as the British Chambers of Commerce warned that companies are at "breaking point."
Coming Up | Irish Foreign Minister Simon Coveney says he's having "important Brexit meetings" with four U.K. ministers on Wednesday. Meanwhile, May will face her usual Wednesday question session in Parliament.
No Chimes | Big Ben will not be ringing in Brexit at 11 p.m. on March 29 next year, when the U.K. leaves the EU, according to senior officials. While temporary measures are planned to mark Christmas and New Year during restoration work, Parliamentary authorities have rejected calls from senior government figures for a similar move to mark the moment of the U.K.'s formal exit from the EU using the country's most famous timepiece.