Brexit Bulletin: Losing Hope
(Bloomberg) -- Today in Brexit: Hopes fade that May can do a deal with Labour.
Can Theresa May do a deal with Jeremy Corbyn to deliver Brexit? The momentum that emerged from both parties' local election failure last week turns out to have been short-lived, and both sides are sounding pretty gloomy again.
So the focus turns to what's next. The prime minister had promised that if talks failed, the next step would be to ask Parliament to vote on alternative Brexit options. But Parliament has already tried that, and failed, so the trick is going to be to find a system that forces lawmakers to coalesce around something.
It's worth remembering what the results were last time around. Ken Clarke's customs union proposal — pitched as a lowest common denominator to win as much support as possible — failed by three votes. A proposal for a referendum on the Brexit deal also lost, but it got more votes than the customs union — the result on April 1 was 280 vs 292. The six weeks of Brexit stagnation since then might at least help narrow that gap.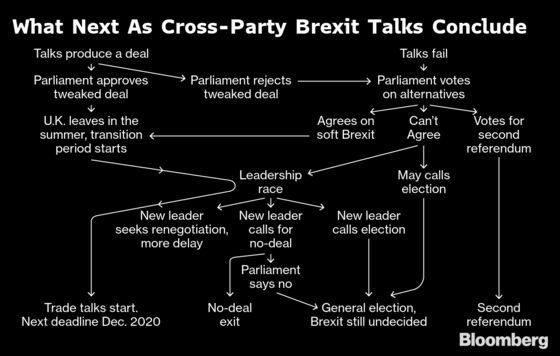 One of the sticking points in the talks with Labour is that the opposition can't trust that May's eventual successor will stand by her team's commitments. Shadow Chancellor John McDonnell says it's like "trying to enter into a contract with a company that's going into administration." That problem is getting more acute as Conservatives increasingly lose patience with May. Graham Brady, the head of the rank-and-file Tories, has given May until 4 p.m. Wednesday to set out a timetable for leaving or find it forced upon her,  according to the Telegraph.  Stay tuned for the prime minister's next checkmate-defying maneuver.
Pressure mounts on May as the focus turns to what happens next.
Talks with Labour over Brexit were never going to work, as the whole U.K. political system is based on confrontation, Philip Johnston argues in the Telegraph.
The EU should have ignored the U.K. government's advice to refrain from interfering in the 2016 referendum, and instead taken a stand to "destroy the lies which were circulating," European Commission President Jean-Claude Juncker said.
No-Deal Talk is Back | Brexit Secretary Steve Barclay told colleagues at Tuesday's cabinet meeting that the government must not give up preparing contingency measures for a no-deal split from the EU, Tim Ross reports. Barclay warned that a no-deal Brexit is still possible if no agreement has been reached when the EU's extended deadline expires Oct. 31, according to people familiar with the situation.
Cut-Price Campaign | The Tories will run a low-budget campaign for the EU elections, which is designed as a damage-limitation exercise, the Times reports.
German Weakness | The European Commission cut its growth forecasts for the euro area and slashed its projection for Germany as it warned that escalating trade tensions threaten to make the outlook even worse.  The forecast for Germany's economy in 2019 was cut to just 0.5 percent from 1.1 percent.
Le Pen Lead | Marine Le Pen's National Rally party remains in the lead based on French voting intentions ahead of this month's European elections, with 24%, according to the latest EuroTrack OpinionWay-Tilder poll for Les Echos. 
Another Move | U.K. asset manager Baillie Gifford opened a sales office in Frankfurt to serve clients on the  continent. The company said the move was "just the start"  as it plans to "explore opportunities across the region."
Who Knows? |  Bank of England Chief Economist Andy Haldane said it's reasonable to take a different view to the bank on Brexit and the assumptions about what it will mean. 
On the Markets | The pound edged lower on Tuesday as expectations of a deal between the government and opposition faded. It traded at $1.3070 early on Wednesday.
Correction: In yesterday's bulletin, we incorrectly wrote that Corbyn and May were set to meet, but it was just their teams talking. 
Want to keep up with Brexit?