Brexit Bulletin: Last Ditch
(Bloomberg) -- Today in Brexit: Negotiators are back in Brussels to try to clinch last-minute concessions.
Attorney General Geoffrey Cox heads back to Brussels with just days to save Brexit. His mission is to extract something meaningful enough from the other side to allow Brexiteers to back Theresa May's deal.
If he succeeds, then the prime minister's accord has a chance of getting through Parliament next week, allowing for an orderly divorce. If he fails, Britain tumbles into unprecedented political uncertainty — with Brexit probably delayed.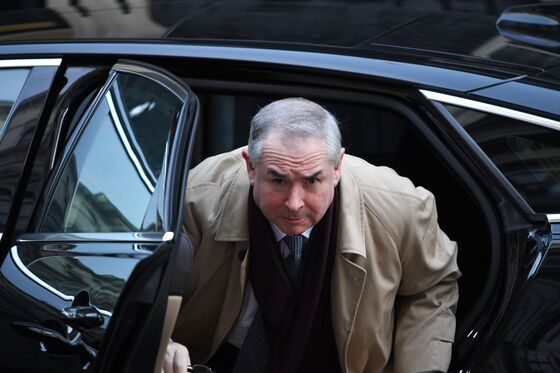 As Cox tries to achieve the apparently impossible on the much-loathed Irish backstop, two factors play in May's favor: First, the European Union wants to avoid a delay. It would be messy because of European elections, and members are split on how long it should be. Secondly, since May effectively replaced the option of no deal last week with the alternative of extending Brexit, the decision facing hardliners is much tougher. They now have to choose between the risk of getting trapped in EU rules via the backstop, and the certainty of getting trapped in the whole bloc through an extension.
The anti-EU caucus of Conservatives known as the European Research Group warned May last night that they would be watching, but declined to prejudge the outcome of talks. "We support the prime minister in seeking treaty-level changes," said Michael Tomlinson, a member of a group of lawyers commissioned by the ERG to scrutinize Cox's work.
Ian Wishart reports from Brussels that U.K. negotiators are reaching into obscure international treaty law to find a solution. They're looking at whether the Vienna Convention on the law of treaties, a 1969 agreement, could provide an escape route, according to two EU officials. The EU isn't convinced and is focused instead on possible arbitration options.
Whatever fix they settle on, Cox doesn't have long. A revised deal has to go back to Parliament by March 12, and lawmakers want time to peer at what's on offer before casting their historic vote.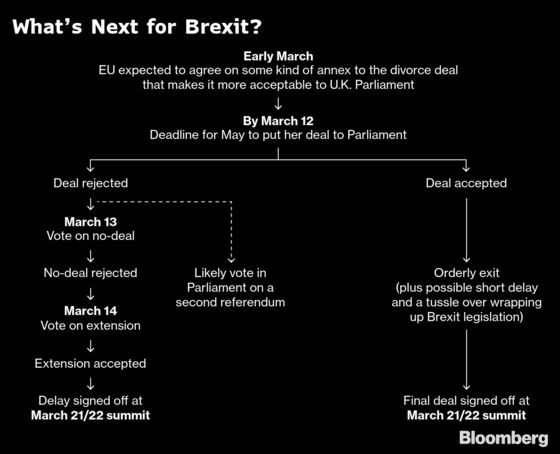 Hardliners are now the biggest threat to Brexit happening, argues Robert Shrimsley in the Financial Times. "They stand in danger of losing everything by fighting on for a fiction," he says.
Theresa May didn't understand the EU when she triggered Brexit, so her strategy was doomed to fail, according to Ivan Rogers, her former ambassador in Brussels.
French President Emmanuel Macron sets out his vision for Europe in an op-ed in several European newspapers. And he takes a swipe at the Brexit campaigners for not telling the truth.
What Does the Market Say? | Investors are betting on Brexit being delayed, according to a Bloomberg survey. Respondents see a 54 percent probability of a delay beyond March 29, pushing the pound up to $1.33. The next most likely scenario is that May somehow gets her deal through a fractured House of Commons. That has a 37 percent chance of happening and is seen by banks as the best scenario for the pound, fueling a rally to $1.38.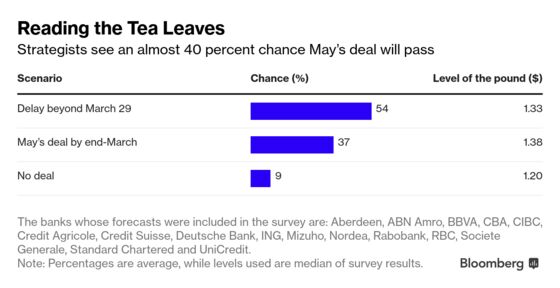 Buying Essentials | British consumers reined in their spending last month amid anxiety over Brexit. Retail sales rose just 0.5 percent compared with the year-earlier month as shoppers focused on essential items, according to a report from the BRC and KPMG. A fifth of shoppers plan to save on their grocery bills over the coming year.
Building Stops | U.K. construction contracted for the first time in almost a year as a lack of clarity about Brexit prompted builders to postpone decisions on projects. Commercial building and civil engineering led the drop, which will continue, according to the IHS Markit report. Residential building also lost momentum.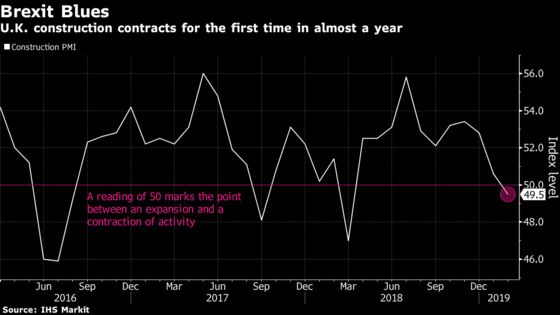 No New Models | A no-deal Brexit would make it "extremely complicated" for Toyota to build new models at its U.K. plants, the company's European chairman, Didier Leroy, told the Financial Times.

Stemming Losses | Britain aims to build an industry-leading car-battery factory to accelerate a push into electric vehicles, as Brexit and diesel hurt demand and jobs. The plant would add to 246 million pounds ($325 million) of battery-related investment announced in July 2017.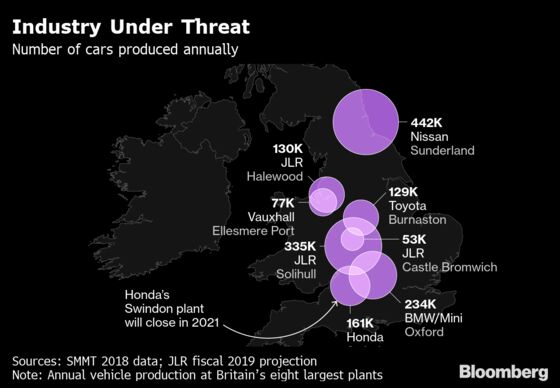 Friendly Spies | France is committed to maintaining close intelligence and security ties whatever happens with Brexit. That's the French view as President Emmanuel Macron prepares to welcome a contingent from the British intelligence services to Paris on Tuesday for the first meeting of the Intelligence College of Europe. It's an informal group the French leader proposed as part of his plans for tightening links between EU members in 2017.
A Taste of Brexit | French customs workers showed on Monday what a post-Brexit world might look like by working to rule, sparking traffic jams around the port of Calais. Customs officials applied strict rules and conducted more thorough searches, as unions are demanding better pay and more hiring to prepare for Brexit. 

Want to keep up with Brexit?