Brexit Bulletin: Instant Replay
(Bloomberg) -- Today in Brexit: Prime Minister Theresa May could recall her Cabinet to agree on a deal, but some businesses aren't hanging around.
Theresa May could be asking the Cabinet to approve a draft Brexit deal within days.
While a gathering of ministers broke up on Tuesday without agreement after two hours, the prime minister's officials are considering calling a second meeting, potentially to sign off on the proposal, later this week, Bloomberg's Tim Ross, Robert Hutton and Kitty Donaldson report. An emergency meeting might even be called for Saturday.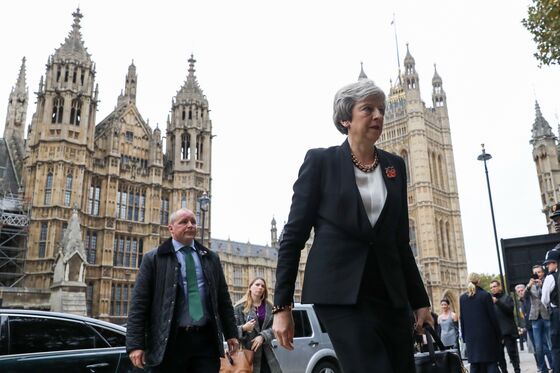 The timetable is being accelerated in hopes of securing an accord with the European Union before the end of the month. The U.K. will leave the EU with or without a deal on March 29, 2019, and negotiations are still stuck on the thorny question of how to avoid customs checks on the land border between the Irish Republic and Northern Ireland. Chief EU negotiator Michel Barnier said on Tuesday that more work is needed and it's now time for the U.K. to make decisions.
During the meeting in London, ministers including pro-Brexit campaigner Michael Gove demanded to see the full government legal advice underpinning the plan for resolving the deadlock. Meanwhile, Brexit Secretary Dominic Raab and Attorney General Geoffrey Cox were sent away to work up the highly complicated proposal for the backstop – the legal guarantee to ensure the Irish border remains open to the flow of goods, whatever future trade arrangements the U.K. makes with the EU.
"Don't be under any illusion: There is a lot of work to do," May's spokesman James Slack told reporters in London on Tuesday. So far no date has been set for another meeting of May's top team, but it will be called "at the appropriate moment" before any deal is done in Brussels, he said.
But as lawmakers bicker, some  companies aren't hanging around for a deal. Germany's Schaeffler, which makes ball bearings for use in cars and the London Eye, blamed Brexit for its decision to close two of its three production plants and combine two logistics centers. The moves will cut its 1,000-strong British workforce by about half.
Meanwhile, Stifel Financial Corp. said it is buying Germany's MainFirst Holding to ensure that the U.S. firm can keep offering financial services in the EU, while surgical-appliances manufacturer Steris said it plans to move its corporate base to Ireland from the U.K.
The City of London was dealt another Brexit blow yesterday with the news that CME Group is moving its $240-billion-a-day European market for short-term financing out of the capital, Meanwhile, investors in a Schroders real estate fund that owns some of London's priciest offices are seeking to withdraw almost one-fifth of the 836 million-pound pool as Brexit-related worries mount, Bloomberg's Jack Sidders reports.
Tuesday saw another day of Brexit ebb and flow. Relive the events, as they happened, with Bloomberg's blow-by-blow account of the drama.
The prime minister may not have secured a deal yet, but she's already planning on how she'll present one when it comes, according to the BBC. Citing a leaked blueprint – later facetiously denied by the government – the broadcaster reported that there will be a major speech from May at a conference in the middle of the month as well as endorsements from foreign leaders, former foreign secretaries and businesses.
Gaining Momentum | Pressure is increasing on the Labour Party to vote against any Brexit agreement May can secure. The prime minister needs opposition MPs to vote with her if she's to have any chance of getting her plan through, but Momentum, the influential Labour pressure group, said on Tuesday that an "overwhelming majority" of its members wanted the party to oppose a deal. 
Chemical Breakdown | The U.K.'s plan to leave the EU could lead to a breakdown in the chemicals trade, according to a parliamentary study that warns of risks for an industry making ingredients for everything from food to medicines and paint.
Thumbs Up for Sterling | Tuesday saw the latest evidence of how sensitive traders are to Brexit, as the pound climbed on reports Brexit Secretary Dominic Raab said "thumbs up" as he left a Cabinet meeting. Nomura's Jordan Rochester summed up the mood among analysts, quipping: "Isn't it wonderful to be working in a market where a simple thumbs up moves a currency by 40 pips?"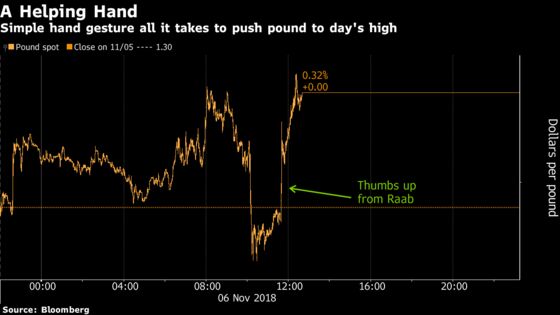 Melancholy Mandelson | Peter Mandelson expects the U.K. to end up with only loose ties to the EU, with the veteran Labour politician saying it's "almost certain that we're going to end up with some form of hard Brexit." Furthermore, the U.K. will prove the "biggest casualty" if talks continue to drag on, Mandelson told Bloomberg Television at the New Economy Forum in Singapore on Tuesday.
Growing Concerns | Crafting a solution to lackluster U.K. economic growth could land someone a 100,000-pound prize in a new competition launched on Wednesday.  The Institute for Public Policy Research has announced the search for "radical ideas" to bolster growth, with submissions judged by a panel chaired by Stephanie Flanders, the head of Bloomberg Economics.
On the Markets | While the pound has rallied on growing optimism a Brexit deal will soon be reached, traders could be ignoring the risk that any agreement fails to clear Parliament, Bloomberg's Charlotte Ryan reports. Sterling edged higher on Wednesday as markets digested the results of the U.S. midterm elections, in which Republicans retained control of the Senate and Democrats took the House. It's now up more than 3 percent from its lows of last week.
Midterm Map | Explore all the U.S. results in our interactive election hub.
Coming Up | Parliament is entering a brief recess, so there's no Prime Minister's Questions session. Meanwhile, Halifax releases a report on the U.K. housing market.
Want to keep up with Brexit?