Brexit Bulletin: In Contempt?
(Bloomberg) -- Today in Brexit: May's big Brexit debate is overshadowed by more parliamentary guerrilla tactics.
Prime Minister Theresa May was meant to kick off a five-day debate today on her Brexit deal — ahead of a vote most expect her to lose next week. Instead she's fighting an emergency debate about whether her government is in contempt of Parliament for withholding legal advice received over Brexit.
May is fighting six opposition parties, including her one-time allies in the Northern Irish Democratic Unionist Party, and some in her own party also want the advice public. As Rob Hutton writes, that means she'll go into the main debate on her deal with her lack of majority painfully on show. It's also yet another sign that Parliament is increasingly assertive when it comes to trying to drive the Brexit process.
Minutes before Parliament was due to rise Monday evening, House of Commons Speaker John Bercow announced he agreed there was an "arguable case" that ministers were in contempt. The government had earlier said it wouldn't be complying with a Parliamentary demand that Attorney General Geoffrey Cox's full legal advice on May's Brexit deal be released.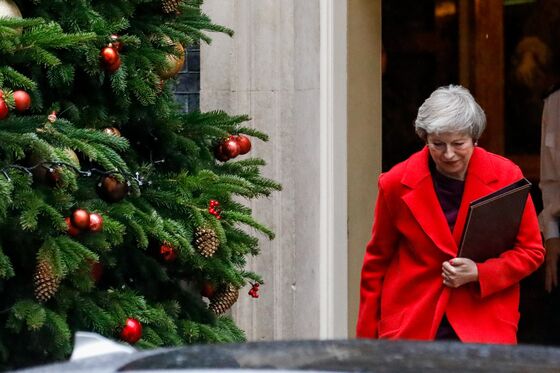 Opponents of May's deal across the spectrum want the advice to be published, suspecting it will show the U.K. risks being trapped in the European Union's orbit forever. Cox hinted on Monday that he's had reservations about the most controversial part of the deal — the Irish backstop — but concluded that it was worth the risk. But that sounds more like a political judgment than a legal one.
And once the main debate finally starts? May is widely expected to lose the vote. Then what? Government ministers say there's no plan B, and when pushed, they say there are many options — including no deal and no Brexit. Here are just some of the possibilities:
May has another go, sending the motion back to Parliament in the hope that market pressure — and some terrifying headlines about new no-deal preparations — will change MPs' minds.
A vote of confidence in the government — there's then a two-week period as the government tries to rebuild its majority, possibly followed by a general election.
May could call a general election.
A leadership challenge.
Parliament could push for May to go back and negotiate a closer deal with the EU that would command a majority.
MPs could push for a second referendum — though we're still far from a majority in the Commons and it would require a controversial extension of exit day.
Parliament won't allow a no-deal Brexit, writes former Tory leader William Hague in the Telegraph. MPs could amend or block legislation that has to come to the House of Commons before Brexit day to get their way, or present motions to show a clear majority against leaving on March 29, he says.
May's Brexit deal is a betrayal of Britain, writes former Bank of England Governor Mervyn King. "If this deal is not abandoned, I believe that the U.K. will end up abrogating it unilaterally — regardless of the grave damage that would do to Britain's reputation and standing. Vassal states do not go gently into that good night," he writes.
Brinkmanship over how derivatives will be cleared in the event of a no-deal Brexit is still pitting U.K. firms against Brussels. The EU says it's addressing the issue, but companies are demanding more.
Stopping Brexit | Can the U.K. unilaterally revoke its "Article 50" letter that started the clock ticking on Brexit? The advocate general at the European Court of Justice will deliver his opinion to judges this morning. May tried to stop the case, but opponents hope it will give U.K. parliamentarians a way out. The court is working unusually fast to deliver a ruling this month, potentially even before the vote on Dec. 11.
Leading the Way | Barclays Plc's plan to quickly move European business to Dublin in preparation for Brexit is one of the most ambitious, yet gaining plaudits from regulators, according to people familiar with the talks. The lender plans to book almost half its EU-related trading risk within the bloc by March — a level EU regulators say other global banks should aspire to.
Uncomfortable Backstop | May's negotiator Olly Robbins was grilled on the Irish backstop yesterday — the fallback insurance policy that's included in the divorce deal as a way of preventing a new border going up on the island of Ireland. He conceded that it would be an "uncomfortable" situation. But he also said the backstop wouldn't necessarily mean frictionless trade for Britain, and it would do nothing for trade in services. Cox made "no bones about" the disadvantages of the backstop, but said it was a "risk worth taking" to get a deal.
On the Markets | The pound was little changed as traders wait for a new steer on where the Brexit endgame in heading. Meanwhile, take a look at what the different possible outcomes of the vote could mean for bond yields.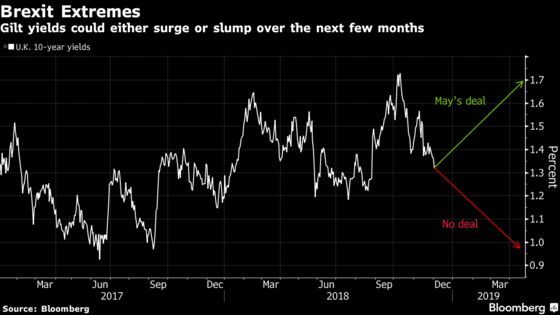 Currency Mismatch | The divorce bill — which the U.K. has always put at about £39 billion ($50 billion) — will have to be paid in euros once the transition period is over. That could make it even more expensive. The pound has already slumped 14 percent against the euro since the referendum.
When Are We Leaving? | New Brexit Secretary Stephen Barclay was just days into the job when he faced the headmasterish grilling of Brexit Committee Chairman Hilary Benn. His biggest slip-up? Not knowing the date that Brexit is meant to happen. He referred to March 31, instead of March 29 — the Friday that comes exactly two years after Article 50 was triggered.
Coming Up | Bank of England Governor Mark Carney is questioned by Treasury Committee about the Brexit deal. May chairs a Cabinet meeting at 9:30 a.m. The debate on the Brexit accord will be pushed back by the contempt debate.
Want to keep up with Brexit?