Brexit Bulletin: High Noon Delayed
(Bloomberg) -- Today in Brexit: Theresa May's brinkmanship is getting more dramatic, and it's terrifying business. 
Once again, Theresa May is putting off the day of reckoning. The prime minister's brinkmanship means we're probably not going to know which way Brexit will go until just before March 29.
May was meant to be facing a crunch debate in Parliament this week — not a vote on the deal itself but an opportunity for members of Parliament to put forward alternative plans for the divorce, including how to avoid crashing out without any agreement to smooth the process.
But the premier is now promising MPs they'll have another chance to do that by Feb. 27. Pro-EU Tories who aren't that keen on rebelling might be convinced to give May some breathing space and see what concessions she drags out of Brussels by then.
May's other tactic seems to be to keep her opponents talking. She's written a conciliatory letter to Jeremy Corbyn, engaging with the Labour leader's ideas, for example on protecting workers' rights after Brexit, and says she looks forward to more talks. Still, there's no sign she's willing to compromise on the most totemic issue of all — staying in a customs union with the bloc, as Labour demands.
The prime minister's calculation is probably that offering pledges on workers' rights is a big enough fig leaf to win over wavering Labour MPs representing constituencies where voters back Brexit.
What May hasn't promised is whether Feb. 27 will include a new "meaningful vote" on the deal itself. Remember that she is due to meet European Commission President Jean-Claude Juncker again at the end of the month, and then there's a European Union summit scheduled for March 21-22. It's not impossible to think that May could bring a deal back with just days to go until the exit date, in the hope that the terror of crashing out forces lawmakers to back her.
Her strategy is terrifying business. Carolyn Fairbairn, head of the Confederation of British Industry told Sky News that companies just want to see a compromise to put an end to the "unfolding nightmare."
"We really are in the emergency zone of Brexit now," Fairbairn said.
The best hope might lie with the Labour Party. Shadow Brexit Secretary Keir Starmer pledged at the weekend that the party will try this week to force a vote on the deal itself before Feb. 26. "We have got to put a hard stop into this running down the clock," Starmer told the Sunday Times.
Trouble is, it's not clear enough Tories are ready yet to rebel.
The Backup Plan That Failed | The U.K. government canceled a £13.8 million ($18 million) contract with Seaborne Freight, a startup company that doesn't own any ships, to deliver backup ferry service in the event of a no-deal Brexit. 
Banks Split | British lenders and their Wall Street rivals are pushing widely different views on what post-Brexit relations with the EU should look like. The U.K. banks don't want to be rule-takers — as they would be in the Norway model — while the U.S. banks just want ties to be kept as close to the status quo as possible. The clash was on display last week at a meeting with U.K. government officials, who plan to set out their strategy for boosting London's connections to other hubs next month.
The Hit to Germany | No deal would jeopardize 100,000 jobs in Germany, according to a study by Halle IWH, one of the country's leading economic institutes. The most affected areas would be Volkswagen's hometown of Wolfsburg, and Dingolfing-Landau, the site of BMW's largest German factory, according to Welt am Sonntag, which published the study.
Another Road to a Second Referendum? | There's a new plan to bring about a second referendum: members of Parliament would back May's deal but on the condition she then put it to a referendum for approval. The Observer reports that it's a cross-party initiative and could be put to a vote in Parliament.
Swiss Deal | The U.K. has reached an agreement with Switzerland that will allow it to continue trade without any additional tariffs after it leaves the EU. It's an important step, but the U.K. still has a long list of countries it needs to do the same with before Brexit day. 
On the Markets | Sterling has pulled back this month to hover below $1.30, and with just 46 days to go until Brexit, the currency's next move is likely to be a big one. A resolution could move the pound as much as 20 percent in either direction, Bloomberg's John Ainger reports.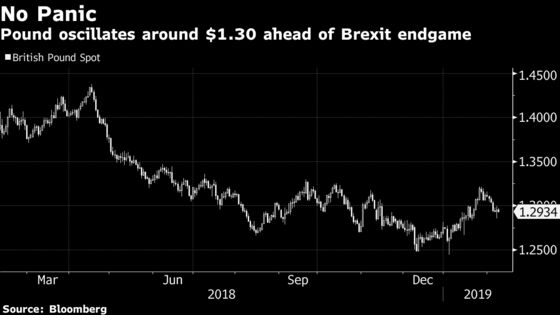 Coming Up | Brexit Secretary Steve Barclay meets the EU's chief negotiator Michel Barnier in Brussels. U.K. GDP data comes at 9:30 a.m. in London.
Brexit Stockpiles | Are you planning for no-deal? Hoarding tinned tomatoes, frozen fruit, canned fish, olive oil? Tell us what you're stocking up on?
Want to keep up with Brexit?