Brexit Bulletin: Fox the Pragmatist
(Bloomberg) -- Today in Brexit: There are signs of pragmatism in parts of the Brexiteer camp. That's good news for Theresa May's push for a deal.
Trade Secretary Liam Fox, a veteran Brexiteer in May's Cabinet, says he can live with a Brexit agreement that is less than perfect, because it can always be revised after the U.K. has left. In an interview with Bloomberg's Tim Ross, Fox says the important thing is to get Brexit done, because failure to deliver on the referendum would be disastrous.
"Not to deliver Brexit is the greatest political risk we could run," Fox said. "We should try to get as much of a final deal as we can get by the 29th of March, but it's self-evident that if it's a bilateral treaty, it can be revised later on." Read his full comments here.
Fox, like other Brexiteers, has reservations about Prime Minister Theresa May's plan to keep close ties to the bloc after the split. But he's lining up with Environment Secretary Michael Gove, another pro-Brexit Cabinet minister, who is also backing May's plan on the premise that a future Parliament could always improve it. Hardliners reject this stance. Former Foreign Secretary Boris Johnson took aim at the pragmatists earlier this week, saying it's "total fantasy" to say the U.K. can "bodge" a deal now and get a better deal later on.
As both sides in the negotiations inch toward a deal, May's team is increasingly focused on getting whatever she brings back from Brussels through the House of Commons, where she doesn't have a majority. As we reported yesterday, her strategy is to rush a vote through Parliament as quickly as two weeks after the deal is struck. Her team is trying to win over Brexiteers by telling them that if they reject the deal, the alternative could be a second referendum or a softer Brexit under a Labour government.
Fox said he "may be very sympathetic with those who take an ideologically purist position," but he reminded his fellow campaigners — and those trying to replace May with one of their own — that they don't have the numbers to get their way.
Edging Closer | Irish Prime Minister Leo Varadkar said the U.K. needs to present its proposal on the Irish border as soon as possible — and not just one or two days before the mid-October summit. The European Commission is optimistic that a proposal will come soon and be acceptable, Nikos Chrysoloras reports. A deal is getting closer on all other pending issues, including the governance of the withdrawal agreement, geographical indications, Gibraltar and Cyprus.
Bullish in Madrid | David Lidington, U.K.'s de facto deputy prime minister, said he's confident a Brexit deal can be reached. "It is so obviously in the interests both of the United Kingdom and the EU-27," Lidington told Bloomberg's Charles Penty after a meeting with People's Party leader Pablo Casado in Madrid.
A Gaffe That Matters | Foreign Secretary Jeremy Hunt's speech comparing the EU to the Soviet Union at the Tory party conference on Sunday is still making the Europeans cross and has soured the mood in the talks. EU President Donald Tusk, a veteran of the struggle against Communism in Poland and long seen as an ally of the U.K., yesterday called the comment "as unwise as it is insulting."
Preparing for Limbo | After months of listening to the U.K. warn about the risks posed by a no-deal Brexit, European Union financial regulators are now stepping up plans to avert a market meltdown. Daniele Nouy, the European Central Bank's head of supervision, said the ECB is "ready to help ensure a smooth Brexit — no matter the outcome of the political negotiations." And she's not alone. The EU's top markets cop called on Brussels to guarantee that the bloc's banks don't lose vital access to London's clearinghouses in a disorderly divorce.
End of Austerity? | If the age of austerity in Britain is over, it may not feel like it for years, writes Bloomberg's Andrew Atkinson. Just stopping the cuts means finding an extra 20 billion pounds ($26 billion) by the end of the current parliament in 2022. "Austerity as most people think of it ain't over yet," Resolution Foundation Director Torsten Bell says.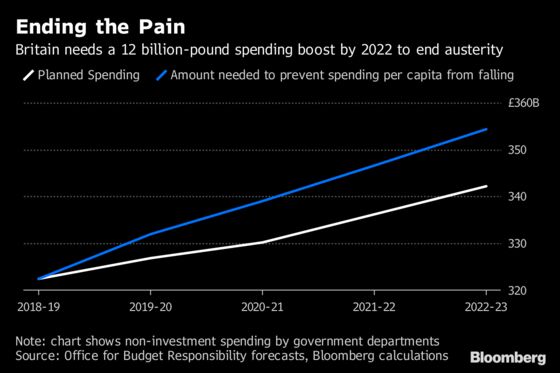 Russian Hacking | U.K. and Dutch authorities said officers from Russia's GRU military intelligence agency tried to breach organizations that were looking into allegations of Russian wrongdoing, including the poisoning of a former Soviet double agent in the U.K. Labour Deputy Leader Tom Watson responded by calling for a full investigation into Russian involvement in the Brexit referendum campaign.
On the Markets | The pound rose yesterday on increased optimism that a deal will be done. In early trading this morning, sterling was barely changed at $1.3012.
Want to keep up with Brexit?