Brexit Bulletin: Fishy Business
What's Happening? Two skirmishes, one over finance the other over fish, offer a taste of things to come.
It didn't take long. Freed from British influence, European authorities are gearing up for an offensive to seize business from the Brexit-addled City of London, Bloomberg's Silla Brush reports today. One of the measures being discussed would, for example, bolster Deutsche Boerse AG's dominance in listed derivatives — at the expense of the London Stock Exchange.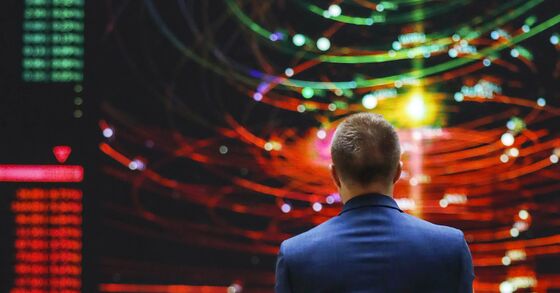 This isn't just an arid question about financial regulation. It highlights London's predicament after Brexit. If the city wants to maintain access to the single market, it will have to ensure the European Union deems its regulations to be equivalent — but Brussels is perfectly free to move the goalposts by rewriting its own rules. For Britain, keeping up will be complicated in itself, but what will be really painful is that the country won't have a vote on those rules.
And so to our fish course. It seems somebody forgot to tell Guernsey about Brexit, or rather that its government would need to issue permits to French boats fishing its waters. But then it devised a simple solution: ban them until the paperwork is sorted out. In retaliation, captains from the Channel Island were gently informed they would no longer be welcome to land their catches at French ports. A solution is now promised. Presumably one involving a piece of paper and a return to the status quo ante.
What links these two tales? Finance and fish are two of the big issues the EU and U.K. need to thrash out if they are to reach a blockbuster trade deal — and Europe is not being shy about flexing its muscles. The first of these fights may be the one with the bigger financial implications, but it's the second that could derail the whole show. Brussels has made it clear: no fish, no deal. Expect it to become increasingly clear in coming weeks where the leverage lies in these negotiations.
A selection of the best and most popular stories from beyond the world of Brexit.
Transition Timeline | Britain's departure from the EU on Jan. 31 marked the start of a new and, if anything, more complex phase of the negotiations. Here's our guide to the year ahead.
Calm Down | If Boris Johnson is serious about compromise this year in the same way he was in 2019, then a Brexit trade deal appears achievable, Sebastian Payne writes in the Financial Times.
Problem Areas | There is real concern consumers in Northern Ireland will face reduced choice and higher prices when the withdrawal deal is implemented, Stormont officials have warned.
War of Words | Remainers dominated the language of Brexit, but now Prime Minister Johnson is taking back control, writes the Telegraph's Asa Bennett.
New Rules | Foreign Office staff have been banned from using the phrase "no deal" when discussing Brexit, the Guardian reports.
Pounded Fortunes | The pound is caught in a tug-of-war between improving economic data and fraught Brexit headlines. The currency was buoyed today by better-than-expected services data and improving global risk sentiment, only to fall on news that European authorities are hatching an offensive to weaken the City of London.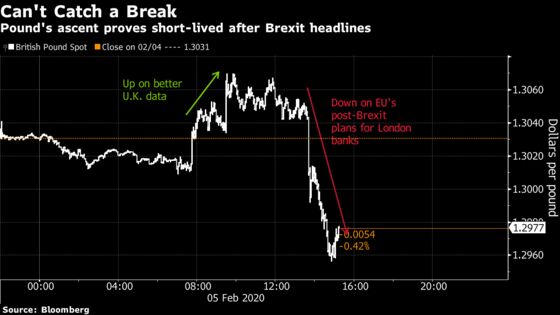 Want to keep up with Brexit?