Brexit Bulletin: Fighting Against No-Deal
(Bloomberg) -- Today in Brexit: Lawmakers are trying to stop Britain crashing out of the bloc, while Theresa May plows ahead with her hated deal.
In just 12 weeks' time, Britain will crash out of the European Union into unprecedented legal limbo if Prime Minister Theresa May fails to get her much loathed Brexit deal through Parliament. The fight is now on to make sure that doesn't happen.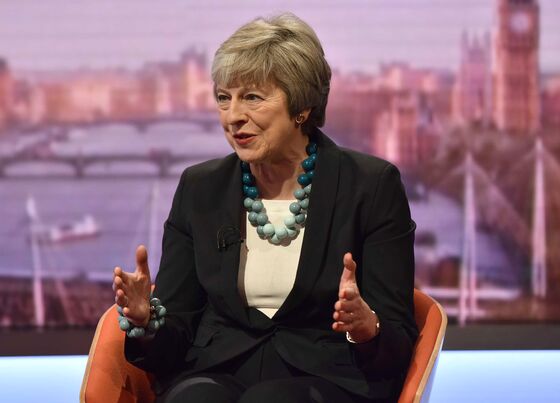 More than 200 members of Parliament have written to May urging her to rule out a no-deal scenario, while a cross-party group of high-profile lawmakers are trying to block any spending on contingency plans without the explicit consent of the House of Commons. That gambit — the latest use of parliamentary tactics to try to force a change in the government's Brexit policy — relies on the fact that most MPs oppose a no-deal outcome because of the damage it would wreak on jobs and industry. 
May has invited the lawmakers who signed the letter to come and talk to her on Tuesday. But it's not clear what she can offer them, as she continues to use the threat of no-deal as a tool to get Parliament to back her accord. May said on Sunday that if her deal is voted down next week, the country will be in "uncharted territory."
That's a message that's meant to work on MPs across the Brexit spectrum — Parliament may thwart the divorce altogether, push for a second referendum, force a no-deal exit, push for a delay, or trigger a general election. (We wrote in December that an extension of the March 29 deadline is now looking increasingly likely.)
May is plowing on with a vote on the deal next week, even though the opposition to it is as implacable as it was before the Christmas break and she hasn't wrung anything new from the European Union. Her strategy is to win over Parliament by offering three things: a greater say over the future trade deal, some specific measures for Northern Ireland, and to get more assurances from the bloc about what the deal means. "We're still working on this," she said on Sunday, with about a week to go before the vote.
What else has changed since Christmas? Not much, these are the main things:
The Northern Irish Democratic Unionist Party is still opposed to the deal.
May phoned EU leaders over the holidays to work on those assurances she's seeking.
Conservative Party members prefer a no-deal Brexit to May's deal or staying in.
Remain would beat Leave if a referendum were held now, according to a YouGov poll for the People's Vote campaign.
No-deal planning has hit some glitches.
Strong Desire | Irish Prime Minister Leo Varadkar said he and German Chancellor Angela Merkel discussed how they might aid May in her battle to forge a way forward. The pair spoke for 40 minutes by phone on Thursday at the German leader's request.
New Idea | An exchange of letters is the latest idea being considered by officials to break the deadlock on the Irish backstop, the divisive insurance policy included in May's deal, the Irish Times reports. The letters, between the EU and U.K., would make clear that the backstop is temporary and will be superseded by a trade deal, the paper says. 
Data Bleak | The first week of the new year brought a slew of negative reports for the U.K. economy: The housing market last year had its worst 12 months since 2013; consumers remained reticent about borrowing; and a gauge of services stayed sluggish. Overall growth may have slowed to 0.1 percent in the final quarter of last year, according to IHS Markit.
Poison | Democratic Unionist Party Deputy Leader Nigel Dodds issued a statement on Sunday saying "the fundamental problems which make this a bad deal appear not to have changed" over the Christmas break. "The backstop remains the poison which makes any vote for the Withdrawal Agreement so toxic," Dodds said. 
Medicine | Health Secretary Matt Hancock said he's confident Britain will enjoy an "unhindered" supply of medicines in whatever Brexit scenario emerges. He warned, however, that it's not entirely in the power of government to ensure that.
Lorry Test | A disused airport in Kent will be used for tests on how the U.K. would handle a backlog of trucks on its roads amid new border checks that would be imposed in the event of a no-deal Brexit, the BBC reports.
On the Markets | Sterling lost more than 5 percent in 2018 as the chances of an orderly exit appeared to recede. As members of Parliament head back to work, the pound edged higher in early trade on Monday, to $1.2749. Meanwhile, BlackRock predicts gold, traditionally a safe haven asset, will extend gains amid a global slowdown and political uncertainty.
Want to keep up with Brexit?