Brexit Bulletin: Exit, Interrupted
(Bloomberg) -- Today in Brexit: Theresa May is set for her biggest U-turn yet, one that could mean Brexit is postponed or even scuppered.

Theresa May is considering delaying Brexit. Faced with the prospect of being forced into it by a defeat in Parliament and a Cabinet walkout, she looks set to make the policy she has long criticized her own.
The prime minister is expected to let her Cabinet discuss an extension to the March 29 deadline at a meeting on Tuesday, Tim Ross reports. She will then reveal the Cabinet's conclusions in an announcement to Parliament.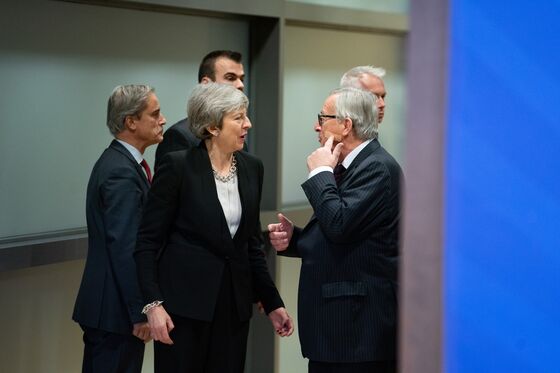 A delay takes the risk of a catastrophic no-deal Brexit off the table — good news for businesses and the economy, and the pound rallied early on Tuesday. But it will inflame pro-Brexit members of Parliament, prompting more political instability and even the risk that Brexiteers could try to bring down the government.
As May has run out of road, she's been forced to decide between angering the euroskeptics or losing the support of the Remainers. And, on this occasion, the Remainers looked set to beat her.
Coupled with the announcement late Monday from Labour leader Jeremy Corbyn that the party will back a second referendum, a move to delay Brexit opens the door to the whole thing eventually being called off.
But May will still try to get her Brexit deal passed in Parliament, and negotiations to tweak it continue in Brussels. There's a chance that her new strategy might help her succeed — especially with Corbyn now backing a new ballot. If pro-Brexit MPs know a delay is the alternative — with the risk that Brexit dies in the limbo — they might decide that a watered-down Brexit is better than none at all.

Today's Must-Reads
May is marching on but doesn't have a map, argues Rachel Sylvester in the Times.
The European Union's verdict on the summit in Sharm el-Sheikh? At least May didn't mess it up, and a Salzburg-style disaster was avoided, Ian Wishart reports. 
What about the other Irish border? Tom Penny visits Holyhead in northwest Wales, where fear of a Brexit catastrophe is growing.
What Kind of Referendum | Just hours after Corbyn announced he would back a second referendum, confusion broke out over what the Labour party thought the ballot should ask. The party's foreign affairs spokeswoman, Emily Thornberry, said it would be a choice between leaving the EU with a negotiated deal or staying in, while a person familiar with Corbyn's position said this hadn't been decided. Not a good sign for those who hope Labour is fully throwing its weight behind the new policy.
Paying Up Anyway | The U.K. plans to pay billions of euros to the EU to settle large parts of the Brexit divorce bill even if there's no deal, the Telegraph reports, citing senior government sources. 
Energy Mishap | The possibility of no deal has started to rattle energy traders as futures for next month start to expire. It's a risk because of the complicated links that hold the EU energy market together. For example, natural gas produced in Norway can be shipped to Zeebrugge in Belgium, where it's then piped to England to feed a plant that sends electricity to millions of homes and businesses. Layers of environmental rules and market and financial regulations make it even more complex.
TIGgers Bounce | A YouGov Poll for the Times indicates that the newly formed Independent group, known as TIG, would get 18 percent of the vote, compared with 23 percent for Labour. It's based on the premise that people could vote for TIG candidates in their constituencies. The survey suggests TIG and the Liberal Democrats would together outpoll Labour.

On the Markets | The pound rallied on the twin surprises that Corbyn would back a second referendum and that May was considering a delay to Brexit day. Early on Tuesday, sterling traded at $1.3129.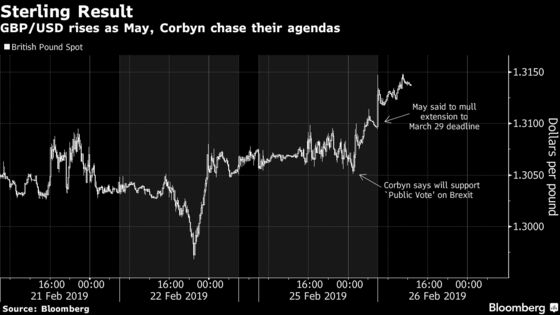 Secret Trial | Remember the no-deal ferry contract to a startup with no ships? In the latest episode in that saga, the U.K. government appears to want a trial over the contracts to be held in private. That's according to Eurotunnel, which is suing the government, Kaye Wiggins reports.
Want to keep up with Brexit?