Brexit Bulletin: How Many Billions?
What's Happening? Boris Johnson wants to "unleash Britain's potential." First the U.K. economy has to catch back up with the rest of the world.
The economic cost of Brexit has already hit £130 billion ($170 billion), according to new research by Bloomberg Economics — a figure set to hit £200 billion by the end of this year.
The British economy is now 3% smaller than it could have been had historical correlations with Group of Seven peers been maintained over the past three years, Bloomberg Economics says. Instead they've been diverging, against a backdrop of cooling global growth.
Brexit is finally around the corner, with Prime Minister Johnson's December election victory putting the U.K. on course to leave the European Union on Jan. 31. But the uncertainty since the 2016 referendum has taken a toll. Business investment in particular has been held back, and annualized economic growth has halved to 1% from 2%.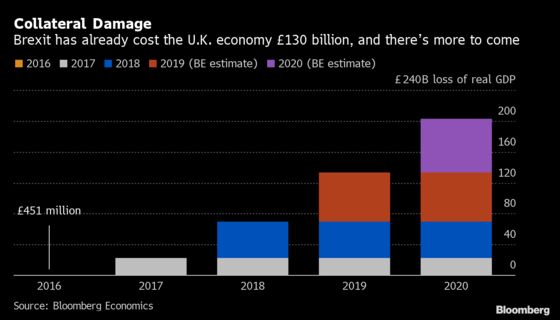 The government remains upbeat. Chancellor of the Exchequer Sajid Javid has promised a "decade of renewal." With a budget due in March, tax cuts and increased borrowing for investment are all on his agenda.
Despite this, none of the ground lost since 2016 is likely to be made up, according to Dan Hanson, U.K. economist for Bloomberg Economics. "Looking beyond 2020, we forecast the growth spurt in this year will be a one off — the economy will get a shot in the arm, but the cyclical lift that provides won't last," he says.
This week, we're bringing you a selection of the best and most popular stories from beyond the world of Brexit.
Stormont Unlock | It's the moment of truth for Northern Irish politicians as they consider whether to restart power-sharing in the region. The Irish and British governments have tabled proposals, which have been broadly accepted by unionists. Now it's up to nationalist party Sinn Fein to make a call. The likelihood is it will accept the plans, ending three years of deadlock. But history has taught us lots can go wrong at the last moment in the troubled province. Known as Stormont, the assembly could yet play a central role in shaping the outcome of Brexit.
Exciting Times | President Donald Trump is "bullish" and "excited" about closer post-Brexit relations with the U.K., according to Woody Johnson, the U.S. ambassador in London. Speaking to LBC Radio, Johnson (Woody) said the U.K. could pressure the EU by securing a free-trade deal with the U.S. and other security allies first.
Game of Chicken | Woody Johnson spoke a day after U.K. Environment Secretary Theresa Villiers vowed Britain would not agree to import chlorine-washed poultry as part a deal with the U.S. In today's Terms of Trade newsletter, Bloomberg's Brendan Murray says that if Britain draws too many red lines, the U.S. may cede less to the U.K., which would result in a deal that falls short of Trump's big claims — and fail to make up for the U.K.'s loss of access to the European market. Sign up to get Terms of Trade in your inbox every day.
Neither Ancient Nor Stable | Boris Johnson might break up the U.K. in pushing through Brexit. That's a good thing, argues historian David Edgerton in the New York Times. "It's time to let the fantasy of the 'British nation' die."
Rooms With a View | A Chinese property magnate is close to breaking London's house-price record with the purchase of a 45-room mansion in Knightsbridge for more than £200 million. The deal would be a bright spot for the U.K. capital's moribund luxury property market, and a sign that the world's wealthiest are being lured by the weak pound as Brexit approaches.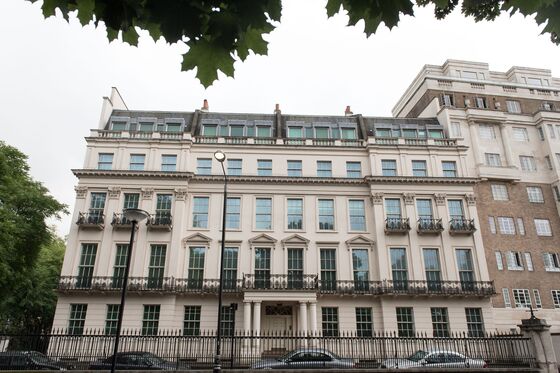 Want to keep up with Brexit?