Brexit Bulletin: Escapology
(Bloomberg) -- Today in Brexit: Theresa May has once again found a way out of a seemingly impossible bind, boosting her chances of finding a road to passing her deal.
Theresa May has done it again.
Last night was supposed be the prime minister's "high noon'' moment, the day she faced a long awaited clash with many of her own ministers and risked a crushing parliamentary defeat. Instead, as Bloomberg's Rob Hutton and Alex Morales report, the crucial vote came and went without any real drama, while the muted response of the pro-Brexit wing of her party offered a sign she might yet have a route to a deal.
The prime minister's latest escape came as she avoided confrontation with her ministers — and thus a potential mass Cabinet walkout — by agreeing this week to give Parliament the chance to block a no-deal Brexit, and a vote on delaying the exit day to avoid a cliff-edge departure. Lawmakers voted overwhelmingly on Wednesday to back a proposal to set that down in writing, supporting an amendment laid by opposition MP Yvette Cooper, which then received the support of the government.
While May's move risked precipitating a backlash from the pro-Brexit wing of her party, the gamble paid off, and all they could offer was a protest. Two weeks after they helped impose a symbolic defeat on the prime minister, just 20 members of the pro-Brexit European Research Group voted against May's concession yesterday, while the group's chairman, Jacob Rees-Mogg, said he was willing to compromise with the prime minister on changes to her deal. Meanwhile, former Foreign Secretary Boris Johnson didn't speak at all in yesterday's debate.
It wasn't all plain sailing — with around 80 more Tories abstaining last night — and, of course, it remains possible that May's tactics this week have only delayed a final showdown. But, for now, investors are liking what they see. The pound climbed to levels not seen since July on Wednesday, while options markets show traders are increasingly pricing out the chance of a chaotic exit in March.
While a delay is now firmly on the table, a way for May to yet get her deal through is also opening up. Edward Leigh, a long-standing euroskeptic, summed that up in Parliament, saying: "The choice is no longer perhaps between an imperfect deal and no deal, but between an imperfect deal and no Brexit."
That suggests May, whose staying power has defied many commentators throughout the Brexit process, could pull off the seemingly impossible and push her deal through. While the key remains getting plausible concessions from the European Union on the contentious Irish backstop clause, her hopes to pick up some Labour votes have also been helped, paradoxically, by the party's shift to support a second referendum — something it reaffirmed Wednesday evening. That move has hardened the mood of those Labour MPs who think the party has to back Brexit in order to keep faith with those who supported it.
Theresa May is closer to leading Britain out of the EU with a Brexit deal than at any other point since her negotiations with Brussels began, according to Bloomberg Opinion's Therese Raphael.
Conversely, Martin Kettle argues in the Guardian that the prime minister's procrastination means that the chances of Brexit being abandoned completely are growing.
The pound rally has further to go as Brexit hedges are unwound, even as bets on the currency's appreciation have become an increasingly crowded trade, according to Goldman Sachs.
Confidence Drop | Confidence among U.K. businesses plunged to a seven-year low this month and consumers remained pessimistic about the economic outlook, according to surveys published on Thursday. Meanwhile, a European Commission index showed on Wednesday that confidence in the U.K. is weakening faster than in any other EU country as Brexit fears pushed sentiment to a 5 1/2-year low.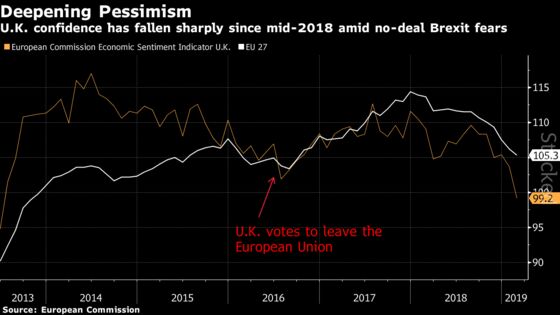 WTO Approval | A group of 46 nations has granted the U.K. approval to remain in a key World Trade Organization agreement that governs $1.7 trillion worth of annual public procurement opportunities. Maintaining membership ensures that U.K.-based contractors will retain their preferential access to foreign public procurement opportunities if Britain leaves the EU without a withdrawal accord.
Not Ready | IT systems required to allow the U.K.'s borders to function under a no-deal Brexit may not be ready in time, according to the National Audit Office.
Shorting Banks | Steve Eisman, whose bets against the housing market before the 2008 financial crisis were chronicled in Michael Lewis's "The Big Short," has widened his bets against U.K. banks but has otherwise steered clear of British markets in the run-up to Brexit. "Nobody has a freaking clue," said the Neuberger Berman Group money manager, adding "I suspect we will be talking about the Brexit at least through the summer." 
EU's View | German Chancellor Angela Merkel and French President Emmanuel Macron said they are open to delaying the U.K.'s exit day — so long as Britain has a clear objective. "As our negotiator Michel Barnier says, we don't need time, what we really need are decisions. It is time for the U.K. to make choices," Macron said on Wednesday at a joint news conference with the German leader in Paris. 
Sterling Art | Brexit is turning art collectors into currency traders, with those attending auctions of works by Monet, Picasso and Basquiat during the next two weeks being forced to keep a keen eye on the daily drama of the pound's swings. To mitigate against uncertainty, Christie's is offering sellers an opportunity to lock in the exchange rate following a sale.
Want to keep up with Brexit?