Brexit Bulletin: Enter the Donald
(Bloomberg) -- Today in Brexit: Trump weighs in behind the Brexiteers.
Just as things looked like they couldn't get much worse for Theresa May, U.S. President Donald Trump weighed into the Brexit debate on the side of her enemies.
Trump warned that the Brexit deal the prime minister is fighting to get through Parliament won't allow the country to do trade deals with the U.S. He made it sound even worse, as if the country won't be able to trade with America at all. Just hours after May finished briefing a hostile Parliament on the concessions she'd extracted from the European Union, Trump declared the negotiation had produced a "great deal for the EU."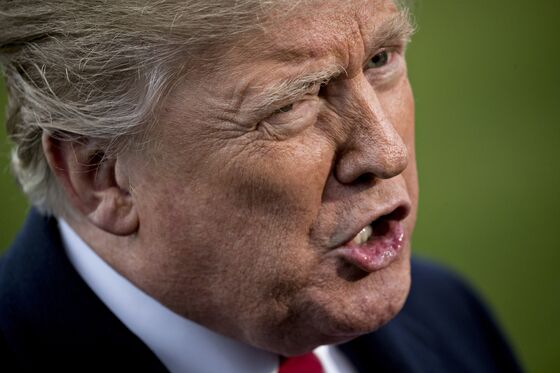 "Right now as the deal stands she may not — they may not — be able to trade with the U.S. and I don't think they want that at all, that would be a very big negative for the deal," Trump said.
May's office hit back, saying the U.K. will still be able to strike its own trade deals — a key prize of Brexit for those who campaigned to leave the EU. But Trump's comments resonate because the deal does bind the U.K. into EU customs rules, possibly indefinitely, both during a transition period and later on, depending on the outcome of talks on the future relationship.
We have a date: the so-called "meaningful vote" on the Brexit deal will be on Dec. 11 in the House of Commons. Stock up on the popcorn. If it all goes wrong for May, that means the next EU summit (Dec. 13-14) could become all about Brexit.
May hosted more than 120 business leaders in Downing Street and asked them to lobby members of Parliament to back her. We have the full story here.
Opposition MPs were briefed last night on the deal, as the government tries to pick off Labour politicians who might just vote for it.
May kicks off her nationwide campaign today with a trip to Northern Ireland and Wales.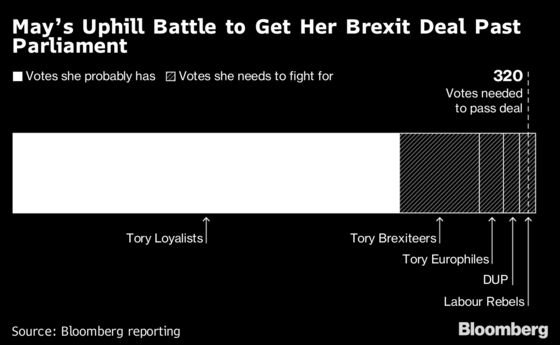 Theresa May is good at surprises. Is her campaign to sell the Brexit deal a stealth run for a Brexit election? Tim Ross has more.
Don't expect investors to save the deal. Sterling will take a hit if Parliament rejects the deal, but it's far from clear that the drop would be enough to make politicians change their minds, Mark Gilbert argues for Bloomberg Opinion.
Want to know what business is doing to prepare for Brexit? We've compiled all the stockpiling, job moves and HQ-shifting that Brexit has caused. Here's how businesses are preparing for Brexit, deal or no deal.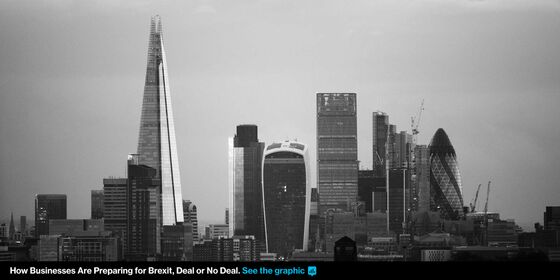 Head to Head | May is ready to debate opposition leader Jeremy Corbyn on Brexit in a televised debate, she told The Sun. A provisional date of Dec. 9 has been set, the paper said.
Come on Arlene | As Theresa May flies into Northern Ireland to sell her Brexit plan, the Democratic Unionist Party is uniting behind leader Arlene Foster's opposition to the deal.
One More Reason | May got a rough reception in Parliament on Monday as she presented her deal to politicians. Brexiteers told her why they hated it and May gave them one more reason to get cross — she said even if there's no deal, Britain will be on the hook for a financial settlement with the EU. It looks like a bid to make no-deal even less attractive.
At Least Someone's Ready | The Netherlands is "sufficiently prepared" for a no-deal Brexit, according to an assessment of the country's customs preparations by Ernst & Young.
Nice Try | A group of British expats lost their European Union court bid to topple the bloc's decision last year to start Brexit talks. The case was brought by Harry Shindler, a World War II British Army veteran who lives in Italy, and 12 other British citizens from across the EU. They argued that the EU's decision was illegal because citizens living outside the U.K. were denied a vote in the referendum. There's another key Brexit case today.
What Markets Are Watching | Markets have already priced in a potential rejection of the Brexit deal by Parliament, and are focusing on the margin of failure, according to BlackRock Inc. "If the deal is lost by just 10 to 20 votes, then I think the game is still on," Rupert Harrison, chief macro strategist at BlackRock, told Bloomberg Television. "I think there is a possibility — despite the fact that EU leaders say there isn't — of small tweaks, particularly to the future relationship document, maybe to parts of the withdrawal agreement. And maybe that combined with some business and markets pressure may get it over the line."
Want to keep up with Brexit?