Brexit Bulletin: Green Shoots of a Boris Bounce
What's Happening? Boris Johnson got an economic boost this week ahead of a potentially bumpy Brexit transition.
A slew of U.K. economic indicators in recent days have confirmed signs of a "Boris Bounce"— a pickup in growth following the Conservatives' decisive December election win. Indeed, the releases exceeded expectations, pushing a Citigroup measure of "economic surprise" to its highest level since early 2019.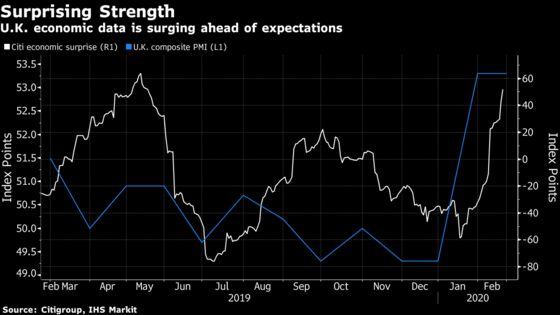 Friday saw more good news, as data showed the economy continued a run of better-than-expected growth in first month after the U.K. officially left the European Union. That followed previous reports showing retail sales surged in January, the  housing market and inflation picked up and employment stayed strong in the fourth quarter.
It all comes as Johnson's government prepares for billions of pounds of new infrastructure spending in the regions that propelled him to a landslide parliamentary majority last year. Chancellor of the Exchequer Rishi Sunak also got a boost on that front this week, with numbers that showed the deficit is rising more slowly than the Office for Budget Responsibility predicted.

The U.K. isn't out of the woods yet. Growth is still modest by historical standards and it's not yet clear whether the encouraging numbers are enough to fund what's expected to be an ambitious budget on March 11. There is also the threat of a potential coronavirus outbreak. Longer-term, Johnson must lead Britain through challenging trade talks with the EU that could result in a major reshaping of the national economy.
"There are questions surrounding how long this renewed optimism can last," warns James Smith, an economist at ING.
After Corbyn | Labour's long leadership contest enters its final lap this weekend. Brexit spokesman Keir Starmer, left-wing favorite Rebecca Long-Bailey and breakthrough contender Lisa Nandy are all vying to succeed Jeremy Corbyn. Robert Hutton and Olivia Konotey-Ahulu explain why it matters. Plus, here's a guide to all three candidates.
Not Just Brexit | A deadlocked EU budget summit is turning into a marathon, and an emergency summit could be needed to strike a deal. "I'm prepared to stay the whole weekend, but no, I don't think we're going to reach an agreement," Danish Prime Minister Mette Frederiksen said.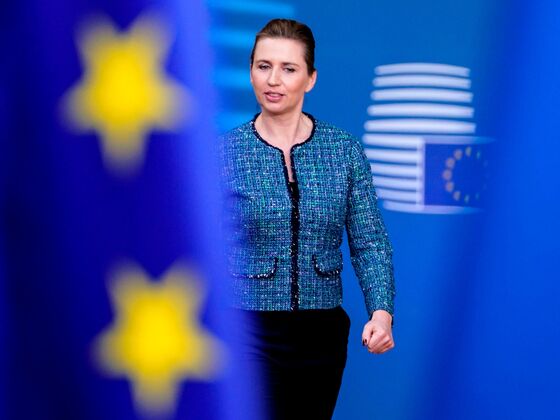 Citizens of Somewhere | The government's plan to control immigration by introducing a points-based system reflects a desire for more control by people with a rooted identity, a lack of geographic and social mobility and fewer professional qualifications, Lionel Laurent writes for Bloomberg Opinion. City-hopping citizens, he adds, are on the back foot.
EU Won't Like This | Former Greek Finance Minister Yanis Varoufakis says one "singular underlying historical factor" can explain Brexit: the creation of the euro.
Out of Tune | The music industry is concerned that the U.K.'s immigration plans would mean bands will not be able to tour the U.K. without written permission or a visa, The Guardian reports.
Love in the Time of Brexit | One in four couples say Brexit has brought them closer together, The Sun reports, citing a survey by dating website eHarmony.
Want to keep up with Brexit?