Brexit Bulletin: Drama and Delay
(Bloomberg) -- Today in Brexit: The drama continues in Westminster while negotiations dawdle in Brussels.
With the U.K. scheduled to leave the European Union five weeks from today, you could be forgiven for being slightly alarmed when reading between the lines of the various accounts of how yesterday's talks between the two sides in Brussels played out.
The U.K. said Brexit Secretary Stephen Barclay and Attorney General Geoffrey Cox discussed with the EU's chief Brexit negotiator Michel Barnier "the positions of both sides and agreed to focus on what we can do to conclude a successful deal as soon as possible." 
The talks were "part of the ongoing process," said an EU official, and "further meetings will be held next week." That's hardly a description of negotiations rushing inexorably toward imminent euphoria.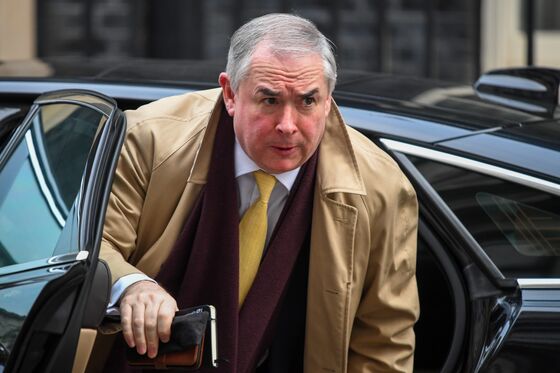 While attention is focused on resignations and rebellion in Westminster, in Brussels there's no sense of an immediate breakthrough. The EU thinks Prime Minister Theresa May is bound to ask for a three-month Brexit delay, even if things go well. 
The U.K. is racing to get additional wording on the controversial "backstop" plan for the Irish border in a way that convinces the U.K. Parliament that Britain won't be trapped in it forever. But it's unlikely now that anything will be ready in time for Feb. 27; that's when May wants to show the House of Commons that she has made progress, and more votes are due on what members of Parliament want to happen next.
Chancellor of the Exchequer Philip Hammond issued another veiled threat yesterday to quit the government if the U.K. ends up hurtling into a no-deal Brexit, while 100 moderate lawmakers in May's Tory party signed a letter warning they would vote against her to force her to delay Brexit and take no-deal off the table, according to the Telegraph. The prime minister has also been put on notice by four cabinet ministers that they're prepared to vote for a motion to effectively prevent a no-deal departure, according to the Daily Mail.
Discussions between the two sides suggest the prime minister will ask for an extension if Parliament backs the Brexit deal but EU leaders don't sign it off until an EU summit on March 21-22. With the negotiations over further concessions proceeding only sluggishly, that is now emerging as the bloc's best-case scenario, according to EU officials.
Getting a Pounding | The pound's troubles look far from over. Another threat is emerging for the currency: Britain's faltering economy. A Brexit deal would reduce immediate uncertainty, but much economic damage is already done and any relief rally in sterling could be limited, according to SEB AB.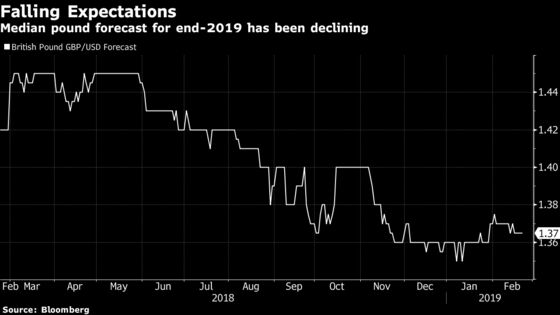 Farming Troubles | Some U.K. farmers are stockpiling fertilizers or crossbreeding sheep in case they lose access to their main export market, while others prefer a wait-and-see attitude. Bloomberg's Megan Durisin hears what farmers at this week's National Farmers' Union conference in Birmingham, England have to say.
Not Right | Theresa May told three MPs who quit her Conservative Party on Wednesday that she's saddened by their departure and thanked them for their service. Then she explained why she thinks they're wrong. "I do not accept the picture you paint of our party," May wrote in a letter to Anna Soubry, Sarah Wollaston and Heidi Allen.
More Labour Rebels? | Meanwhile, the Times reports that Labour Party leader Jeremy Corbyn was warned that more MPs will quit the party if he doesn't back a plan to put the Brexit deal to a second referendum.
Firing Line | Germany is making it easier for lenders such as Deutsche Bank and JPMorgan Chase to fire top earners, adding flexibility for Frankfurt to lure financial companies unsettled by Brexit. Members of parliament voted to loosen German labor standards to allow the change. The government says it'll apply to a maximum of about 5,000 bankers, categorized as "risk takers," who earn 220,000 euros ($249,000) a year or more.
Usual Business | The U.K. will keep offering Philippine exporters EU-style perks regardless of the outcome of the Brexit talks, trade envoy Richard Graham told reporters late Thursday in Manila. Envoy says ASEAN countries will command a larger share of U.K. investments after Brexit as British firms look further afield for new trade partners.
Start Again | Japan's economic partnership agreement with the EU won't apply to the U.K. in the case of a no-deal Brexit, Japanese Trade Minister Hiroshige Seko said. Japan and the U.K. need to build a new economic partnership as soon as possible, Seko said in Tokyo on Friday. Trade between Japan and the U.K. would return to basic WTO rules, Seko said.
Want to keep up with Brexit?