Brexit Bulletin: Doubling Down
(Bloomberg) -- Today in Brexit: Johnson is spending money to show he's serious about a no-deal Brexit.
The new funding doubles the amount made available for no-deal Brexit planning this financial year to 4.2 billion pounds, and brings the total cash allocated to 6.3 billion pounds. Labour accused the government of wasting money – and said it should be spent instead on schools and hospitals (though Johnson could argue he's also spending money on those things as he abandons his predecessors' austerity.) 
It's the latest move in Johnson's poker game with the EU. He criticized Theresa May for abandoning the threat of a no-deal exit and he's now dedicating government time and money to making the threat to walk away as credible as possible.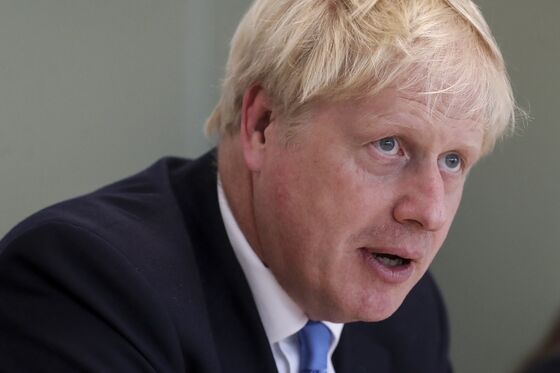 Johnson also upped the ante on Wednesday on a trip to Northern Ireland, leaving Irish Prime Minister Leo Varadkar to accuse him of bullying. He said he wouldn't put up any infrastructure on the Irish border no matter what happens with Brexit. That move would essentially put the onus on Ireland to decide whether to build a border on the island or lose its unfettered access to the European single market. The bloc will almost certainly insist that the single market is protected from goods entering from the U.K. via Ireland, unless the U.K. sticks to European rules, which Johnson has long opposed.

Ireland "isn't going to be bullied," Varadkar said. EU leaders have stood by Ireland so far, and it's hard to see them caving now in the face of Johnson's new tactics.
Eyes on the BOE | It's interest-rate decision day and the Bank of England will have to confront the growing likelihood of a no-deal split. BOE forecasts have been based on assumptions of a smooth Brexit – because that's been government policy –  and they point to gradual rate hikes. But the market is pricing in a cut as Johnson steps up the no-deal rhetoric. Carney said last month that the BOE is looking at ways to address the unprecedented divergence between market expectations and the central bank's projections. Expect more on this today.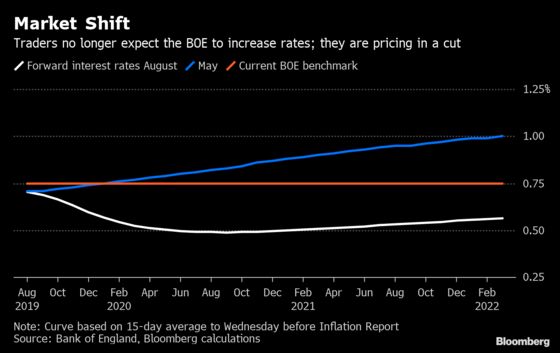 Business for Brexit | Business Secretary Andrea Leadsom met representatives from companies including General Electric, Ineos, Tate and Lyle Sugars and JD Weatherspoon. Several of those present were in favor of Brexit, and Leadsom said the meeting was "optimistic."
Ryanair Cuts | Less optimistic was Ryanair, which is preparing to cut hundreds of jobs amid a slump in earnings.
To Brussels | David Frost, Johnson's EU adviser, was in Brussels on Wednesday to meet European officials. The EU said it was procedural, and there's no indication he took any new proposals with him. Frost was set to repeat the message his boss gave to Commission President Jean-Claude Juncker – that the U.K. wants a deal but the withdrawal agreement must be reopened and the backstop scrapped.
Border Poll? | Sinn Fein said the case for a referendum on the reunification of Ireland is getting stronger, and would be justified  in the event of a no-deal exit. The Democratic Unionist Party's Arlene Foster said there was no evidence of demand for a poll. 
Off Our Rockers | Emily Thornberry, Labour's spokeswoman for foreign affairs, said the party would be "off our bloody rockers" not to take the chance to remain in the European Union, the Guardian reports. She said any deal should be put to a referendum and the party should campaign to remain. Bloomberg's Tim Ross reported last week that Labour officials are preparing to promise another referendum – in which the party would campaign to remain – in their next election manifesto.
On the Markets | Two-year U.K. gilt yields may fall to zero in the coming months as the Bank of England will need to cut rates to support the economy, according to Columbia Threadneedle Investments, an influential money manager. Yields on the U.K.'s short-term bonds have almost halved this year on concern the economy could contract in the event of a no-deal Brexit. Benchmark rates across much of the euro zone are already below zero.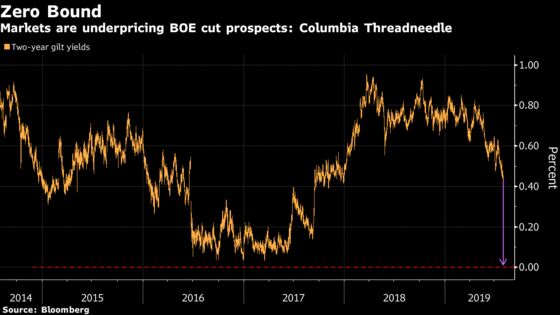 Want to keep up with Brexit?