Brexit Bulletin: Done by December?
(Bloomberg) -- Today in Brexit: May is plotting on two fronts to get Brexit over the line.
Theresa May has a plan for getting the hardest bit of Brexit done. Signing a deal with Brussels has long been seen as far easier than the perilous process of getting Parliament's approval. Now the prime minister's team is drawing up a plan to push it through the House of Commons, all within just weeks of the deal being signed.
May needs to win over hardline Brexiteers who are threatening to vote against any deal that keeps ties to Europe too close, the Northern Irish lawmakers who would ditch her if she betrays them, and the pro-European Union members of parliament who want to stay close to the bloc, if not inside it. She could use some Labour support too, and the whips are trying to calculate how many opposition lawmakers they might be able to win.
An accord is expected to be signed in mid-November, in a late-night summit in Brussels. With the Conservative Party conference over, some intense diplomacy now starts with a series of deadlines and milestones. The plan, according to people familiar with the matter, is to rush the deal through Parliament for a vote by early December, Kitty Donaldson, Rob Hutton and Tim Ross report.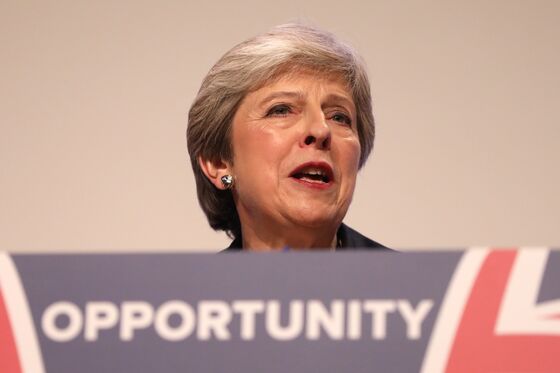 Ministers say the plan needs prompt approval so there's time before exit day on March 29 to pass the necessary legislation. It's a risky strategy because May will be accused of treating Parliament with contempt and not giving lawmakers the time they need to scrutinize the paperwork. But it might be worth the risk if it gives hardline pro-Brexit rebels less time to plot. It would also capitalize on what might look like a victory for May as she brings back the long-awaited deal from Brussels.
May also seems to be paying more attention than ever to the risk of a second referendum. Those who want one see their opportunity in the parliamentary process of the autumn. The threat of a second vote hung over the Conservative Party conference, with one speaker after another warning that a redo would pose a grave threat to the public's trust in democracy. Another reason to get Brexit over the line before Christmas, whatever it takes.
Theresa May's speech to the Tory conference was one of her best, as she made a pitch for the center-ground, attacked Labour, and set out the case for a pragmatic Brexit. But she didn't win over her most dangerous critics, the Brexiteers, writes Robert Hutton.
The U.K. is headed for Brexit in Name Only, as the alternatives are inconceivable, argues Simon Kuper in the Financial Times.
Irish Help | The Irish government supports May's plan to keep the whole of the U.K. in a customs union with the EU as a backstop solution to prevent a hard border on the island of Ireland, the Financial Times reports. The paper cites a Irish official saying the proposal would solve the border issue, but it remains to be seen whether Europe would accept it.
Clear Risks | EU banks need access to London's clearinghouses to manage the potential market turmoil of a no-deal Brexit, and lawmakers in Brussels should make sure they have it, according to the bloc's financial watchdog. The call for legislators to step in and prevent a cross-border clearing rupture is rare among EU officials, who have generally insisted that it's up to industry to get ready for all scenarios. U.K. officials, by contrast, have been calling on the EU to address the issue for more than a year.
No-Deal Decree | France is preparing a law in November that will allow the government to use executive orders to make arrangements in the case of a no-deal Brexit. Measures will be coordinated with other EU states, and will include steps to keep the Channel tunnel open and maintain military and company contracts.
Uninvestable or Bargain | For most investors, U.K. stocks are cheap for a good reason. But some are seeing opportunities as they think a disruptive Brexit is unlikely, Justina Lee reports.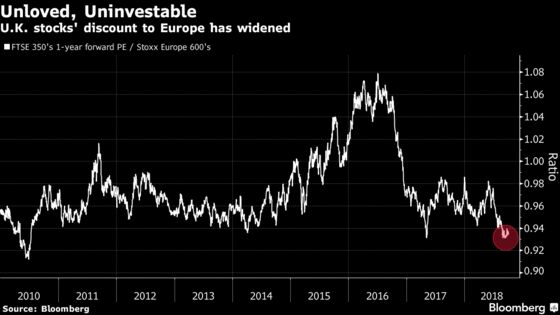 High-Yield Hit | U.K. companies with speculative-grade ratings are shunning the sterling market to raise financing amid Brexit uncertainty, Laura Benitez reports. High-yield sterling issuance is down almost 60 percent this year, and an index tracking their performance has lost 18 percent since the end of January.

Dancing Queen | Ryanair CEO Michael O'Leary may hate Brexit, but when May boogied onto the stage of the conference on Wednesday, the airline's social-media team saw an opportunity for a bit of marketing. They turned dancing May into an ad with the line "that feeling when you book a 25% off flight." 
Want to keep up with Brexit?