Brexit Bulletin: Defeated Again
(Bloomberg) -- Today in Brexit: Theresa May eyes a compromise with the EU after suffering yet another embarrassing defeat.
For most prime ministers, losing a vote on their government's most important policy would be a watershed moment. For Theresa May, it has become so commonplace that she wasn't even in Parliament to witness it.
On Thursday the House of Commons voted by 303 to 258 against a symbolic motion endorsing the prime minister's approach to resolving the Brexit deadlock. A revolt from euroskeptics in her Conservative Party condemned her to a heavy defeat.
The prime minister's no-show implies she doesn't think this non-binding defeat matters, and her office even stated that her plan remains unchanged. But as the dust settled one senior member of May's administration privately conceded she probably has two weeks to save her deal before the Commons takes control of the process, Ian Wishart, Tim Ross, Robert Hutton and Jessica Shankleman report.
May now has until the end of the month to convince moderate Conservative MPs that she is capable of getting a deal through Parliament before Britain crashes out of the European Union. The key to May's plan remains persuading the EU to make changes to the most contentious part of the withdrawal agreement – the so-called backstop guarantee for the Irish border. But the British premier has hardly any wiggle room. Pro-Brexit Tories still want the backstop stripped out of the divorce deal; EU leaders say they won't change the text.
Faced with that impasse, the U.K. looks to be seeking a compromise. In a private meeting on Monday Brexit Secretary Stephen Barclay told EU chief negotiator Michel Barnier that reopening the withdrawal agreement won't be necessary if the U.K. can get its desired result through other means, according to a person familiar with talks.
That risks further hardening opposition to May in some quarters of Parliament, where some are already wondering if they need to take the decision out of the prime minister's hands with a cross-party plan to force her to take no-deal off the table. In a vote on Feb. 27 these lawmakers will start trying to pass a bill that would require May to seek an extension to Brexit talks if there's no deal by March 13 – a little more than two weeks before exit day.
Away from Westminster, Bloomberg's Aine Quinn and Megan Durisin visited the rolling hills in southern England to show how a Brexit deal could mean life or death in the U.K.'s lamb industry. 
For all the fireworks, a no-deal outcome is looking less likely by the day, argues Bloomberg Opinion's Therese Raphael. Though the Telegraph's Asa Bennett says the vote has given the EU the perfect excuse not to give ground.
What will happen to your data after Brexit? It's become another post-Brexit bump, writes Bloomberg's Giles Turner.
Counting the Cost | Bank of England policy maker Gertjan Vlieghe said Thursday that the Brexit decision has cost the U.K. about £40 billion ($51 billion) a year since the 2016 vote. Vlieghe also said a no-deal Brexit would be more likely to require an easing than a tightening of monetary policy, the clearest insider's view yet of how the bank may react if the U.K. leaves the bloc without an agreement on March 29.
Phoneline Diplomacy | Before voting began on Thursday, May spoke to German Chancellor Angela Merkel to discuss the latest developments. According to the prime minister's spokeswoman Alison Donnelly, May also spoke to the leaders of Austria, Portugal and Sweden: all agreed they want the U.K. to leave the EU with a deal.
Business Frustration | Criticism from U.K. businesses is getting louder. After yesterday's vote, Carolyn Fairbairn, director general of Confederation of British Industry, tweeted "another day of failed politics, another day closer to no deal chaos." Failure to secure a deal, she added, "would be unforgivable."
Papers Buoyed | The U.K.'s most popular newspapers may be getting a Brexit respite to their apparently endless decline. Circulation at the Sun and the Daily Mail rose in the past two months as the Brexit drama came to the boil.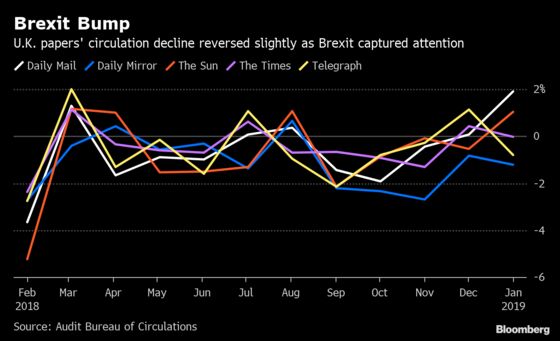 Plane Language | A proposal by IAG, the owner of British Airways, to consider U.K shareholders as EU investors after Brexit is "totally absurd," the Financial Times reports, citing a senior official in Brussels.
Working Holiday | Parliament was supposed to be in recess next week, but that was canceled because of the urgency of preparing for Brexit. However, as there isn't a deal to discuss, there's not much to do. Instead, as Leader of the House of Commons Andrea Leadsom announced yesterday, lawmakers will be looking over 11 statutory instruments – pieces of regulation that don't usually get a great deal of scrutiny – and then holding general debates on topics including serious violence and anti-Semitism.
Ode to Joy | In addition to announcing next week's business, Leadsom also treated the house to a Brexit-themed Valentine's Day poem:
"Labour is Red
Tories are blue
Our future is bright
With a good deal in sight
For the U.K. and our friends in the EU."
Want to keep up with Brexit?