Brexit Bulletin: Deadlock Returns
(Bloomberg) -- Today in Brexit: The Salzburg summit kicked off with both sides saying time is running out, but neither offering a way out of the deadlock.
European leaders can agree on just one thing when it comes to Brexit: time is running out, and they all want a deal.
But getting to an agreement was looking increasingly difficult last night as the two sides appeared to dig in on the thorniest issue of all – what to do about the Irish border. Going into the summit, the European side made positive noises about a willingness to redraft its proposal after a first attempt was rejected outright by the U.K.
The trouble is that they aren't willing to budge on the bit that's most unacceptable to Britain – that Northern Ireland would have a different customs regime to the rest of the U.K., diplomats in Brussels said.
Charles Grant, director of the Centre for European Reform and one of the best informed Brexit-watchers, summed it up: "Officials on both sides of Brexit talks think a deal really is doable, because all want a deal; but that on Irish border, there has been no convergence of position."
European Union leaders were united in their harsher tone on Wednesday – and it marked a change from recent weeks, when officials have been at pains to point out that the divorce deal is almost complete. Irish Prime Minister Leo Varadkar said there had been no progress on the border issue since March.
For her part, British Prime Minister Theresa May also tried to crank up the pressure with a warning that she won't allow talks to drag on past March, and that EU leaders should drop the idea that Britain might change its mind. It's now an eight-week race to mid-November, when hopes are pinned on an all-night summit to get the deal done. 
Jaguar Land Rover wants to boost the proportion of parts made in the U.K. to simplify its supply chains and save money, but Brexit is making it harder, Bloomberg's Kaye Wiggins and Aine Quinn report.
Economists aren't buying Bank of England Governor Mark Carney's dire scenario of a U.K. housing crash in the event of a chaotic no-deal Brexit.
ICYMI, Bloomberg Businessweek has the most thorough look at how Brexit is sucking the energy from the rest of government business.
Let's Stay Friends | As leaders discussed the migrant crisis over dinner, Theresa May promised that Britain will continue to cooperate with Europe even after Brexit, the Sun reports. She shared information with leaders about people-smuggling adverts on Facebook and said Britain would take the lead in cracking down on such posts, the paper said.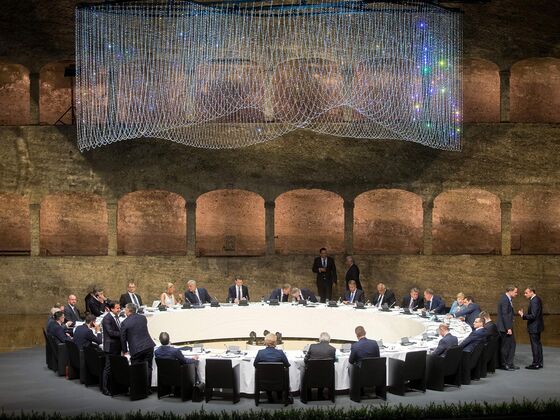 French Pressure | France doubled down on a proposal that would make it harder for U.K. banks to do business in the EU after Brexit. France stepped up its push for a tightening of the MiFID II rules on how firms outside the bloc can gain access to EU financial markets. The U.K. is vying to protect London's status as Europe's financial hub, while France has pushed hard for companies to move staff and business lines into the EU.
Dodgy Dossier | The Telegraph says it has been leaked an internal Conservative memo suggesting that May will be forced to step down shortly after Brexit day, and lists her possible successors. Undermining its credibility, the name of one potential rival is misspelled.
Not Perfect | U.K. Brexit Secretary Dominic Raab tried to convince Brexiters that May's proposals are not a "sell-out" and offer the best option available. "It may not be perfect but it's the most credible plan," he told listeners on a phone-in with LBC radio.
Cost to Carmakers | A no-deal Brexit would cost the car industry and consumers at least 5.7 billion euros ($6.7 billion) a year in vehicle tariffs, according to a report by the Society of Motor Manufacturers and Traders. It warned the industry could suffer production halts due to the political split.
What's the Plan | Brexit secretary Raab wrote to Labour Party Brexit spokesman Keir Starmer demanding its position on a second referendum. After London Mayor Sadiq Khan declared his support for a second vote and several senior members of the party said it shouldn't be ruled out as an option, Raab wanted to know how Starmer intended to extend the negotiating period to allow time for a fresh vote.
Soccer Fight | Even English sport is split over what do to about Brexit. The Premier League is worried that limits to freedom of movement will reduce the availability of European players. But the Football Association is more focused on the chances of English players and sees Brexit as an opportunity for home-grown talent. The government has asked them to create a joint proposal on what to do about player visas.
Want to keep up with Brexit?