Brexit Bulletin: Damaged Goods
(Bloomberg) -- Today in Brexit: Business fears the prospect of no deal, but the real threat to Britain is the irreversible damage that's already been done.
Running down the clock to Brexit day may be a useful negotiating device for Prime Minister Theresa May. But as politicians play a slow game, time is actually running out for business. Whatever happens now in Parliament, plenty of economic damage has already been done — some of it irreversible.
Airbus made headlines yesterday with dire warnings that it would be forced to move investments in a no-deal scenario. Ford Motor reportedly reckons a crash-out scenario would cost it as much as $1 billion. But even if there is a deal — even a good one at the 11th hour that fulfills what business wanted all along — real damage has already been done.
Citigroup CEO Michael Corbat this week gave a clue about what the future of the City of London might look like: European business will move, U.K. business will stay, and there's a big question mark over whether its rest-of-the-world business will still get booked through London. That goes to the heart of the future of the City as a global center, as my colleague Elisa Martinuzzi wrote this week.
Money is flooding out of London: Five of the largest banks intend to move 750 billion euros ($855 billion) of balance-sheet assets to Frankfurt, Bloomberg reported this week. That shift is seen by some as irreversible. Banks have mostly chosen Frankfurt, while Amsterdam has waged a successful campaign to lure trading venues and algorithmic traders.
In others sectors too, headlines about no-deal planning and car plants being idled around Brexit day overshadow longer-term decisions that won't be easily reversed. Japanese companies are relocating to avoid losing access to the European market. Panasonic is moving its headquarters to Amsterdam from the outskirts of London. Dyson's relocation to Singapore may have nothing to do with Brexit — the company says — but its exit still resonates because of what it says about Britain's future role in a competitive global marketplace.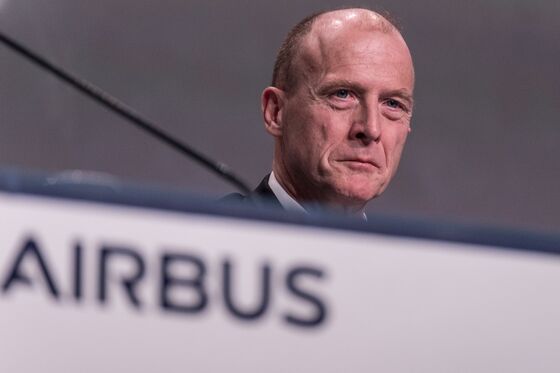 Airbus CEO Tom Enders made the point more explicitly. "Make no mistake, there are plenty of countries out there who would love to build the wings for Airbus aircraft," Enders said. "In a global economy, the U.K. no longer has the capability to go it alone."
DUP Backs the Bid | Northern Ireland's Democratic Unionist Party will back May's Brexit deal if she secures from Brussels a time-limit on the Irish border backstop, the Sun reports. That's a big if. Lawmakers could demonstrate next week how much support there is in Parliament to put an expiry date on the much hated measure. The EU has repeatedly said it won't reopen the deal.
"Real Risks" | Chancellor of the Exchequer Philip Hammond told Bloomberg TV's Francine Lacqua this morning that there is a "very real" risk of a no-deal Brexit. The government wants to find a compromise that avoids the extremes of a no-deal and no Brexit at all, but right now there's not a majority for anything in Parliament. Still, he said the next vote on Jan. 29 isn't a "high noon" moment. On Wednesday, he told investors at Davos that a second referendum could prove more dangerous for business than Brexit.
Will She Resign? | Pensions Secretary Amber Rudd has told the BBC's Newsnight she's still arguing inside government for Conservative members of Parliament to be allowed to vote as they choose on Tuesday. Asked if she'd resign to vote as she wanted, she replied: "I am committed to making sure we avoid no-deal."
She Said What? | Lithuanian President Dalia Grybauskaite, one of the EU's most colorful and outspoken figures, went off-script on Thursday. Delaying Brexit would just prolong "chaos," and it might be better to get on with it, she said. "In that case, it's better to finish this chaos sooner, even with no deal," she said. "Because I know that even in a worst-case scenario we will start immediately to negotiate with the U.K. on special narrow sectoral questions. It will take a few months."
Even The Queen's Had Enough | Queen Elizabeth spoke of the need to come "together to seek out common ground," and respect "different points of view," in a speech to the Women's Institute. A veiled call to members of Parliament to stop bickering over Brexit?
Want to keep up with Brexit?