Brexit Bulletin: Critics Start Backing May
(Bloomberg) -- Today in Brexit: U.K. politicians are still criticizing Theresa May's deal, but familiar voices outside Parliament are increasingly behind it.
Theresa May's Brexit agreement is reigniting old alliances in the U.K., with the very people who warned of the risks of Brexit in 2016 now uniting behind the prime minister's plan.
In testimony to Parliament yesterday, Bank of England Governor Mark Carney — whose role in Brexit has seen him dubbed both "the only adult in the room" and "the high priest of project fear" — gave his seal of approval to the transition deal agreed to by May with the European Union, and reiterated the dangers of leaving without an agreement. In the same session, BOE officials warned that companies are simply not prepared for a no-deal outcome, and that uncertainty was weighing on investment and growth.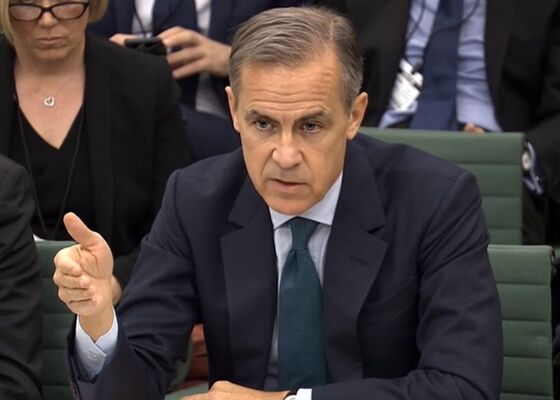 Carney's first public comments on the deal follow similar endorsements from U.K. business groups, which, like the BOE, warned about Brexit two years ago. May was applauded when she addressed the Confederation of British Industry on Monday, and a steady stream of businesses are now lining up behind the deal. On Tuesday, the EEF manufacturing lobby identified four key areas where her withdrawal agreement delivers on the demands of companies, while the Institute of Directors published a survey that found that three-quarters of 816 members polled want a withdrawal deal to be approved.
The chorus of support is likely to grow as the Parliament vote approaches. As Bloomberg's Lucy Meakin and Linly Lin report, the BOE alone will have a number of further opportunities to weigh in again in coming days, with the biggest set-piece likely its official analysis of the deal next week.
May will hope the endorsements help convince skeptical lawmakers to back her plan, but the question remains whether they will. The Parliamentary math is still heavily stacked against her, a point the Democratic Unionist Party reminded May of just yesterday.
Indeed, as Carney spoke on Tuesday, the pro-Brexit European Research Group published a document arguing that leaving the EU without a customs agreement wouldn't damage trade. Afterward, when reporters' questions focused on the ERG's so-far unsuccessful attempt to remove May, Jacob Rees-Mogg, the group's chairman, became tetchy when asked why the group's claims that it had the required 48 supporters had so far proved illusory.
"Patience is a virtue," he said.
Theresa May is heading to Brussels for Brexit talks today. As Bloomberg's Tim Ross, Ian Wishart and Jessica Shankleman report, the prime minister is trapped between her colleagues who want her to rewrite the deal and European leaders who say they'll walk away if she does.
Still, progress toward a deal is winning the pound some fans, with Goldman Sachs predicting the currency could gain 4 percent against the euro next year if the nation moves into a transition period in March. With the chances of an imminent leadership challenge receding, the short-term picture could also be more encouraging, Bloomberg's Shoko Oda reports.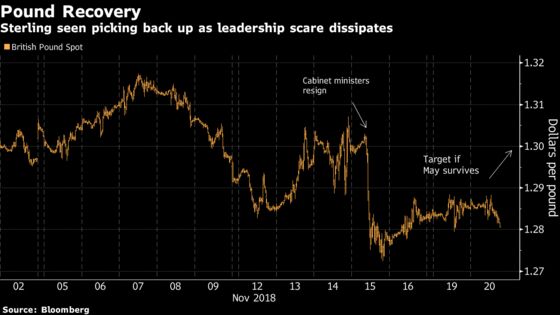 Labour leader Jeremy Corbyn and Scottish National Party chief Nicola Sturgeon are teaming up in a bid to block May's draft Brexit deal — and stop a no-deal outcome, Sky News reported on Tuesday. Meanwhile, Spain has dropped its historic opposition to Scotland joining the EU as an independent country, according to the Telegraph.
Another Delay | EU27 ambassadors in Brussels were told on Tuesday that they're still waiting to hear back from the U.K. about the maximum length of the transition period, while negotiators are still dealing with British demands to put a reference to "frictionless" trade in the text — something that France, Germany and others have said is impossible outside the EU single market. National governments now hope to get the draft of the political declaration by Thursday morning, instead of Tuesday.
German Doubt | German Chancellor Angela Merkel has stepped up pressure on the U.K. government to back the draft Brexit deal, suggesting an EU summit would fall apart if May reopened the accord. Merkel's note of caution is said to reflect concern that May might want to renegotiate the Brexit draft at the gathering on Sunday, which Germany would oppose.
DUP Dealings | After a series of protest votes by DUP lawmakers, the Treasury last night accepted all six of Labour's amendments to its Finance Bill, highlighting the importance of the Irish lawmakers to Theresa May. Politicians from both sides of the Brexit divide may be courting them further, with former U.K. Foreign Secretary Boris Johnson reported to be attending the DUP's conference this weekend, while Chancellor of the Exchequer Philip Hammond may also make the trip.
Record Drop | A warning over Brexit helped send shares in CYBG, which does business under the Clydesdale Bank, Yorkshire Bank and Virgin Money brands, down the most on record on Tuesday. The firm plunged 16 percent as Chief Executive Officer David Duffy told a conference call that it's "impossible to ignore the lower levels of business confidence," especially for smaller and medium-sized enterprises, "while the final specific outcome of negotiations remains unclear."
Dad's Army | Jacob Rees-Mogg provided a gift to U.K. headline writers yesterday when he spoke of his admiration for Dad's Army's Captain Mainwaring. Rees-Mogg made the comments after his attempt to oust May was likened to an episode of the long-running BBC sitcom.
Coming Up | Theresa May will meet European Commission President Jean-Claude Juncker in Brussels, with talks set to focus on the future framework, including the issue of Gibraltar.
Want to keep up with Brexit?