Brexit Bulletin: Could She Pull It Off?
(Bloomberg) -- Today in Brexit: May is courting Labour MPs to back her deal — again — but this time their leader's stance means it stands a slightly better chance of success.
What would it take for Theresa May to pull off the impossible and get some version of her much-hated deal through Parliament? Winning over Labour lawmakers from pro-Brexit areas has long been part of the strategy; now the prime minister is offering them incentives, and the Labour leadership seems content to let her get on with it.
Ministers have discussed with Labour members of Parliament ways to improve British employment rights and environmental protections after Brexit, as well as the prospect of money for deprived parts of the country — many of them places that vote Labour. Meanwhile, Labour leader Jeremy Corbyn seems to be doing little to discourage the meetings, my colleague Robert Hutton reports.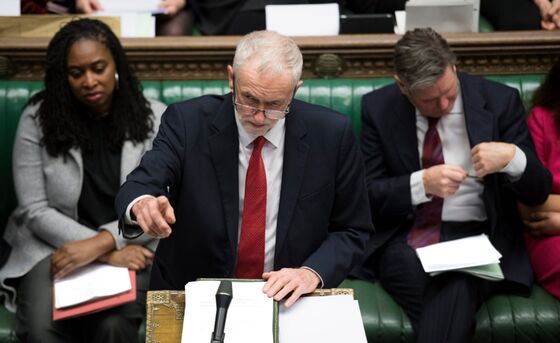 Asked about his MPs meeting with ministers, Corbyn — who this week sat down with Theresa May to talk Brexit — said that "of course" it was right for them to "demand appropriate resources for their constituencies." One Labour MP suggested her leader would be relaxed if Brexit was delivered by Labour votes but without Corbyn, a lifelong euroskeptic, having to come out publicly to support it. 
At least 25 Labour lawmakers have signaled they're willing to defy party orders, which call for them to vote against the government on Brexit. And the Labour whips don't seem to be doing much about it: One MP who went his own way on a key vote this week said he hadn't been contacted by party whips either beforehand or since, Hutton reports.
The arithmetic is still tight. May doesn't have a majority and it's not clear she can ever get the Northern Irish Democratic Unionist Party on board. There are pro-Brexit rebels in her party who are such purists it's hard to imagine them ever voting for her deal. But some Brexit hardliners have shown signs of softening. Even Boris Johnson is arguing that if she can tweak the backstop he'd get behind her. As the prospect of Brexit being thwarted becomes more real, are some hardliners looking for a ladder to climb down?
The second part of May's strategy is as it always was — hoping that the looming cliff-edge concentrates minds. While our story from Brussels yesterday — that the EU won't budge until after the Feb. 14 vote in Parliament and possibly not until a March 21 summit — is a bit terrifying for business and ordinary people, in some ways it plays into May's strategy of forcing MPs to peer into the abyss and see how many dare vote for the risk of no deal or no Brexit.
U.K. civil servants are struggling to find time for the 2019 spending review, meant to be May's opportunity to show a decade of austerity is at an end.
A sudden outbreak of unity and a survival instinct this week mean an orderly exit is now the likeliest outcome, Philip Collins argues in the Times. "It could be that hard choices are dawning on even the most intransigent and unbiddable of zealots."
ICYMI: Brexit has already come at a cost. Here's the damage to Britain so far.
Counting the Days | Foreign Secretary Jeremy Hunt hinted on Thursday that Britain might not be able to leave the EU on time because of all the legislation that still needs to be passed. Home Secretary Sajid Javid has said the same in private, the Telegraph reports, and nine Cabinet ministers now believe the divorce day will be delayed.
Half-Term Canceled | Parliament has called off its half-term holiday so that it can work through legislation in time for Brexit day. Chatter about compensation for MPs' skiing holidays surely won't endear the political establishment to voters. Who knew grown-ups got half-term anyway?
To Brussels | The cross-party Brexit Committee is heading to Brussels to see for itself how far the EU is prepared to budge, Kitty Donaldson reports. They will meet Martin Selmayr, Juncker's powerful number two, who has been increasingly involved in the process.
Car Crash | The British car industry saw investment plunge last year as carmakers delayed decisions on upgrading machinery and factories amid mounting concern about the impact of Brexit. Spending fell 46 percent to £589 million ($769 million), the lowest since the global financial crisis, the Society of Motor Manufacturers said.
Let Them Eat Ice Cream | Unilever is stockpiling a few weeks' worth of ice cream and Magnum bars ahead of March 29.
Nothing to Celebrate | The owners of Lanson Champagne said business in the U.K. declined in 2018 because of the uncertainty related to Brexit. Maybe they'll get a boost when Brexit finally happens, whenever that might be.
On the Markets | The pound could fall more than 8 percent or surge 14 percent depending on the outcome of Brexit, according to Societe Generale. "Negotiations are going to look like a game of poker for the next few weeks and the fear is that the U.K. has worse cards and a less adroit player holding them," strategist Kit Juckes says. "We think 'no Brexit' could get pound-dollar to $1.50, 'soft Brexit' could get it to $1.40 and no-deal could get it to $1.20."
Want to keep up with Brexit?