Brexit Bulletin: Carney's Adventure
What's Happening? Mark Carney's years at the Bank of England will be indelibly linked with Brexit.
Mark Carney wanted to go "where the challenges are greatest," so in 2012 the Canadian crossed the Atlantic for the top job at the Bank of England. With Brexit, he got an even bigger one than anyone could have imagined.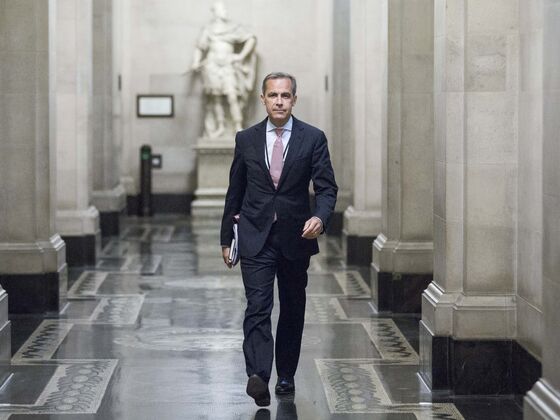 Brexit dominated Carney's tenure, becoming a highly divisive political issue and throwing his monetary policy ambitions into reverse. As he prepares to leave the BOE on March 15, a review of Carney's governorship would award him credit for supporting growth and the financial system, and for focusing attention on digital currencies and climate change. His demerits: communications missteps on interest rates, exposing the bank to political fire, and failing to keep women in top positions.
Carney undoubtedly filled the leadership void in the wake of the Brexit vote, arriving at the bank's Threadneedle Street headquarters around 3.30 a.m. as results came in on the morning of June 24, 2016. Shortly after David Cameron's resignation, Carney gave a televised statement about the BOE's actions to protect the financial system.
Carney's personality will be a big part of his legacy. Brexiteer lawmaker Jacob Rees-Mogg for a time became Carney's chief tormentor, calling for the governor to be fired and accusing him of adopting pessimistic "propaganda." Yet members of Parliament's Treasury Committee ended up likening him to the 1980's pop song "Smooth Operator." Staff at the bank also got to know his temper: being on the receiving end of sudden flashes of fury became known as "getting tasered."
Brexit clearly hasn't dampened Carney's appetite for risk: His next job will be to tackle climate change, working as an adviser on the financial risks from global warming ahead of the COP26 climate conference in November. 
Listen Up | Boris Johnson and the European Union are talking past each other, again.
Top Tweets | Key Twitter threads of the day come from trade experts David Henig (who dug into the EU mandate) and Dmitry Grozoubinski (who argues that the U.K.'s position makes some sense, and yet might be wrong).
Green Ground Rules | Michel Barnier called on London to commit to high environmental standards in any trade deal with the EU as the U.K. prepares to host the next round of global climate talks.
Cashing In | An anonymous Tory donor paid £60,000 for gold and silver versions of the Brexit Day commemorative coin and a signed copy of the Withdrawal Agreement at the party's annual Black and White Ball fundraiser on Tuesday.
Javid's Jibes | Sajid Javid, who resigned as U.K. finance minister two weeks ago, warned Johnson not to shut out Treasury warnings over spending in a carefully judged attack on his former boss.
Want to keep up with Brexit?