Brexit Bulletin: Buying Brexit
(Bloomberg) -- Today in Brexit: As Brexit hardliners appear to soften their opposition to her deal, May's focus is now getting Labour MPs onside. 
Theresa May is furiously trying to build a coalition that can support the revised Brexit deal she'll bring back from Brussels this week, and the latest idea looks a bit like buying votes.
The government is promising 1.6 billion pounds ($2.1 billion) to poorer areas of the U.K. — in theory to address the inequality that fueled the Brexit vote in the first place. But it was quickly labeled a handout to win over Labour lawmakers, and some of them aren't even impressed by the amount of cash on offer.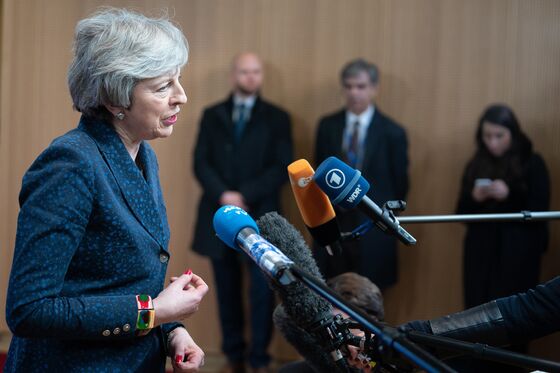 Still, in some cases May is knocking on an open door. Labour MP Caroline Flint reckons tens of colleagues would be willing to vote for a revised deal. May is also working on a package of pledges on workers' rights in the hope that will win over more opposition MPs.
The prime minister has promised to bring a tweaked deal back for another vote by March 12. That probably means a text will be presented by the end of this week.
On her own side, there was some mildly positive news over the weekend. The Sunday Times reported that Brexit hardliners have handed May a new list of demands for the revised deal, and it looks a lot easier to achieve than the last one. Seen from Brussels, it still looks like a big ask, but what they're seeking appears to leave room for interpretation. Remember that leading Brexit purist Jacob Rees-Mogg sounded a conciliatory note last week over the issue of the Irish backstop.
In another sign that the threat of Brexit being delayed is concentrating minds, Graham Brady, the pro-Brexit leader of rank-and-file Tories, also weighed in behind May over the weekend. The country is "tired of vacillation and delay," Brady said as he called on colleagues to "pull together behind the prime minister and help her to deliver our exit from the European Union on March 29."
May has long said it's her deal, no deal or no Brexit. And since last week, no-deal is off the table.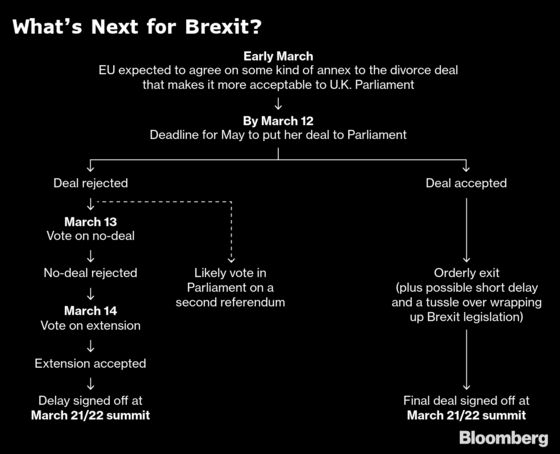 Backing or Backing Away? | Labour's reluctant shift toward backing a second referendum was again looking doubtful over the weekend. Shadow Chancellor John McDonnell said while the party would whip MPs to back an amendment on a second vote, it would have to "respect people's views and their constituency interest." Rebecca Long-Bailey, a member of Jeremy Corbyn's core team, told the BBC another plebiscite would be justified to avoid the "catastrophe" of no-deal. "I truly hope we don't get to that point."
How Many Would Vote Like Flint? | Caroline Flint, who backs Brexit since her constituency voted for it, said that 60 to 70 Labour MPs feel "as strongly" as she does against a second referendum. And how many could back May's revised deal? "If there were a free vote, a number, 10s, 20s, 30s would vote for an improved offer," she told Sky's Sophy Ridge.
Ready to Sign | Trade Secretary Liam Fox said the government is "very close" to rolling over some of the trade deals it now benefits from as an EU member so that the U.K. maintains access after the split. He seems to be betting on brinkmanship helping: "The point is this: a lot of countries are waiting to see what we do in the next couple of weeks. If there is going to be no deal, a lot of those countries will be willing to sign what we have agreed with them now."
On the Markets | The pound strengthened early on Monday amid renewed optimism May might get her deal over the line and volatility eased as investors see a no-deal scenario as unlikely.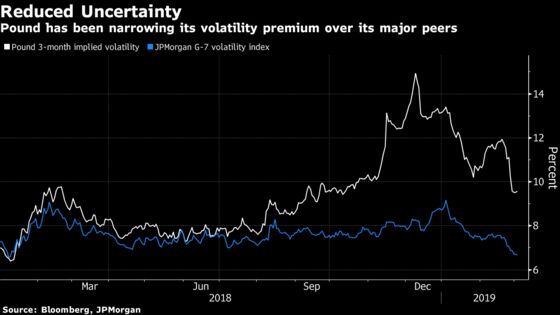 Safe in the Sun | Spain pledged to guarantee the residence rights of British citizens and safeguard their access to health care as the government offered reassurance that they won't be hurt in the event of a chaotic Brexit. Soothing the nerves of jumpy British residents on the Costas makes sound economic sense: more than 300,000 Britons are officially registered, and the number swells by thousands when those who spend part of the year are also counted.
Still in Denial? | Wolfgang Schaeuble, president of Germany's lower house of parliament and a former finance minister, expects the U.K. to either remain in the European Union or return at some point. "The U.K., with its history and geographic position as an island, has always had its own take on things," Schaeuble told Funke Media Group. "I believe the U.K. will either not leave the EU at all or return at some point."
Want to keep up with Brexit?