Brexit Bulletin: An Unpalletable Truth
What's Happening? The next phase of Brexit will be mind-bendingly technical—and vitally important.
In the week when Britain and the European Union set out their opening positions ahead of upcoming trade talks, and as headlines focused on potential flashpoints and roadblocks to a zero-tariff, zero-quota deal, business was (again) asking tedious yet critical questions.
The list is complex and long, as the Freight Transport Association's Pauline Bastidon points out. Will goods trucks be able to cross into the EU as they do now? How strictly will the EU check animal and plant products crossing its border? The U.K. has a shortage of EU-compliant wooden pallets for transporting goods: will the bloc stop trucks without the right ones? On all these questions, we don't know.
If it feels like we've been here before, we have. Executives spent much of late 2019 wrestling with topics like these as the threat of a no-deal Brexit loomed. Yet they've become all the more urgent due to Boris Johnson indicating he'd be happy with a relatively distant economic relationship with the EU — somewhere between the bloc's relationship with Canada or Australia. That means extra friction on trade, such as filling out customs documents and rules of origin paperwork, which can require significant internal business overhaul and cost to be ready.
Johnson needs to get this stuff right. If he doesn't, he risks economic disruption on Jan 1. 2021 even if a free-trade agreement with the EU is in place. Because even if a deal is done on tariffs, it's these non-tariff barriers that have the capacity to scupper the system — and they are an automatic consequence of Britain leaving the EU's single market and customs union. 
And don't forget Northern Ireland. How trade will work between Great Britain and Northern Ireland "still needs an awful lot of attention," said Tony Smith, former head of the UK Border Force, at an event in London this week. "I'm still not sure who's going to be checking what, and where."
'Formidable Diplomat' | Karen Pierce was chosen to be the first female British ambassador to Washington, filling a crucial post as the U.K. seeks to burnish post-Brexit ties with its closest ally. Pierce, 60, is currently the ambassador to the United Nations.
London's Booming | The London economy grew more than twice as quickly as its nearest domestic rival in the second quarter, underscoring the challenge Johnson faces as he seeks to "level up" poorer regions of the U.K. Meanwhile, The Times reported on YouGov research showing that Britons have a more unfavorable view of the capital than any other region.
On the Markets | The pound is on course for its worst week since mid-December with sentiment staying fragile amid concerns over the upcoming trade talks. Sterling traded below $1.2950 on Friday afternoon in London, down 2% since the start of the week.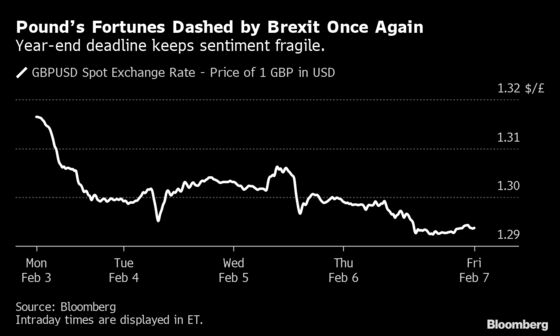 Chaos looms? | The world's fourth-largest freight forwarder is bracing itself for a turbulent year of negotiations and ranks Brexit alongside the coronavirus as a potential 2020 headwind. "I don't think the negotiations over the exit deal will become anything else than chaotic," DSV Panalpina A/S Chief Financial Officer Jens Lund said. 
Will Britain Rejoin? | Brexit has changed Britain, and will continue to do so for years to come. If the U.K. ever considers reapplying for EU membership, both the country and the bloc would be fundamentally different, Tom McTague writes for The Atlantic.
Want to keep up with Brexit?