Brexit Bulletin: Budgeting for No Deal
(Bloomberg) -- Today in Brexit: Pulling Brexit from a decade of austerity is put in jeopardy by the prospect of a no-deal Brexit.
When Chancellor Philip Hammond delivers his budget later today, he'll do so knowing that Brexit could derail his best laid plans.
Hammond has indicated that he will need to announce new tax and spending plans — and even extend austerity policies — if the U.K. fails to secure a deal with the European Union. That means any new measures might only survive for five months, creating a problem for Hammond as he tries to steer the economy through Brexit uncertainty and make good on Prime Minister Theresa May's pledge to end an almost decade-long era of spending cuts.
There's also the risk that Brexit will drown out any good news the chancellor delivers in Parliament today, Jess Shankleman reports, robbing him of the chance of to dominate the government's narrative with eye-catching announcements on more money for mental health services and the military, or tax cuts for retailers.
Talks with the EU remain deadlocked. Businesses are getting increasingly nervous, while an influential think tank last week warned that a "no deal" outcome would drag the economy to a near standstill. Hammond told Sky News yesterday that, in the event of no deal, the U.K. would "need to have a new budget that set out a different strategy."
The comments sound similar to his predecessor George Osborne's threat of a post-Brexit punishment budget, but Hammond's position has drawn some sympathy from commentators. The Trades Union Congress's Frances O'Grady says Hammond's been given "mission impossible by the prime minister unless we get a Brexit deal." The chancellor can also draw solace from the fact that, unlike his Italian counterpart, the bond market won't be out to get him if he does opt to loosen the purse strings.
Still, hardline Brexiteers like Tory lawmaker Jacob Rees-Mogg are piling on the pressure with calls to announce more radical measures in his budget instead of waiting for an outcome from the EU talks.
"We should be making announcements now about how we would deal with leaving on World Trade Organization arrangements," Rees-Moog said yesterday, urging the chancellor to cut customs duties on all goods produced outside the U.K. and reduce value-added taxes that are higher because of EU rules.
There are signs leading Brexiteers may be examining a compromise that keeps the U.K. in the European Economic Area until the government reaches a trade agreement with the bloc, the Sunday Telegraph reports. The "Norway for Now'' plan, pushed by former minister Nick Boles, is gaining support from hardliners such as former Brexit Secretary David Davis.
Here's Tim Ross's must-read profile of Geoffrey Cox, the rich-voiced star of the Conservative Party conference and the latest hurdle for May's Brexit deal. Sticking with the Tory Party, here's our latest guide to how Theresa May could be fired by her own lawmakers — and  the rundown of those vying to replace her.
If you had your chance, how would you handle the budget? Would you tax the rich? Scrap VAT breaks on food? Borrow your way out? Play our game to see if you can find £20 billion for the NHS.
Gloomy Outlook | The Bank of England may be on course to cut its growth forecasts for the next two years at this week's Inflation Report, even without taking into account the latest impasse in Brexit negotiations.
Boris Bites | Boris Johnson used his latest Telegraph column to back prominent Brexiteer James Dyson's decision to build his electric car in Singapore, with the article's headline saying that the U.K. is "currently doomed to humiliation."
Brexit Coin | Hammond will announce a special Brexit coin in today's budget, the Sun reports. The new 50 pence piece will bear the phrase "Friendship With All Nations" and will be available from the U.K.'s exit date of March 29, the newspaper said.
No Help | Banks shouldn't expect regulators to help them cope with disruptions caused by Brexit and should prepare for the worst, head of the euro area's bank-failure agency Elke Koenig told the Financial Times. Also in the FT, American billionaire Tony Ressler is predicting that Amsterdam could take over London's crown as a key financial hub. The newspaper also reported that Commonwealth Bank of Australia plans to move 50 staff to the city.
On the Markets | Even with the budget and a Bank of England decision this week, it's still all about Brexit for pound traders, Bloomberg's Shoko Oda and Charlotte Ryan report. The currency, which is coming off the back of its worst week since March, was little changed in early trading early today.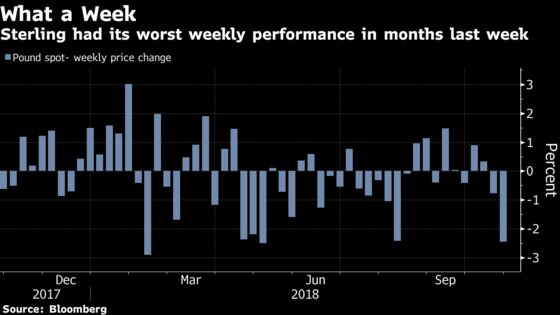 Want to keep up with Brexit?