Brexit Bulletin: Breakdown
(Bloomberg) -- Today in Brexit: Deadlines are slipping and a summit on Wednesday looks likely to be messy.
Growing hopes that the U.K. and the European Union could cut a Brexit deal at a key summit on Wednesday were dashed over the weekend. Talks broke up in stalemate on Sunday.
Even a surprise trip to Brussels by Brexit Secretary Dominic Raab to meet his EU counterpart, Michel Barnier, failed to break the deadlock. In a sign of how bad things have gotten, there will be no further attempt to resolve the impasse before EU leaders gather for their long-scheduled summit. A planned meeting of government officials on Monday, meant to prepare the way for an agreement later this week, was canceled.
Officials on both sides have all but given up on a breakthrough this week, and are increasingly concerned that time is running out to get a deal before the U.K.'s scheduled exit in March, Ian Wishart and Tim Ross report.
The weekend was meant to be a chance to crack the thorniest issue in the talks: how to avoid erecting a policed border between Northern Ireland and the Republic of Ireland without creating barriers between Northern Ireland and mainland Britain. The plan was that leaders on Wednesday would be able to declare progress and signal that a final accord could be signed in mid-November. That timetable, which markets had started to price in, has been thrown off and there's likely to be more talk now of how to prepare for a chaotic and acrimonious split.
Sabine Weyand, Barnier's deputy, told ambassadors it was clear from Sunday's talks that for domestic reasons the U.K. needed more time before it could make concessions, according to a diplomat in the meeting.
Still, there's a school of thought in Brussels that Prime Minister Theresa May needs a good fight in October to help her get approval at home of any pact she finally secures. Ian Wishart wrote about that last week, when EU diplomats said the U.K. was always going to have to invoke a spirit of national crisis and unity before a deal could be done. 
A summit in Salzburg, Austria, in September left May isolated and humiliated, but she turned the diplomatic disaster to her advantage at home. Whatever deal May finally secures has to go through Parliament, where she will need to convince rebels on her own side and lawmakers in the opposition to support her. A breakdown in relations in October could potentially help by showing she had stood her ground – and encouraging lawmakers to stare into the abyss of a no-deal scenario.
How to Win a Brexit Vote: Rob Hutton takes a look at the parliamentary arithmetic facing May and the arguments she might deploy to craft a majority if somehow she manages to bring an agreement back from Brussels.
EU leaders are considering turning the November summit into a no-deal planning meeting if there's no Brexit progress this week, Ian Wishart reports.
German Chancellor Angela Merkel faces a new round of coalition turbulence after her Bavarian sister party lost its majority in a regional election. That's potentially bad news for the Brits who want Merkel to show more leadership in Brussels.
How Many Flints | Labour lawmaker Caroline Flint signaled she would vote for May's Brexit deal if it's "reasonable," even if it means defying party discipline. "If a reasonable deal is on the table, the question is, why wouldn't you support it?" As May faces a rebellion from pro-Brexit hardliners in her own ranks, the most important question for her whips now is how many Labour lawmakers might think like Flint.
Scottish Threat | Ruth Davidson, the leader of the Scottish Conservatives, and Scottish Secretary David Mundell have told May they could resign if a Brexit deal treats Northern Ireland differently than the rest of the U.K., the BBC reports. 
Dublin Win | Hudson River Trading LLC, one of Europe's biggest equity traders, picked Dublin to be its EU base after Brexit. The New York-based firm is one of the biggest algorithmic traders of European equities. Any business wanting to trade with EU-based clients needs to have a regulated entity in place before the U.K. formally leaves the bloc on March 29. If there's no deal, the City of London's finance firms will be cut off from their continental trading partners when markets reopen on April 1.
Foster's Forecast | Democratic Unionist Party leader Arlene Foster, who props up May's government, thinks Britain will probably crash out without a deal because the U.K. proposals on the Irish backstop are unacceptable, according to a set of emails leaked to the Observer.
The Cost of Brexit | The Bloomberg Brexit Barometer sank last month to the lowest level since January, returning to "windy" conditions for the first time since early 2018. Weakening sentiment principally drove the decline, even as the U.K. economy appears on course for its best calendar quarter in almost two years.
Pound Drops | The pound fell as much as 0.5 percent against the dollar after the talks in Brussels stalled. Analysts had been predicting a surge in sterling this week if a deal was agreed. It traded at $1.3112 early on Monday.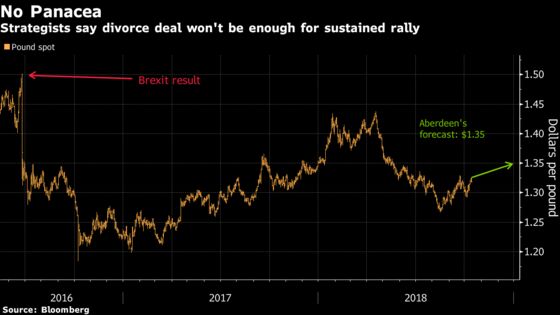 Want to keep up with Brexit?

Join a global network of CEOs & Founders united by a shared purpose of achieving breakthrough performance for their companies. Gain exclusive access to Bloomberg VIP events and content, and attend the CEO summit in London on 13 November 2018. Apply for Membership.