Brexit Bulletin: Bracing for Impact
(Bloomberg) -- Today in Brexit: The EU is turning the no-deal screw, but is cutting deals to avoid financial chaos.
The European Union is getting serious about no-deal planning.
As the bloc digs in, refusing to reopen the divorce deal to make it more acceptable to the British Parliament, there's a steady stream of contingency plans coming into effect that have received little attention. The latest, on Monday, is an agreement between the Bank of England and EU regulators for London-based clearinghouses to handle business from European clients. It follows a similar accord last week to share information for overseeing asset managers.
Finance is the one area where the two sides are actually working together for a solution—it's too important to mess up and the risks to each side are finely balanced. Stability on both sides is at stake.
But in other areas the EU is taking a more hardline approach, and says any measures must be unilateral. If there's a knock-on benefit for the U.K., so be it,  but the main aim must be to protect the bloc. The EU has even warned member states not to go soft on the U.K. when it makes contingency plans. In an internal memo last month, it told capitals that measures "should not replicate the benefits of membership of the Union, nor the terms of any transition period," and should be taken only with the EU's interests in mind. 
No-deal preparations are now one of the EU's tools in an increasingly fraught negotiation. Martin Selmayr, the secretary general of the European Commission, invoked them yesterday as he announced on Twitter that Brussels was not considering any tweaks to the deal that would help British Prime Minister Theresa May. 
For those more interested in olive-oil imports than financial instruments, there was more semi-good news on the U.K. side about what a no-deal exit might look like yesterday.
The government said it would wave through trucks coming off ships at ports such as Dover to avoid delays and congestion. Whether the EU side will reciprocate remains to be seen—the signs so far indicate they won't.
Selmayr Says No | Selmayr's tweet came after he met a delegation from the U.K. Parliament's Brexit committee. The meeting left him pessimistic about the chances of reaching a deal. MPs couldn't give him a clear idea of what the EU needed to do to help May get the deal past Parliament, he said. The MPs came back disappointed too. Pro-Brexit MP Andrea Jenkyns sounded shocked that Selmayr told her May hasn't asked for the Irish backstop to be removed from the deal, or even for negotiations to be reopened.
Merkel's Glimmer of Hope | German Chancellor Angela Merkel offered a glimmer of hope yesterday when she called for creativity to fix the Irish border backstop. It didn't go any further than that though, and there are still no firm proposals that could break the deadlock.
Another Glimmer | Arlene Foster, the leader of the Northern Irish party that props up May's government, said on Monday: "This is not a time for intransigence." Still it's not clear if that refers to her own intransigence or just other people's.
To Belfast | Theresa May starts a two-day visit to Northern Ireland today. There's not much indication she'll come up with any new news, but she'll pledge to "find a way" to keep the border open.
More Talks | Tory MPs met Brexit Secretary Steve Barclay yesterday to discuss how technological solutions could replace the need for the backstop, but they didn't get very far. Talks will continue today and beyond. "We had a constructive meeting on the detail," said Steve Baker, deputy chairman of the pro-Brexit European Research Group of Conservatives. "It was the beginning of a process and I look forward to further meetings." 
On the Markets | Consumer spending recovered slightly in January after a dismal holiday season, though British households are still wary because of Brexit. The pound was unchanged at $1.3043 early on Tuesday.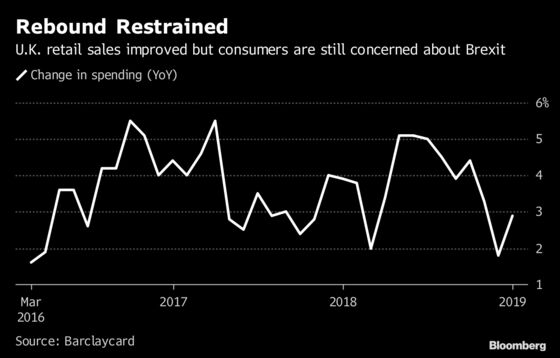 Want to keep up with Brexit?