Brexit Bulletin: Boris and the Pound
(Bloomberg) --
Today in Brexit: Boris Johnson remains the frontrunner to become prime minister, but he's failing to charm currency markets. 
The pound has been sliding down, and it could be partly because of Boris Johnson. With the latest round of voting for the next U.K. prime minister taking place today, former mayor and Brexiteer Johnson has secured his lead to such an extent that rivals are now battling among themselves to be the second name on the ballot paper.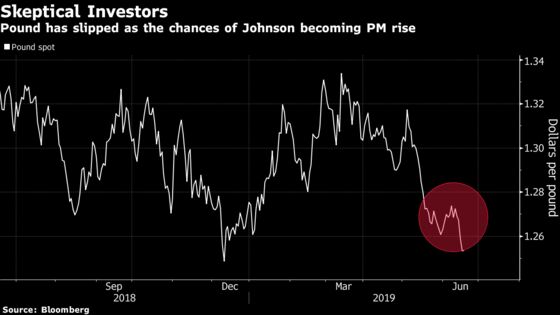 It's a truism that markets like certainty, so the extension of U.K. political turmoil was never going to be welcomed. But some analysts see a Johnson win sending the currency even lower as investors wake up to the renewed risk of a no-deal Brexit. According to Peter Kinsella, the global head of currency strategy at Union Bancaire Privee, Johnson is now priced in, but the EU reaction to him is not. As a result, "the optics for the pound by the end of July are going to look horrific.''
Johnson will face a television debate for the first time Tuesday. No doubt his position on a no-deal Brexit will meet further scrutiny after he was accused of promising all things to all people. The U.K. currency hit the lowest since January on Monday, so you can guarantee the market will be watching what the frontrunner does next.
Britain's next prime minister has probably already lost Scotland, write Alan Crawford and Rodney Jefferson in Bloomberg Businessweek.

Rory Stewart, the rank outsider in the leadership contest, is suddenly winning support and giving his bigger-name rivals a reason to worry, write Bloomberg's Tim Ross and Alex Morales.

Theresa May could still make an impact before she leaves Downing Street and push for a referendum with the options of  her deal, leaving  without a deal or staying in the EU, writes Polly Toynbee in the Guardian.
Policy Shift | A second Brexit referendum is the "least worst option," and Labour should back it even though it could lose some voters, the party's deputy leader, Tom Watson, said in a BBC interview.
Promises Promises | Boris Johnson may be giving Conservatives contradictory promises on Brexit to win their backing, according to the Guardian. He is said to have told leading euroskeptics that May's Brexit deal is "dead," while reassuring moderate Conservatives he won't leave the bloc with no deal. 
Knock Out | Michael Gove is attempting to halt the momentum gathering behind leadership race outsider Rory Stewart, telling the Times he believes the final two candidates in the race should be Brexiteers. 
On the Markets | The Bank of England will announce its latest policy decision Thursday, but the markets are likely to ignore even a hawkish Mark Carney as Brexit continues to complicate the outlook. 
Want to keep up with Brexit?