Brexit Bulletin: Behind Closed Doors
(Bloomberg) -- Today in Brexit: May plans to lock ministers away to study their Brexit options.
Prime Minister Theresa May needs to get a Brexit deal this month, and, not for the first time, she's going to lock her ministers away to try to get it done.
Tim Ross reports that ministers expect to be shut off in secrecy today to study the latest proposals for making sure there's no new border on the island of Ireland, without binding the whole U.K. to European Union trade rules forever. That's the last big hurdle to a Brexit withdrawal deal.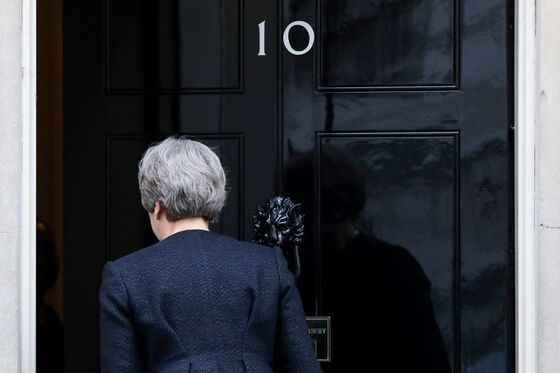 Progress has been made on the Irish border issue, and the so-called backstop clause that aims to guarantee an invisible frontier on the island after Brexit. But each new proposal that promises to fix the problem has brought with it disadvantages that pro-Brexit hardliners in May's Cabinet find hard to accept.
U.K. negotiators have managed to convince their EU counterparts to accept the British version of the backstop. That would keep the whole U.K. in a temporary customs setup with the EU. But the bloc will only accept it with conditions that risk restricting the U.K.'s trade policy indefinitely.
The U.K. has proposed a review clause and Irish Prime Minister Leo Varadkar said he could accept one – depending on what it says. According to a person familiar with the situation, the U.K. has to decide whether to make the review clause mutual – handing the EU more power over its future – or opting for a unilateral mechanism. But it's never that simple: a unilateral mechanism would lead to additional EU safeguards that could end up isolating Northern Ireland from mainland Britain. It's a choice that pits sovereignty against the union.
The Sun reports on Tuesday that Brexit Secretary Dominic Raab and Foreign Secretary Jeremy Hunt will urge May to face down the EU over the border issue. Raab accused May's office of undermining his attempts to solve the problem, according to the Telegraph, and Raab's office spent at least part of yesterday denying rumors he was about to resign. It promises to be an interesting Cabinet meeting. 
British officials have now given up hope of making enough progress this week in order for a special summit of EU leaders to be called to sign the divorce deal on Nov. 17, according to one person familiar with the situation. But they're still aiming to have a deal ready by the end of the month, so it can go through Parliament by Christmas. 
Swing to Remain | A new poll suggests Britons have changed their mind on Brexit. If another referendum were held now, voters would vote to remain by 54 percent to 46 percent, according to Survation, a polling company. The survey, tied to a Channel 4 broadcast, questioned 20,000 people online across every constituency in the U.K. The findings will be used by those campaigning for a second referendum, who are stepping up their efforts in the final months before exit day. Still, polls put remain ahead before the 2016 referendum, too.
What Was Wrong With the First One? | Brexit-backer Arron Banks's Eldon Insurance and campaign group Leave.EU are facing fines of £135,000 ($176,000) for data-protection breaches, BuzzFeed News reports. The U.K.'s Information Commissioner's Office found that staff working for Leave.EU used personal data of customers of Eldon Insurance to send political marketing messages, according to BuzzFeed. ICO presents its report to lawmakers on Tuesday.
Lottery for Truckers | U.K. truckers will be able to apply for special permits to ease border crossings in the event of a no-deal Brexit. But there's a catch: fewer than 1,000 annual certificates will be issued and they will be awarded partly according to chance.
Shunning the U.K. | One of the biggest Nordic pension funds is turning away from the U.K. real estate market after adjusting its portfolio for the risk of a no-deal Brexit, writes Peter Levring. Anders Damgaard, chief financial officer at the $113 billion PFA Pension fund in Copenhagen, said the U.K. now looks "particularly risky." Carlyle has also pared back investment in the U.K. because of Brexit uncertainty, co-founder David Rubenstein told the FT.
Bankers on the Move | BNP Paribas is preparing to move between 85 and 90 workers from its global markets unit in London to other locations in the European Union, in case of a no-deal Brexit. The vast majority of the workers are salespeople and will relocate to locations including Paris, Frankfurt and Milan.
Why the Bill Must Be Paid | Chancellor Philip Hammond said the £39 billion Brexit divorce settlement – or at least part of it – will have to be paid even if there's no deal as it wouldn't be "plausible or credible" to do otherwise. "We would effectively rule ourselves out as being regarded as reliable partners in future international deals of any kind," he told lawmakers.
On the Markets | Investors shorting the gilt market are betting on a Brexit deal for Christmas, and a rate hike for spring, writes Shoko Oda. U.K. government bonds have fallen in the past week on signs of progress toward a Brexit divorce deal, leading Investec Asset Management, Morgan Stanley and Societe Generale to bet on further declines. The pound was little changed early on Tuesday at $1.3052.
Want to keep up with Brexit?