Brexit Bulletin: Barnier's Back, Alright
What's Happening? After his new boss made her Brexit debut, a veteran of battles past sets out his stall for the year ahead.
Michel Barnier never really went away. An ever-present during the long Brexit dramas of 2016-2019, the European Union's chief Brexit negotiator has a renewed mandate for the next phase of talks. 
Speaking in Stockholm on Thursday, Barnier made it clear that talks during 2020 should focus on important issues that can be solved before the end of the year, when the U.K.'s post-Brexit transition arrangements come to an end. " The timetable ahead of us is extremely challenging," Barnier said in Sweden. "We simply cannot expect to agree on every single aspect of this new partnership in under a year." The BBC's Adam Fleming summed up how Barnier sees 2020:
Barnier spoke out one day after his boss, newly installed European Commission President Ursula von der Leyen, set out her red lines for a post-Brexit relationship. While Prime Minister Boris Johnson said the U.K. wants the right to diverge from EU rules and standards, von der Leyen was adamant that would mean new limits on U.K.-EU trade and links. That disagreement is the root of the complexity that promises to make this year a long, tough negotiation. 
Can a deal be done by the end of the year? Possibly, according to Anand Menon, director of the UK in a Changing Europe think tank, writing in the i newspaper today. His caveat? "It won't be much of a deal at all." The alternative to a deal — a new cliff-edge and "poisoning" of cross-Channel relations — could be enough of an incentive to strike some form of accord, Menon writes.
With the starting positions now clear, some may assume Johnson will compromise as the deadline looms. Others are less sure. In the Spectator, James Forsyth writes that "a crucial shift has taken place" inside the U.K. government, suggesting that Johnson's team is now ready to explore "opportunities" of divergence in a way Theresa May's cabinet never was. 
This week, we're bringing you a selection of the best and most popular stories from beyond the world of Brexit.
Getting Brexit Done | Johnson's Brexit bill will clear its final hurdle in the House of Commons just after 5 p.m, with its smooth passage illustrating just how much his landslide election victory has changed the political dynamic. The legislation now moves to the House of Lords, which despite generally opposing Brexit, is expected to respect Johnson's mandate by waving it through.
Room for Recovery | The Bank of England is debating the merits of additional monetary stimulus and has plenty of room to act, according to Governor Mark Carney. The U.K. economy appears to be strengthening, but Carney suggested the bank could act in the coming months to secure the recovery. The pound fell, trading at $1.3049 at 4 p.m. on Thursday, down 0.37%.
Post-Brexit Boom | The Paris-based European Securities and Markets Authority is adding more than 100 extra staff as it adjusts to life after Brexit, which will strip the regulator of its biggest financial hub.
Poultry Problem | The U.K. will stick to its guns and refuse to allow chlorinated chicken (or hormone-treated beef) into the country as part of a trade deal with the U.S., Environment Secretary Theresa Villiers told BBC Countryfile.
The Hardman Speaks | True to form, pro-Brexit lawmaker Steve Baker plans to go skydiving on Feb. 1, the day after Brexit happens, "if I can avoid a hangover from the night before and the weather is good." Baker spoke to the Brexit Central website in a Q&A looking back at the events of the past few years.
OK Gen Z | Brexit will lead to four sorts of potential loss for Generation Z, argues London School of Economics Professor Nicholas Barr, as well as making it much harder to tackle the climate emergency.
Bong Battle | Before trade talks begin, there is one burning question to address: Will Big Ben bong on Brexit day? It's not yet clear, as the famous old bell has been silenced by restoration work since 2017. Arch-Brexiter MP Mark Francois is leading the charge to bring back the bongs for Jan. 31.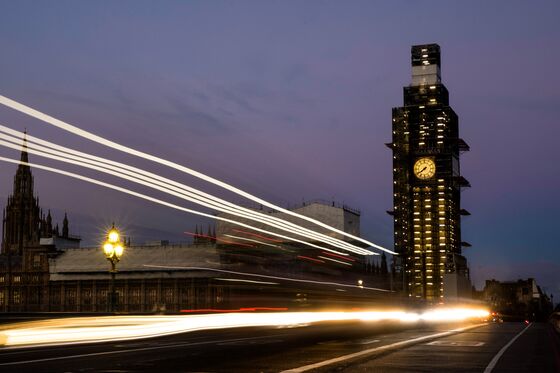 Want to keep up with Brexit?