Brexit Bulletin: Backstop Hell
(Bloomberg) -- Today in Brexit: May goes to Brussels, but don't expect a breakthrough.
Theresa May heads to Brussels today to meet European Union officials who are starting to despair.
The prime minister is seeking changes to the Irish border backstop — the most loathed part of the divorce deal — but no one on either side is very hopeful that talks today will bear fruit. British officials are briefing reporters not to expect a breakthrough in time for next week, May's self-imposed deadline to bring something home.
European Union President Donald Tusk slightly poisoned the atmosphere yesterday by saying there's a "special place in hell" for those who campaigned for Brexit without making a plan for how to do it "safely." It wasn't a gaffe: he tweeted it too.
My colleague Ian Wishart reports from Brussels that Tusk's comments reflect a growing sense of fear and frustration on the EU side that May is hostage to the hardliners in her party and won't be able to get any deal through Parliament.
After a bad-tempered 45-minute phone call last week, Tusk emerged horrified that May was still asking the EU for solutions on the border rather than coming up with her own. (The EU reckons May should move her red lines on the future relationship to allow closer ties with the bloc; doing that would mean the border issue becomes an easy fix.)
The premier has told her warring Conservative Party she's seeking one of three things: a time limit to the backstop, an exit mechanism from it, or alternative open-border arrangements that rely on technology. The EU has ruled out the first two, and officials have ridiculed the third. That's the preferred option of the pro-Brexit hardliners, and has the support — as a theoretical idea at least — of a majority in Parliament.
There was one piece of good news yesterday from Tusk, when he spoke to reporters after a meeting with Irish Prime Minister Leo Varadkar. Tusk has long made plain that he would like to see Brexit reversed. He considers it a tragedy and a mistake. But yesterday for the first time he sounded reconciled to the fact the divorce would happen. He recognized that in both of Britain's biggest parties there's a determination to leave, and said there's "no effective leadership for Remain."
If the EU's top priority is now to avoid no-deal, as Tusk says, rather than convince the U.K. to stay, that might just be good news for those seeking a palatable compromise.
British fishermen may end up having Europe's richest waters all to themselves. But who's going to eat all the fish?
Labour leader Jeremy Corbyn wrote to May with a list of five conditions for backing her Brexit deal, the Guardian reported. Top of the list is a customs union, which May is still ruling out.
European businesses aren't ready for a cliff-edge Brexit. That could strengthen May's negotiating position and offers hope for a last-minute compromise, Leonid Bershidsky argues for Bloomberg Opinion. 
Valentine's Day Back On? | Parliament's next chance to vote on Brexit amendments was due to be on Feb. 14 if May doesn't have a revised deal by then. But it now looks like those votes on alternatives could also be delayed as an official said on Wednesday that they might not go ahead. Meanwhile, the Telegraph reports that the vote on the deal itself won't happen until late February.
Creative Thinking | "If you want to have a view of a future relationship, then you have to do it with creativity," Angela Merkel's chief spokesman Steffan Seibert told reporters in Berlin. "That's self-evident. We're prepared to be creative, but we also expect the same effort from the British side, to say what direction they want to go."
Buffering | Royal Bank of Scotland is holding on to more capital than its targets demand in part because of uncertainty about Brexit, according to its chairman. It will return excess capital to shareholders "over time."
Leaving the New Building | ING Groep, which centralized its trading hub in London despite the Brexit vote, is now moving staff back to the continent because of Brexit. The bank announced plans to concentrate trading in London three years ago, before the referendum, and even after the vote decided to follow through, closing operations in Amsterdam and Brussels. 
Scots Police Brace for Brexit | Police Scotland said it plans to put 360 officers on standby from the middle of next month to deal with potential incidents arising from Brexit. They include public disorder and problems at ports and airports. Personnel would be available for deployment elsewhere in the U.K. if needs be, particularly Northern Ireland, the deputy chief constable said.
On the Markets | Sterling has been on a downward trend over the past two weeks amid growing fears of a no-deal Brexit. It held below $1.30 Wednesday. If the Bank of England follows its European counterparts in warning of the risks of a slowdown later today, the pound will probably take another step down.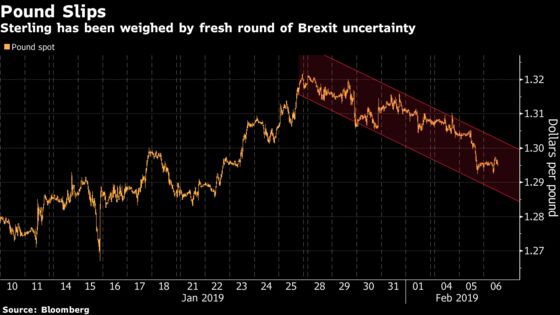 Can They Pull it Off? | Getting the deal past Parliament is the not the end of May's troubles. There will still be about 50 more votes to push through to make sure Brexit happens smoothly. Can they do it? Rob Hutton found that on Sept. 1, 1939, Parliament passed 18 bills into law, despite not beginning work until 6 p.m. One bill completed all of its House of Commons stages in just two minutes. Still, that was the eve of war, and the country was united.  
Bunking Off | Parliament may have record amounts of legislation to get through in time for Brexit day, but there's a sense of paralysis in Westminster. Yesterday MPs knocked off early, adjourning proceedings at 3 p.m.  
Want to keep up with Brexit?