Brexit Bulletin: Backing Down
(Bloomberg) -- Today in Brexit: May has reversed course on how the Dec. 11 vote will be structured, and that has big implications.
Prime Minister Theresa May has given up efforts to stop lawmakers from trying to rewrite her Brexit plan before she puts it to a Parliament vote on Dec. 11, Rob Hutton reports.
The government had intended to try to keep the House of Commons from redrafting the motion that May will present. But according to one official, May's team has now dropped this tactic in the face of protests from politicians. It means lawmakers will be free to vote on a series of potential amendments to the prime minister's motion, which could include calls for another referendum, or for a different deal with the European Union.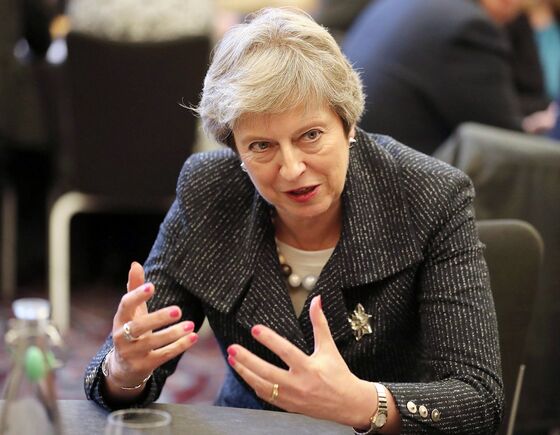 It's a decision with potentially huge implications for the future direction of Brexit. It means Parliament's appetite for alternatives to May's deal — for example, staying closer to the bloc long-term — will be tested before the final vote. That could change the way some wavering members of Parliament will vote. A lot depends on how effectively opponents to May's plan can draft amendments that could win support. 
Officials close to the prime minister say they believe that no alternative to May's option will command a majority in the Commons either, and a series of votes on the amendments could demonstrate that. Labour members are likely to be ordered not to support a second referendum, for example. If other options are voted down, it will bolster May's argument that her way is the only way.
That's the argument the prime minister is taking on tour as she continues her campaign to try to win voters to her plan. Today May goes to Scotland, which voted to remain and where there's widespread opposition. So far, her campaign is looking pretty low-key. Tuesday saw her in Wales and Northern Ireland, where she rehashed her usual lines but in a chatty new setting with round tables and ordinary people.
The government's economic analysis of various Brexit outcomes will show Britain's gross domestic product would be 7.6 percent lower over 15 years if it crashed out with no deal, versus staying in the bloc, the Telegraph reports. The study, due to be published today, will compare staying in the EU with the agreement May cut with the union, a Norway-style arrangement, a free-trade agreement and no agreement, according to the Telegraph.

The Sun reports that some Cabinet ministers are urging May to abandon the vote on Dec. 11 amid growing certainty that she will lose. The paper says she could be defeated by 200 votes.

Can May win the vote in Parliament? Pound traders give her a fighting chance, according to a Bloomberg survey that shows how markets are positioned going into the crunch Dec. 11 vote.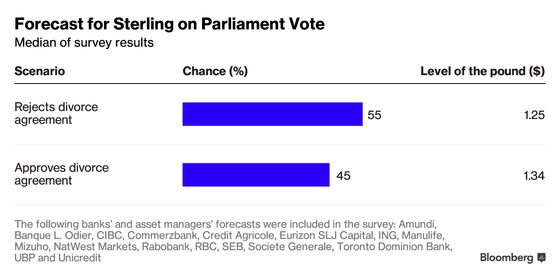 Pandora's Box | EU judges reviewing a case about whether Britain could revoke its decision to leave were told Tuesday that their decision risks being co-opted by those campaigning to reverse Brexit. "In Greek myth, Pandora was given a large box on her wedding, which she was warned not to open," Richard Keen, the U.K.'s lawyer, told the EU Court of Justice. "We respectfully plead that the court should not open this box."
Holiday Blues | U.K. airlines are starting to see the first evidence that Brexit is hitting sales. Virgin Atlantic Airways and discount operator Jet2 have said demand is being depressed by the weaker pound. Ryanair Holdings also says it expects airlines to suffer as the lingering prospect of a no-deal Brexit roils sterling.
Bad Planning | British ports face major disruptions if there's a no-deal scenario as a "complacent" transport department makes slow progress with preparations, according to the the House of Commons Public Accounts Committee. The government hasn't tested "Project Brock," the plan to turn a highway near the port of Dover into a holding area for trucks. And even if there's a withdrawal accord, the workload will be challenging, according to the report.
Discovery Moving | Discovery Inc. is laying the groundwork to move employees and broadcast licenses to the Netherlands should it become clear that a no-deal Brexit is likely, according to people familiar with the matter. The U.S. broadcaster is among global media companies that use Britain as a regional hub and risk their channels going dark if there's no accord. It's another potential win for the Netherlands, which has already scooped up media, finance and pharmaceutical businesses looking for a new EU home.
Head to Head | Theresa May and Jeremy Corbyn look set to hold some kind of televised debate on the Brexit agreement before the vote. Labour is pushing for an hour-long face-off on Sunday Dec. 9 at prime time on ITV, the Guardian reports. The BBC is offering a more elaborate format that would include other politicians too, the paper says.

Want to keep up with Brexit?