Brexit Bulletin: Back to Brussels
(Bloomberg) -- Today in Brexit: Talks get going in Brussels, the first round since May put forward her new compromise on customs as a way of solving the Irish border issue. 
Brexit negotiations resume in Brussels, and a few things have changed since everyone last gathered around the table. 
Prime Minister Theresa May has made a new "backstop" proposal, which would keep the U.K. tied to European customs rules for longer in a bid to solve the Irish border issue. It's received a cool response from European Union leaders and officials. But it at least reveals something about the state of May and what might be possible in the negotiation.
Firstly, May was able to force ministers to get behind her plan, despite objections from Brexit-backers in her Cabinet. Foreign Secretary Boris Johnson and Environment Secretary Michael Gove, the leading cheerleaders for a quick and clean break, have publicly backed the plan, albeit with caveats. It hasn't prompted serious talk of a leadership challenge, as some thought it would.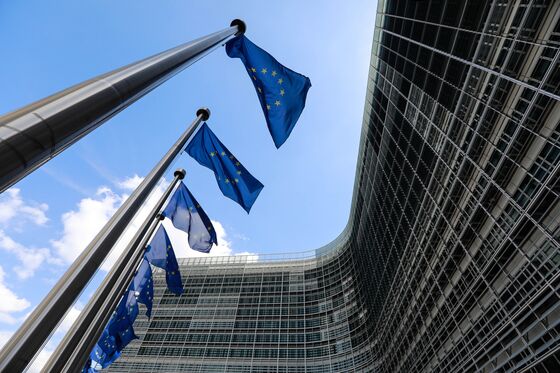 The proposal also breaks one Brexit taboo, that of staying in at least parts of the customs union for years after the split. Brexit-backers fear that's a back door to remaining shackled to the bloc forever. They might have a point. While Theresa May says the backstop would be time-limited, bringing it to an end would depend on clinching a U.K.-EU trade deal that's good enough to avoid a hard border – and the EU reckons that the U.K.'s red lines will make that impossible.
There's also a growing sense that some kind of extension is going to be needed beyond the current transition that ends in December 2020. Even Brexit enthusiasts are calling for an extension in order to get the final arrangements right. The backstop makes it more likely that existing rules will stay in place.
The EU has rejected a lot of this already. Any extension would have to be wholesale – all the rules and freedoms of the bloc rather than the pick-and-mix approach floated by the U.K. It also says that the backstop for the Irish issue has to be only for Northern Ireland. It doesn't want it to apply to the whole of the U.K. and doesn't want Britain staying in the customs union by the backdoor either. And customs is only part of the problem of the Irish border – rules will need to be aligned on both sides to prevent the need for checks.
It's not clear if the proposal will be hashed out this week or not. Government officials didn't comment on the matter on Monday. The official agenda for the Brussels talks says the remaining divorce issues and future relationship will be discussed on Tuesday, with Northern Ireland on the agenda for Wednesday.
Ireland is expected to be the focus of a key European summit at the end of June. While EU President Donald Tusk told May last week it was too early to say whether her plan would be accepted, Irish Prime Minister Leo Varadkar gave it a very cautious welcome.
European Enough | EasyJet Plc and Ryanair Holdings Plc are shoring up their shareholder bases in continental Europe in order to safeguard their right to fly there after Brexit, Kaye Wiggins reports. Under EU rules carriers must be more than 50 percent owned by people and institutions based in member states in order to have an operating license in the bloc.
Quote of the Day | Airlines are planning for contingencies in the event of a no-deal Brexit and Ryanair CEO Michael O'Leary has long been outspoken on the matter. "On balance you would think common sense will prevail," he told Bloomberg Television. "But the Brexit discussions have not been characterized by a lot of common sense so far."
Blair Slams Corbyn | Tony Blair accused Labour leader Jeremy Corbyn of putting the party in "the worst of both worlds" with his ambiguous Brexit policy. As his Institute for Global Change publishes a report outlining the losses associated with leaving the single market, Blair said: "Leavers think we're not really for Leave," while Remainers "have now cottoned on to the fact Labour is not really for remaining either." He wants Labour to back a second referendum.
Planned Traffic Jams | The government has come up with a contingency plan that would involve parking trucks on a busy stretch of motorway on the way to the port of Dover in the event of disruptions in cross-channel traffic flow. While the government paper doesn't mention Brexit, the scheme will be ready from early 2019. Brexit opponents latched onto the plan as an example of the chaos the divorce will bring.
Truckers' View | The future of truckers was also on the agenda in Northern Ireland, during a visit there by Brexit Secretary David Davis. The Freight Trade Association told him that putting tracking devices on trucks and other high-tech proposals won't work as a way of avoiding a hard border on the island.