Brexit Bulletin: Back and Ready to Go
What's Happening? After a series of barely believable plot twists and cliffhangers, the long-running Brexit saga is getting a reboot.
Boris Johnson's resounding election victory in December has set the stage for a very different year. Instead of parliamentary feedback loops and knife-edge votes, the formal process of Brexit is likely to be complete by Jan. 31. Nigel Farage is planning a party to celebrate.
Once February begins the drama will be in the detail. The headline is that the U.K. and European Union must agree (and ratify) a free-trade agreement of some sort to come into force on Jan. 1, 2021. Failure to do that will still threaten a chaotic split at the end of this year that could look something like the now-averted no-deal Brexit.
But in a bumper 19-tweet new year thread, trade expert David Henig points out today that there are at least four other agreements — on financial-services equivalence, fishing rights, data-sharing and Northern Ireland — that need brokering during the year, some in the first half of it.
The story kicks off tomorrow in Westminster with the return of the Withdrawal Agreement Bill, the legislation that paves the way for Brexit to happen on Jan. 31. While MPs debate (and ultimately approve) that bill, a high-level EU delegation rolls into town: New European Commission President Ursula von der Leyen and re-mandated Brexit supremo Michel Barnier will meet Prime Minister Johnson for talks on Wednesday. 
Bloomberg is about a lot more than Brexit, so we're happy to start sharing  a daily peek at the best of the rest. 
Trains, planes and audacity: How a high-risk plan months in the making turned former Nissan-Renault chief Carlos Ghosn into the world's most-wanted fugitive. By Matthew Campbell, Brian Bremner, Kae Inoue and Ania Nussbaum.
Boris Johnson is just one of several key EU leaders scrambling to work out what to do about Iran in the wake of the U.S. killing of Iran's Qassem Soleimani. By Ben Sills.
Three Months of Labour | The U.K. opposition Labour Party is formally beginning the contest to succeed Jeremy Corbyn on Monday, after a weekend that saw the favorite, Keir Starmer, throw his hat into the ring for the party's leadership. The ballot will run from Feb. 21 to April 2, with a results announced on Saturday April 4. We've profiled all the key contenders.
Changing Places | In the Guardian, John Harris argues that that the Conservative party will need to change after it came to power by winning a swathe of long-term Labour seats in northern England. 
Services Boost the Pound | The U.K.'s dominant services sector showed signs of strengthening at the end of the year following Boris Johnson's decisive election victory. That pushed the pound higher, with speculation rising that the Bank of England could avoid an imminent cut to interest rates. Sterling traded at $1.3160 at 4.15 p.m. in London, up 0.6% on the day.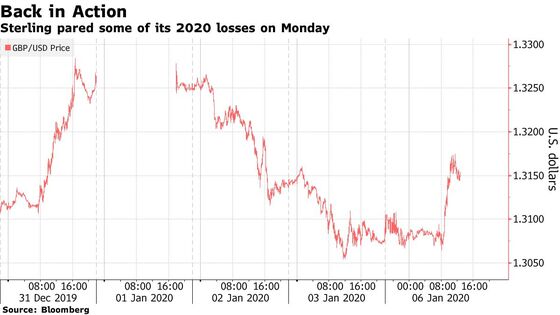 We Don't Buy Many Cars | U.K. auto sales fell for a third straight year in 2019, dragged down by uncertainty surrounding Brexit and a slump in demand for diesel cars.
The Survey Says | American and international companies most exposed to the uncertainty surrounding the U.K.'s exit from the European Union have reduced hiring and investment and lost a substantial fraction of their market value, according to a paper from the U.S. National Bureau of Economic Research.
Want to keep up with Brexit?