Brexit Bulletin: Atomic Bomb
(Bloomberg) -- Today in Brexit: May seeks Parliament's permission to push on with her brinkmanship.

An "atomic bomb for everybody." That's how Maltese Finance Minister Edward Scicluna describes a no-deal Brexit, saying out loud what many European leaders are probably thinking privately as they put on a brave public face for the sake of the negotiation.
"Brinkmanship can never be forecast," Scicluna, whose English-speaking island's economy is actually seeing some upside from Brexit, said on Bloomberg Television. "One could slip and then it's history."
Prime Minister Theresa May shows no signs of heeding the growing chorus of warnings that her brinkmanship is getting dangerous. Hours after the Confederation of British Industry's Carolyn Fairbairn said the country was in the "emergency zone of Brexit," data showed growth in 2018 was the weakest for six years, and business investment fell 4 percent in the last quarter.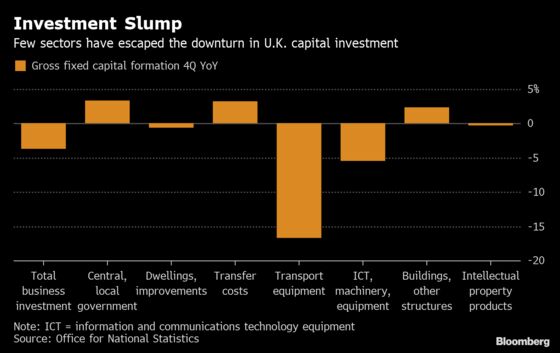 Just as Bank of England Governor Mark Carney will set out the "risks to the outlook" in a speech today, May will ask Parliament to bear with her so she can raise the stakes and press the negotiations to the last minute. On March 29, the U.K. is set to leave the European Union with or without an exit deal to cushion the blow. 
May bought time two weeks ago by promising to go back to Brussels and renegotiate the most toxic part of the divorce deal — the Irish border backstop. That thwarted an attempt by members of Parliament to wrest control of the whole process from her and engineer a delay to exit day. She is now expected to ask Parliament to restate its demand that she renegotiate with the EU, and to promise another vote by Feb. 27 if she hasn't succeeded by then.
Once the motion is presented, MPs will start proposing amendments, which are due to go to a vote on Thursday. The Labour Party is going to try to force a vote on the deal itself before the end of the month, though it's unlikely to win cross-party support. Another amendment is likely to be proposed that restates Parliament's opposition to leaving without an accord.
But as May herself says, a parliamentary vote against a no-deal exit doesn't really help prevent it.
Might Theresa May just pull it off? Bloomberg's Rob Hutton looks at where she could get just enough votes to push it through Parliament.
Robert Peston writes in the Spectator that even though MPs think there will be a deal, a crash-out exit remains the most likely outcome. He argues that everyone knew letting Lehman Brothers collapse 10 years ago would be catastrophic, but authorities allowed it to happen anyway.
What does a WTO Brexit really look like? And what's all this about Article 24? Bloomberg's trade guru Bryce Baschuk breaks it all down in this QuickTake.
Gone by the Summer? | The Sun reports that ministers believe May is preparing to resign this summer so she can influence who succeeds her and prevent former Foreign Secretary Boris Johnson taking over. The Sun cites "hints the PM has personally given" to at least two senior members of the Cabinet.
What Was the Point of That? | U.K. Brexit Secretary Stephen Barclay and EU chief Brexit negotiator Michel Barnier met in Brussels for about two hours on Monday but nothing much came of it. Barnier said earlier in the day that the way forward has to come from the British side: "It's in London where they have to find the ways and means to build a positive majority between the two negative majorities that exist today in the House of Commons."
What Dividend? | U.K. lawmakers criticized Chancellor of the Exchequer Philip Hammond for claiming that clinching a divorce agreement could deliver a "deal dividend" for the economy. In a report on the Autumn Budget published on Tuesday, the House Commons Treasury Committee said it was unreasonable to describe the avoidance of a damaging no-deal Brexit in such terms. "Business confidence may improve with increased certainty, but it's not credible to describe this as a dividend," it said.
Bracing for a Hard Landing | IAG SA, the parent of British Airways, is freezing the percentage of its shares that can be held by non-European Union citizens and funds amid a lack of clarity about potential ownership restrictions after Brexit. Under EU rules, the airline has to keep its non-EU shareholding to just below 50 percent.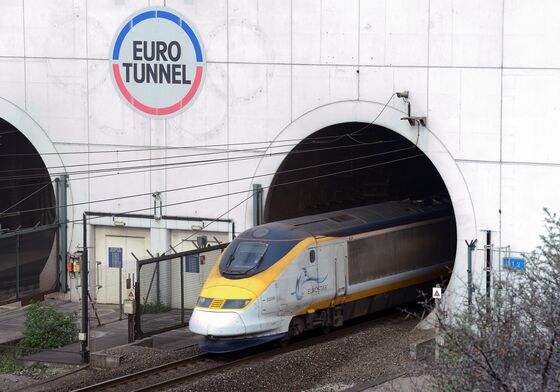 The Shipper With No Ships | The companies that run the Channel Tunnel are suing the British government over its award of ferry contracts to handle freight shipments in a no-deal Brexit, just days after one of those contracts, with a startup company that doesn't own any ships, fell through. Channel Tunnel Group Ltd. and France-Manche SA accuse the government of a "secretive and flawed procurement exercise" for the backup ferry service in the event of a no-deal, their lawyer Daniel Beard said in court on Monday. 
Want to keep up with Brexit?